The Brand-New Glamping Experience on Fayoum's Qarun Lake Shores
This camp offers its guests an immersive connection to the Fayoum Oasis without compromising on comfort or elegance.
Stretching across al-Fayoum in Paleolithic Egypt was an ancient lake of enormous proportions. Lake Moeris - about the size of modern-day London - irrigated the land throughout the ages, and it was thanks to this Nile offshoot that Fayoum eventually became one of the most fertile areas in Egypt.
Paying homage to this prehistoric time in its name, Lac Moeris is an elegant camping experience that opened its doors to the public mid-Feburary, transporting its guests to earlier times through its rustic charm and bespoke interior design. Perched right on the shores of Lake Qarun, that is, the modern-day lake that occupies a sixth of the space of its prehistoric counterpart, the camp offers a more immersive and intimate encounter with the ancient desert expanse, without compromising on comfort and elegance.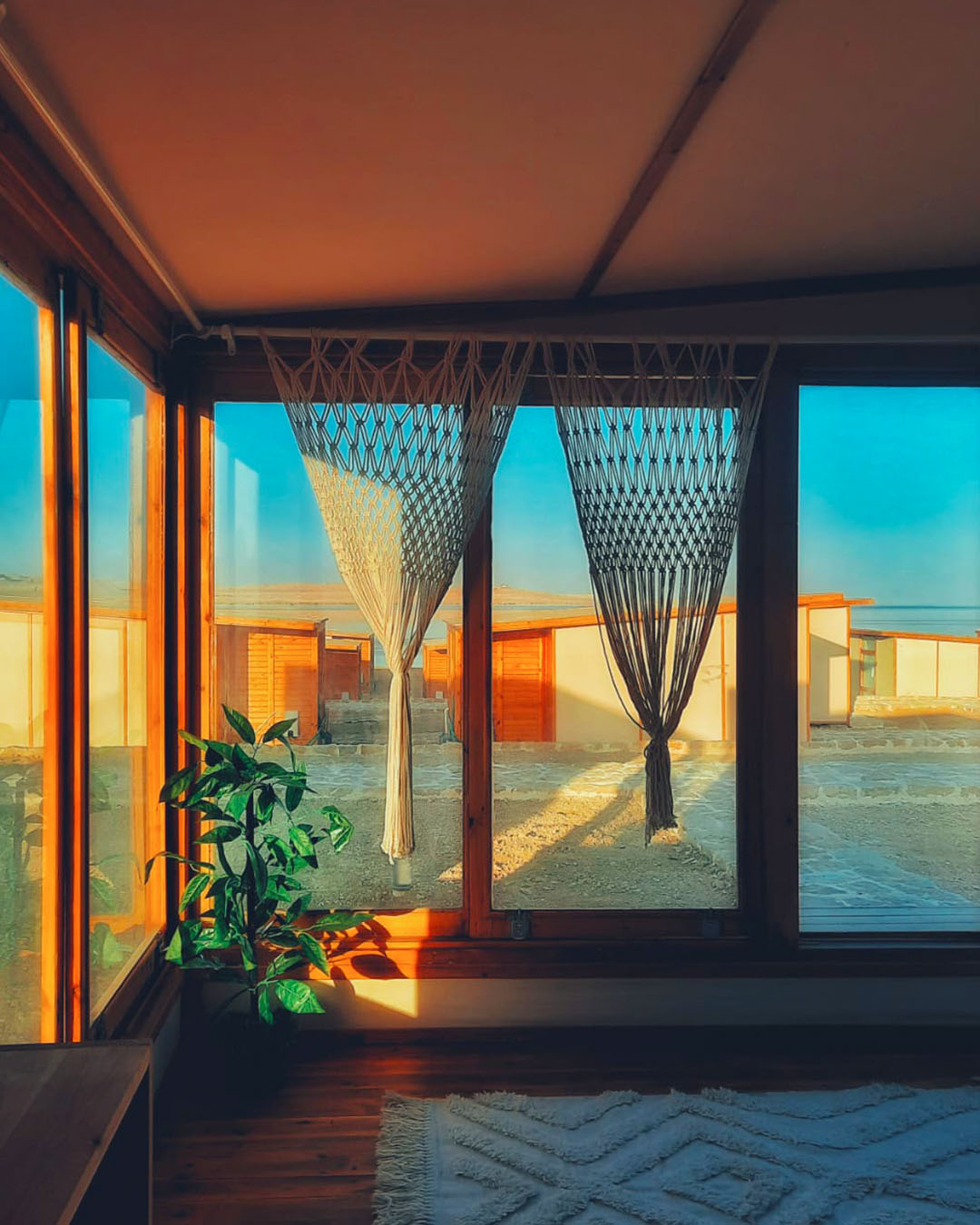 Glamping is a thriving travel concept that is steering the eco-tourism scene in the MENA region, with SceneTraveller recently exploring the latest camps in Sharjah and Dubai. Last week, SceneTraveller was invited to capture exclusive first moments of Lac Moeris during its inaugural week of opening.
The first point of attraction to establish itself came before actually setting foot in the camp: being a mere hour-and-a-half by car from Downtown Cairo and transpiring to be highly-navigable with Google Maps, Lac Moeris represents a hidden get-away that sidesteps a cumbersome journey to access it.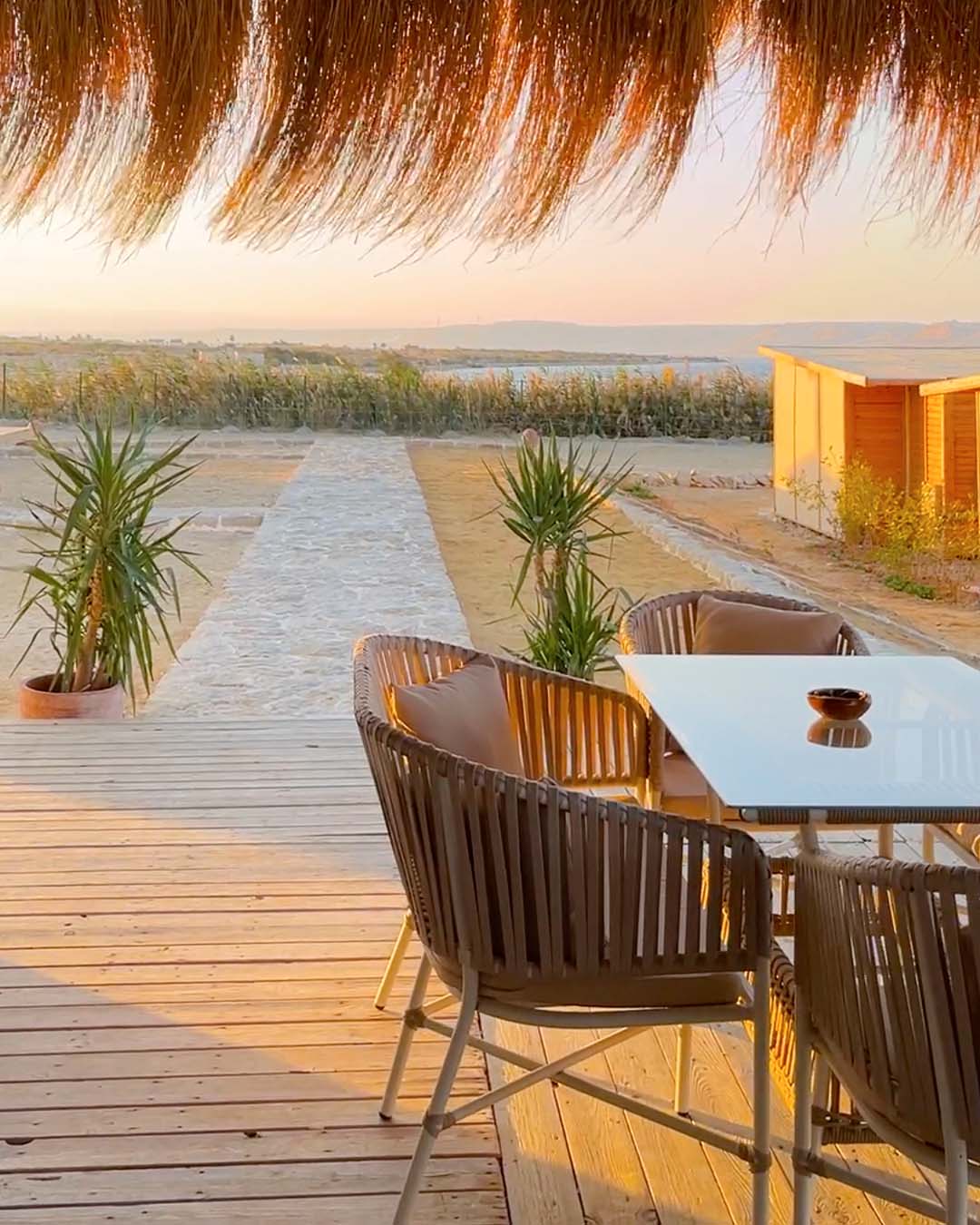 Expansive views of Lake Qarun and the mountainous Fayoum Depression in the near distance quickly instil a sense of composure in the camp. It's an enveloping vista that is reminiscent of the Red Sea and concomitant Saudi Arabian mountains that holiday-makers in Sinai enjoy from eco-camps in Dahab and Nuweiba; the only sounds to be heard from the camp are the gentle lapping of the waters and occasional bird-calls of the famously diverse birdlife of the Fayoum Protectorate.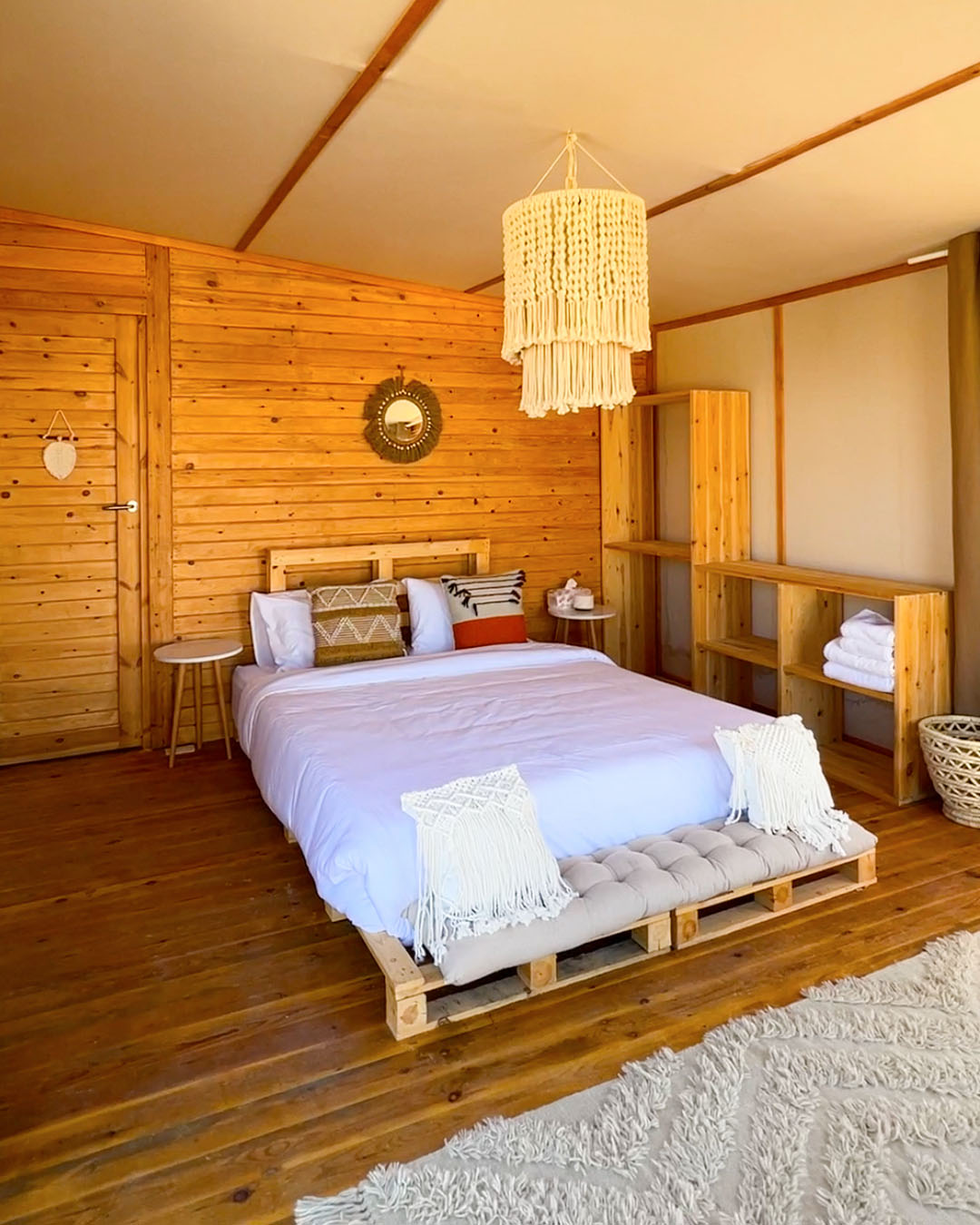 An intricate decor of carefully-curated pieces is embellished with Makrameya wovenware custom-made from Sohaq, upcycled materials from Bekya and local earthenware hailing from Fayoum's esteemed pottery artisans. There's a satisfying lack of plastic to be seen in the rooms, in favour of fabric-wreathed mirrors and woven waste-baskets, dark wooden floorboards and industrial-style wooden cupboards and bed frames.
Comfort quickly establishes itself as a key pillar to this camp's ethos within minutes of one's arrival. All 12 of its double rooms bear lake views and a bright, airy atmosphere thanks to glass windows, with floor-to-ceiling windows in the case of the camp's two available king-size rooms. Visitors need not compromise on hygienic needs: all rooms boast an en-suite of impressively strong water pressure. We were quick to test the mattresses out and weren't disappointed: the beds are on raised frames and indeed very comfortable, wrapped with thick quilts to protect from the February chill. Given their sturdy design, it is hard to believe that the outer material of each hut is in fact stretch-canvas – we became aware only when the camp founder informed us of this on our second day.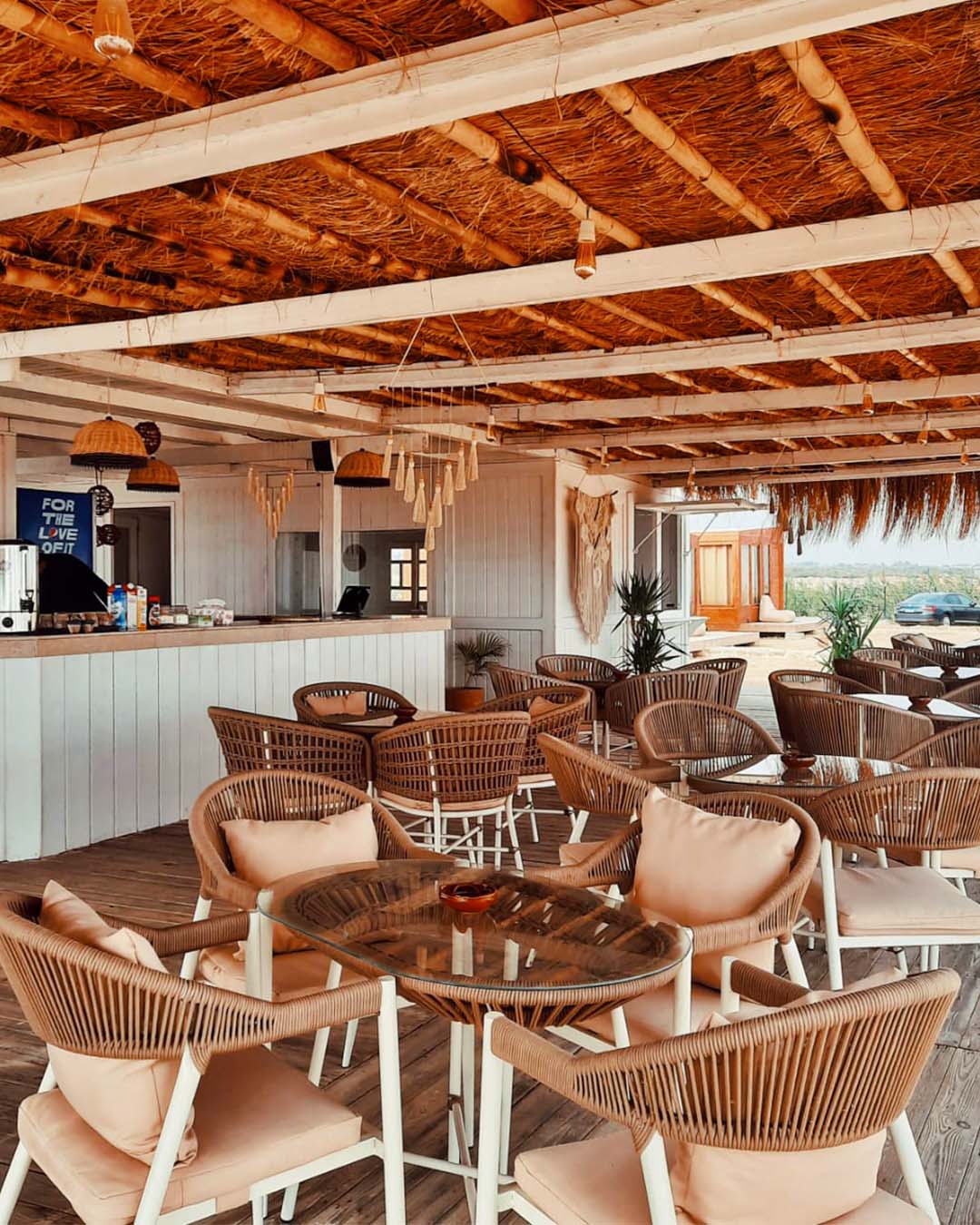 A 'slow-food' culinary experience further brings the camp's visitors in alignment with its values of ancestral connection. Hearty dishes come straight from a wood-fired oven, sizzling in clay pottery. The menu incorporates traditional staples like Egyptian tagines and Molokhia soup, whilst also offering baked pasta dishes. Breakfast is presented in beautiful pottery casseroles that each hold fresh taamiyah, crisp potato croquettes with sujuk, soft cheese with tomatoes, and a rich Alexandrian-style foul, followed by feteer pastry and black honey – this feast was my personal highlight of the trip. Tea and coffee are served in teal crockery and all fruit juices and smoothies are freshly made.
Upon meeting the camp founder, Yehia Nweishy, we got a real sense for the warmth of the team behind the holiday experience here. An ex-banker of 10 years, Yehia left the world of finance to set up luxury beach hotel Matarma Bay in Ras Sadr with business partners Sherif Elsamra and Ali Awady. He also spearheaded two water sports businesses, Fly Kite Surfing and The Kite Buzz in Ras Sadr. Having garnered experience in the travel industry in Sinai, Nweishy felt it was time to bring the warmth and esprit de corps of Sinai travel initiatives closer to Egypt's capital.
The camp is assertedly carving out a new space in Fayoum where an evening community can thrive. "At night," Nweishy tells SceneTraveller, "everything goes dead here. We want to bring in live music and vocalists to the area, and create an evening scene!" By nightfall, it was not hard to imagine the thriving atmosphere it will host in the coming weeks, with the main restaurant-bar area lighting up beautifully under industrial-style bulbs against a backdrop of a campfire that had been built on the sand outside. For guests preferring a more wholesome end to their day, an indoor lounge area is equipped with board games and artistic materials.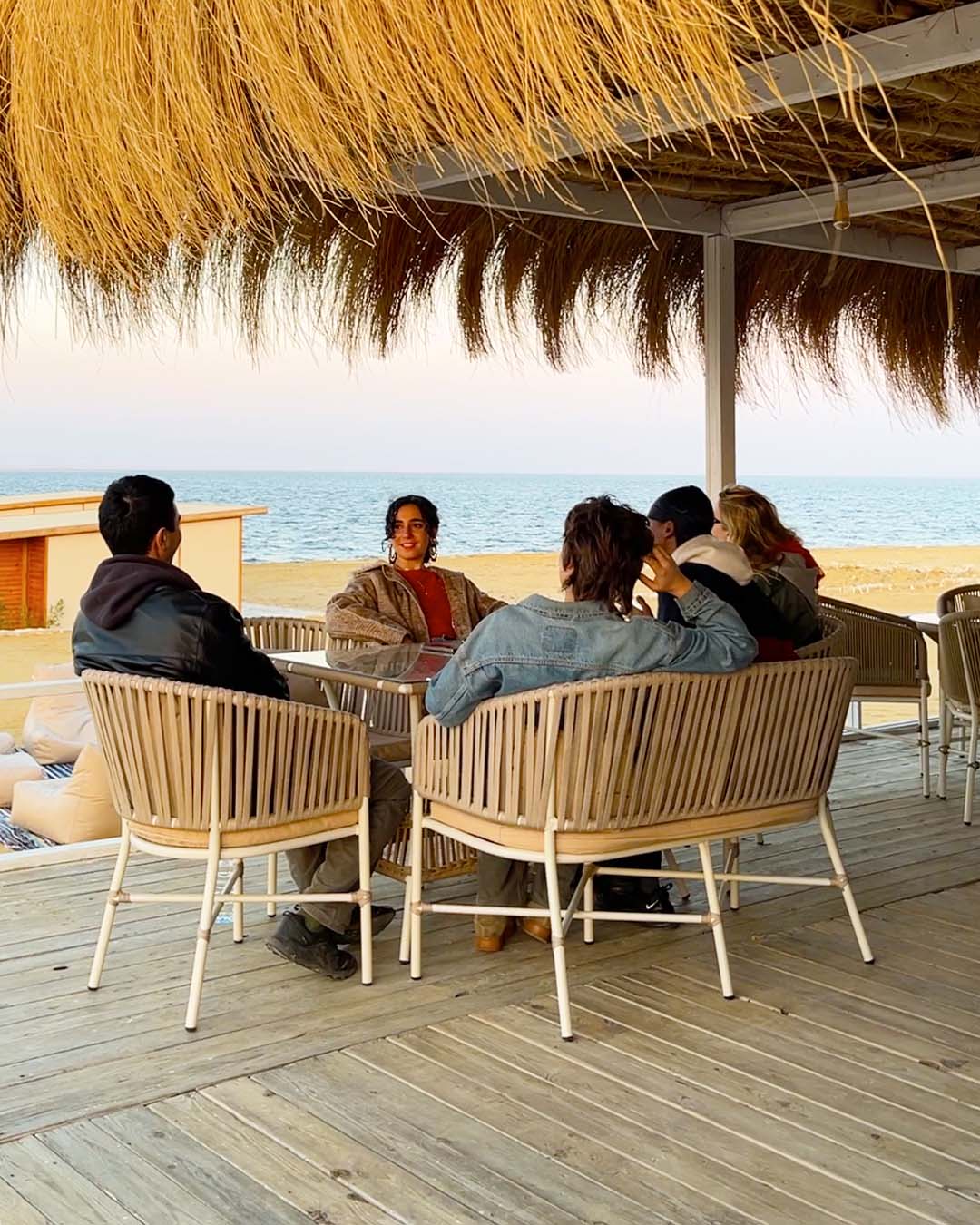 Equally making Lac Moeris an ideal stay for couples and friendship groups is its array of daytime activities, including pottery workshops using the camp's own wheel and kiln, as well as horseback riding and private lake cruises. Safaris and trips to other neighbouring landmarks in Fayoum are easily arranged externally, Nweishy informed us. Whilst Lake Qarun may not be swimmable, Nweishy shared his upcoming plans to build a swimming pool to be ready for the summertime.