Slink Back & Recharge at the MENA Region's Most Soothing Springs
Take a dip at any time of the year, and rewind at these nine picturesque hot springs
Emerging out of a suffocating myriad of endless ozoomahs, Eid gatherings, and stress-inducing workdays, our social batteries are burnt out and in desperate need of a retreat, a place where there is no people to see. And what's better to unclench our jaws and serotonin-feed our souls than quality time with Mother Nature? Scattered across the Middle East are some irresistibly captivating little pieces of heaven known as hot springs, which are just perfect for a rejuvenating dip at any time of the year.
We've compiled a collection of the hottest spots in the MENA region ( no pun-intended) which will offer you the ultimate relaxing retreats, letting you embark on a timeless experience to recharge your dead batteries. Just sit back and let the warm water of these hot springs wash away all your stress and worries.
Cleopatra's Pool
Siwa, Egypt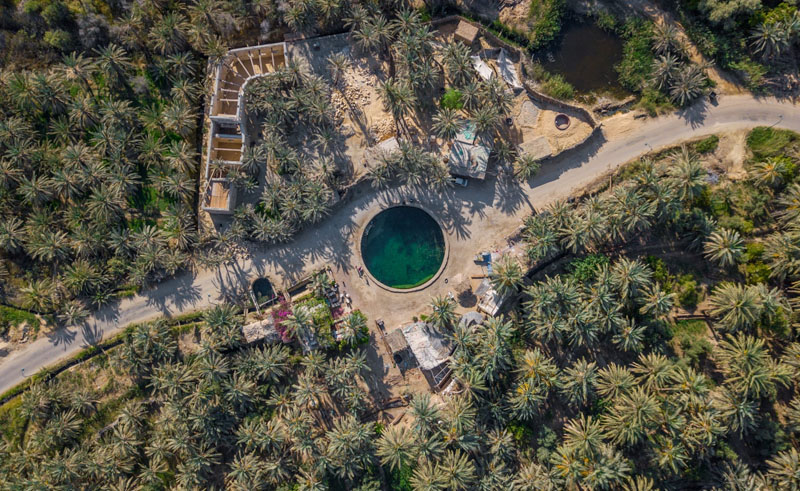 Nestled in the beautiful desert of Siwa Oasis, Cleopatra's pool, is also known as the spring of Juba. Steeped in history and mythology, this natural wonder is believed to be the place where Queen Cleopatra, the last Egyptian pharaoh used to bathe. Surrounded by the stunning desert landscape, this spring will offer you an immersive experience, allowing you to relax and rewind while benefiting from its geothermal minerals-rich water and its healing properties for joint pain and various skin conditions.
Hammam Essalihine
Khenchela Province, Algeria
Tucked away amidst the verdant pines, cedars, and oak forests of the enchanting Aurès Mountains in Alegria, lies Khenchela's hole-in-the-wall, Hammam Essalihine. The 2000-year-old Roman bath is a picturesque destination boasting a mesmerising mild Mediterranean climate, breathtaking natural landscapes, and years of historical heritage. Known for its high therapeutic benefits, the place has been attracting tourists from all over the world.
Bimmah Sinkhole
Muscat, Oman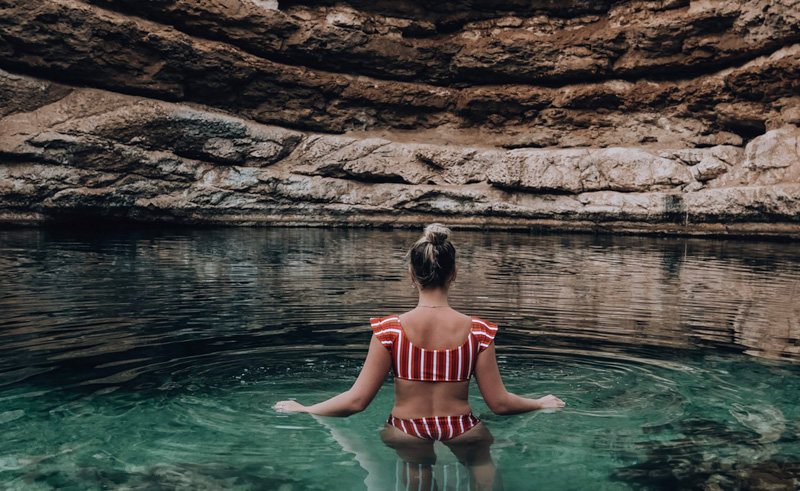 An hour-and-a-half drive away from the capital Muscat in Hawayit Najm Park is Bimmah Sinkhole, an alluring hole of crystal-like bubbling thermal water referred to by the locals as Beit Al-Afreet. Legend has it that a falling star struck the land in that same spot, resulting in the spring and an aquatic monster lurking in its water. The depth of Bimmah Sinkhole's water varies along the length of it, offering an impeccable cliff diving experience to hit that sweet spot for all adventurous souls looking for some spice of fun on their healing journey.
Pamukkale Thermal Pools
Denzili Province, Turkey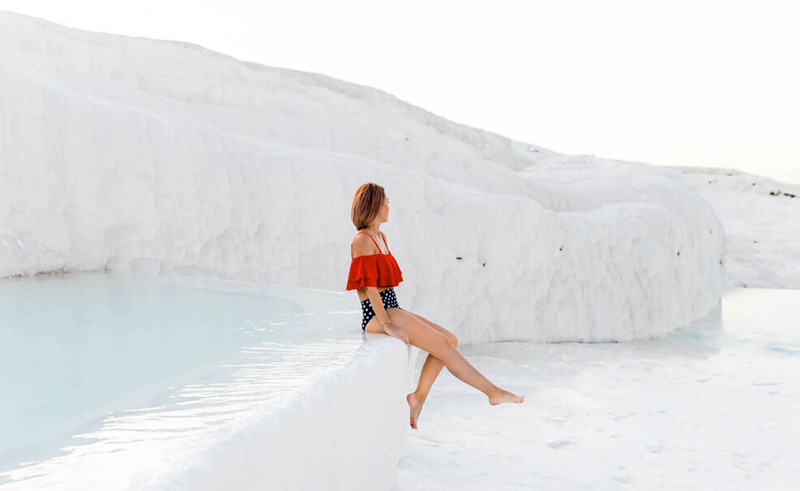 Pamukkale, AKA 'the cotton castle' in Turkish, is true to its word, a castle of 17 white travertine-tiered pools beautifully stacked atop each other with a dazzling view of the city of Denzili. Surrounded by the remnants of the historical Hierapolis, and soaked in Roman and Greek history, the shimmering white terraces of Pamukkale will offer you a one-of-a-kind healing experience with its cerulean thermal pools previously used as a Roman spa, as you admire the breathtaking view of the ancient ruins. This one is for the history addicts and culture vultures out there.
Paradise Valley
Agadir, Morocco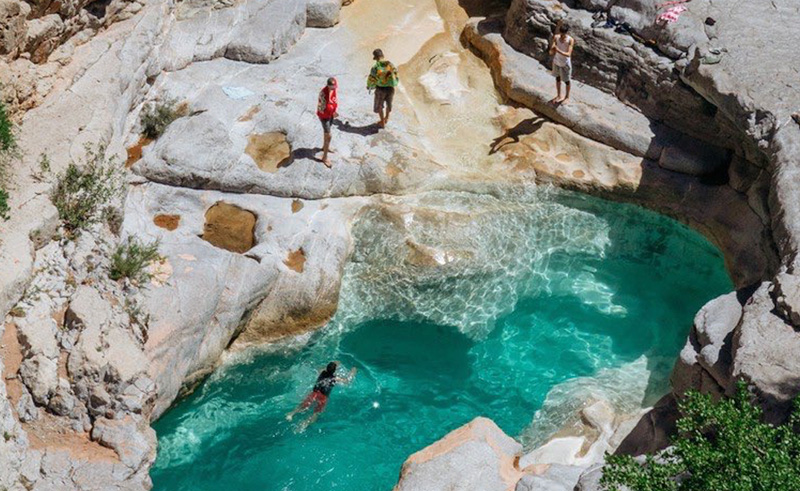 Word on the street that the voodoo child, Jimi Henderix named this oasis in the 60s, Could this hot spring be what really got the late rockstar into his Purple Haze? More likely. It is this irresistible crystal clear turquoise water bursting through the rocky palm-trees-filled mountains of Morocco, which got him hypnotized as much as it got us. Whether you are a hardcore stan of those psychedelic vibes, or merely a lost soul in the labyrinth of life this spot will offer you a wild transforming experience to revive your soul.
Ma'in Hot Springs Resort & Spa
Madaba Governorate, Jordan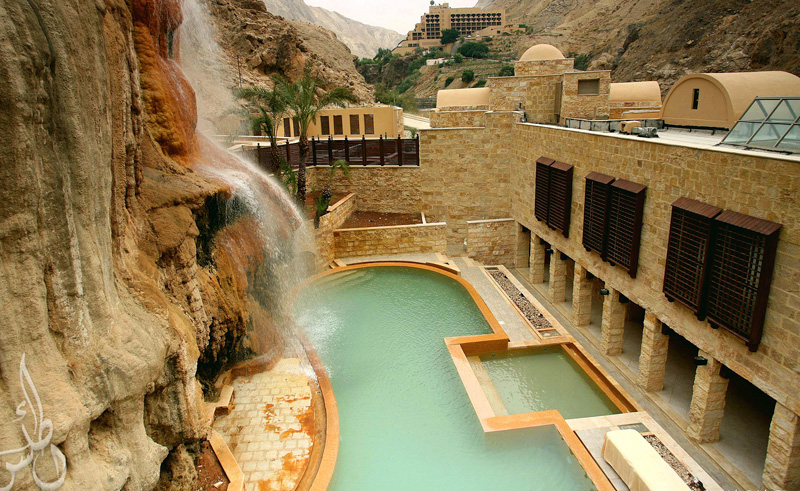 If you are looking for a series of waterfalls cascading down a sandstone-coloured hillside to create piping hot thermal pools below sea level, to act out your Africano fever dreams, we got this one for you. Located south of Amman, 246 meters below sea level, is the Hammamat Ma'in where you can either cliff dive, enjoy a hot soak to unwind and reconnect, or simply do some thermal treatments to make up for that unplanned Africano stunt you pulled earlier.
Um Al Maa Oasis and Hot Spring
Wadi Al-Haya, Libya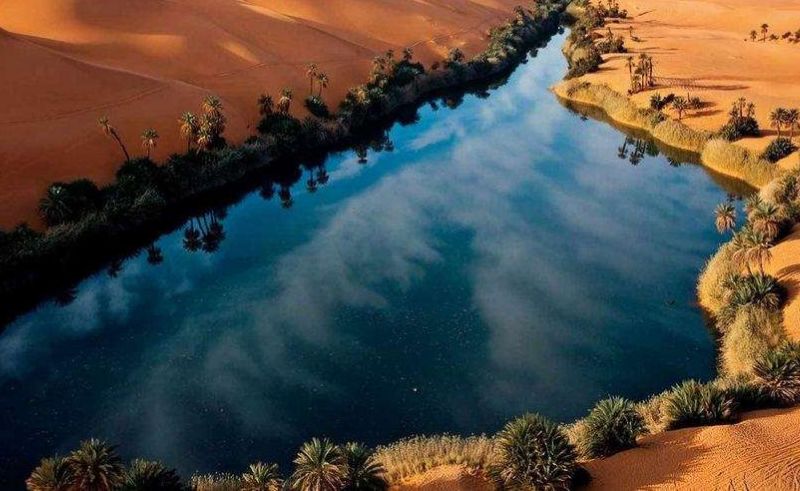 Deep within the Libyan Sahara lies Um Al Maa Oasis, which can be found amongst the towering dunes of the Ubari Sand Sea, 200 km east of Sebha. The oasis is home to one of the last remaining lakes in the desert, the beautiful Um Al Maa Lake sprawled down a soft golden slope of sand with a lush slew of green palm trees and flowering grasses hugging its shoreline. Basking in the staggering beauty of the forgotten land, you get to act like the main character in a new James Bond franchise as you take a solo dip in the lake's deep blue mirror-calm water.
Green Mubazzarah Hot Spring
Telal Resort Al-Ain, UAE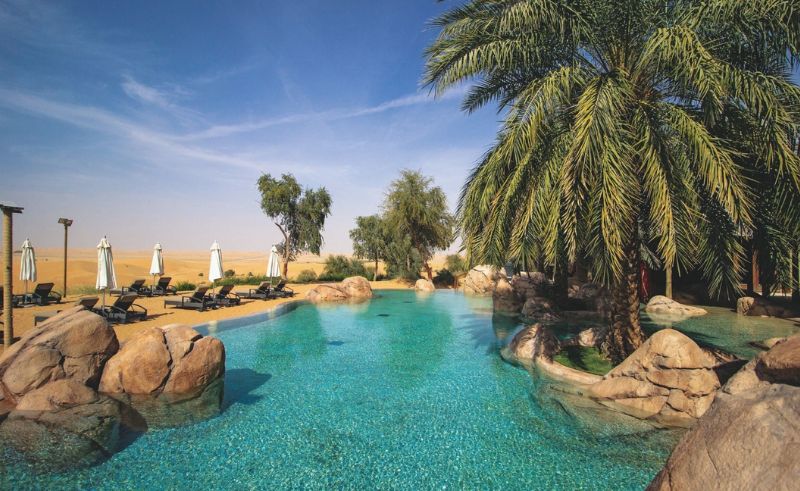 Shimmering in all its glory is this scenic slice of the United Arab Emirates, a private oasis in the Telal Resort Al Ain surrounded by the vast landscape of the Remah Desert which offers some serenity and a peaceful retreat with Gazelles, swans, and exotic Houbara birds roaming about. Lying at the foot of Jebel Hafeet Mountain, is the magical Instagrammable Green Mubazzarah hot spring ready for you to explore.
Lalehzar Baliran Hot Spring
Mazandaran Province, Iran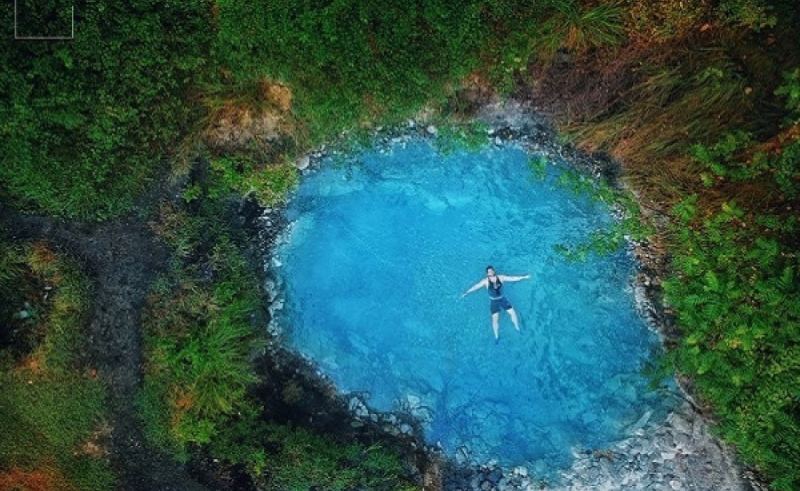 Burrowed among Iran's awe-inspiring Zagros mountain range is Lalehzar Baliran Oasis' waiting to be discovered with its hot spring. Boasting tranquillity and mineral-rich clear water glistening in the warm sunlight, Lalehzar Baliran Hot Spring is providing a blissful respite for weary travellers seeking relaxation and rejuvenation. This natural wonder, surrounded by lush green forests and soaring peaks, will offer you a truly unique experience which will leave you refreshed as never before.