Sasaab Lodge: The Moroccan-inspired Oasis in Northern Kenya
With its intriguing mix of Swahili and Moroccan design, Sasaab Lodge brings you intimate views of the Samburu region from its luxurious safari tents.
In Kenya's northern region of Samburu runs the Ewaso Nyiro River, a calm, lazy stretch of water that runs gently through desert landscapes, nurturing greenery and wildlife on its shores. Set along the riverbank and a short distance from the Buffalo Springs National Reserves, with its grasslands and lava rocks populated by herds of zebras, elephants, buffaloes, lions and more, you will be able to find Sasaab Lodge. It is here where you will be able to retreat within the folds of this luxurious stay, gazing out at the expanse of sand and shrubbery from beneath the thatched roofs of its safari tents.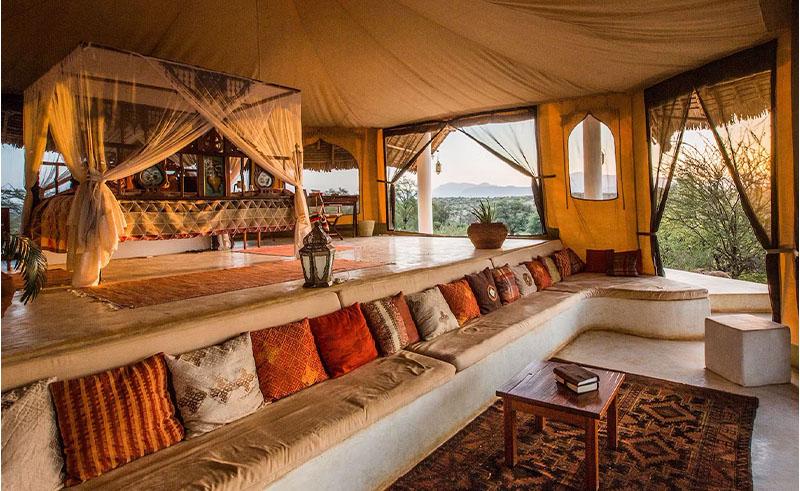 The lodge is managed by The Safari Collections, which operates a collection of lodges and camps across Kenya, highlighting each strata of the nation's diverse landscapes with designs built especially for their respective environment. "The unique desert-like landscape and cultural heritage of the Samburu region called for a completely different design for Sasaab, one which fitted naturally into the surrounding environment and culture," Tanya Carr-Hartley, Director at The Safari Collection, tells SceneTraveller. "Here, arid landscapes, red soils and exceptional natural light characterise the environment. Against this backdrop live the remarkably colourful Samburu people, known as 'the butterfly people'. This context is what inspired us towards the Moroccan concept, but of course with a Kenyan twist."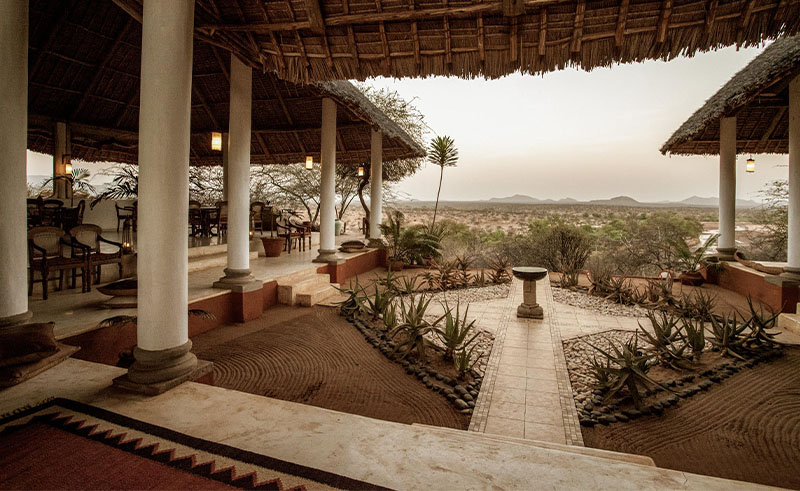 The huge open-plan tents which characterise the lodge are defined by their high makuti thatched roofing, open sided and verandas, all which serve to keep the rooms cool from heat. "In many ways, Swahili and Moroccan elements naturally blend together very well, as there are a lot of similarities," Carr-Hartley explains. "Both make use of open-air and outdoor living spaces, with open archways to let in light and air flow. Ornate wood carving is inherent in both Swahili and Moroccan culture and speaks deeply of the continent and its incredible artisanship. Sasaab incorporates stunning antique carved door frames, creating texture and visual depth. Vibrant colour is also a vital element in both design styles, clashing and splashing itself through textiles and decorative elements. Both design styles share Arab influences as well as other African cultures, so you can see there is a lot of overlap."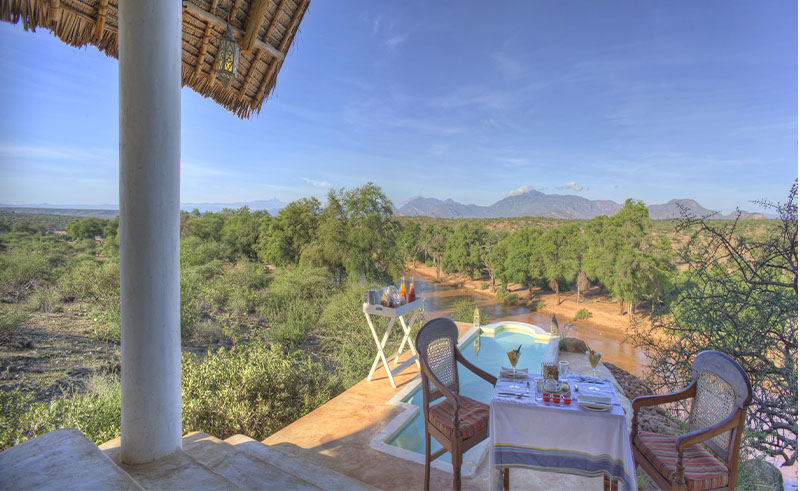 A day at Sasaab often starts early. The predawn call of the francolin bird rings out as light disperses itself and bleeds into the rooms, allowing you to wake up to the vast scenic views from Sasaab's verandas. Guests are invited to experience the sounds, sights and smells of Samburu's magnificent landscape and to witness Africa's untamed wildlife in its natural habitat. "Game drives and nature walks are often enjoyed in the cooler morning hours," Carr-Hartley says. "The wildlife is so diverse and always makes for remarkable sightings. Bush breakfasts cooked to order on our specially adapted vehicles are unbeatable, often with one of Samburu's majestic elephant herds nearby."
Afternoons take on a slower pace while guests laze by the infinity pool or by their private plunge pool. Spa treatments promise to bring relaxation and rejuvenation, in a sustainable manner, exclusively using products and natural ingredients from the Sasaab's rich local surroundings. "We also have a lap pool, and gym, all of which enjoy expansive views that melt into the rooms, ensuring you feel connected to nature and the incredible surrounding landscape wherever you are," Carr-Hartley adds. "Sometimes it's nice to be more active and head out for late afternoon adventures on quad bikes or camels."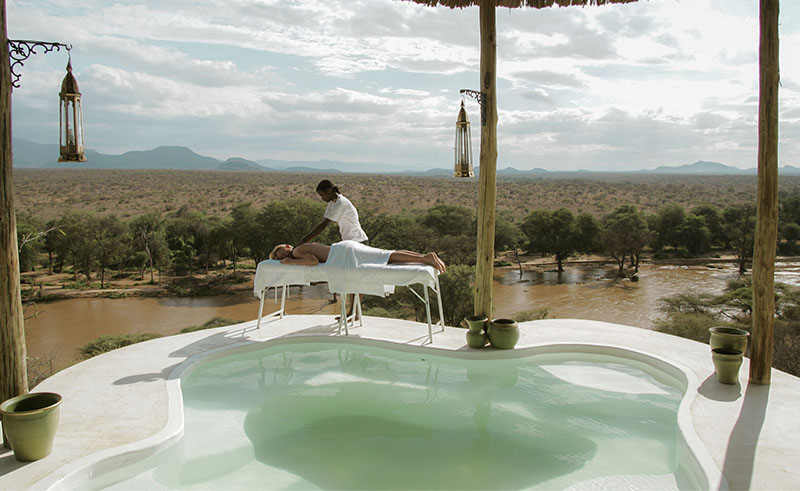 The evenings are spent celebrating the African starlit nights at a bush dinner, accompanied by Samburu culture and storytelling. The drama plays out with no orchestration as it is so much a part of the location. "Reclining on one of the rooftop stargazing beds at night is a magical time," Carr-Hartley says. "There's no light pollution so the nighttime sky is a treat to behold."
The lodge offers a full board program for guests, inviting them on a culinary adventure across Africa. The kitchen blends sensational Moroccan and Swahili flavours to create a distinctive palette to ignite the taste buds.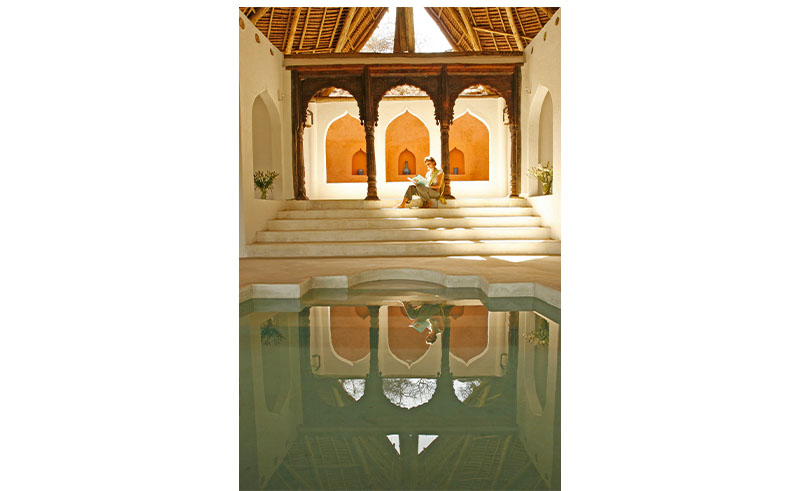 "Many of our guides are from the local Samburu community and are eager and proud to share more about their culture with visitors. Our cultural centre also gives guests a little context on the unique and striking geology of this northern region of Kenya." This celebration of local culture is reflected in the brand's ethos. "Our goal is to create memorable safari experiences whilst leaving a lasting positive legacy in the places we love and call home. Therefore, we're deeply committed to making a positive impact in the communities and environments where we operate. This commitment is at the heart of our brand ethos and is overseen by our Footprint foundation."
The Safari Collection has a number of initiatives that inspire greater community engagement, conservation, sustainability, and cultural preservation, among other things. Since its inception in 2009, the Safari Collection has gone from strength to strength, fusing luxury with nature. "Although the journey we're on started from birth, being lucky enough to grow up in Kenya's incredible places. Our ambition with The Collection was to appreciate and help conserve wild spaces and local cultures, while using hospitality as a commercial way to sustain it," Carr-Hartley says. "We had a passion for our country and a full understanding that it would take a lot of commitment through the years. We are both Kenyan and couldn't imagine a better place to work or live."