Mövenpick El Quseir is a Luxurious Rustic Retreat on Egypt's Red Sea
A long guarded secret of the diving community, this family friendly resort offers a secluded escape with its private bay and gorgeous coral gardens.
There is a mood belonging to the German temper known as 'Gemütlichkeit'. While difficult to translate, and even more challenging to pronounce, gemütlichkeit is quite simple– a feeling of comfort, cosiness, and lasting peace of mind. What do discerning travellers look for nowadays when choosing their next destination? Gemütlichkeit– that alchemical combination of exclusivity, five star comfort, and intimacy.
This is just the case with Mövenpick Resort El Quseir, a charming seaside retreat located in the southern reaches of Egypt's Red Sea coastline, halfway between sprawling Hurghada and the more sedate Marsa Alam. While the majority of Egypt's beach resorts offer a high octane cocktail of activities and distraction, a stay in the calming confines of El Qusier's rose coloured bungalows is a chance to reconnect with spirit amidst the absolute seclusion of this desert paradise.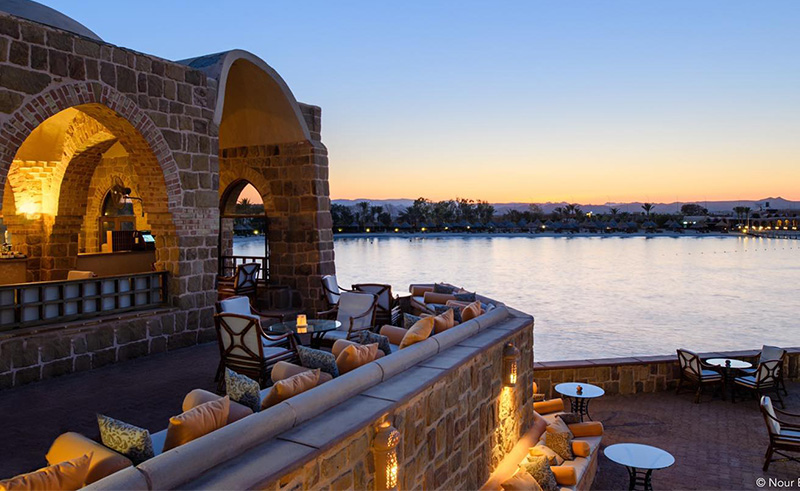 Spread along a kilometre-and-a half of rocky coastline, the 250-room property with its tall palms and gardens of blooming bougainvillaea, has been designed along the lines of a self-contained village of petite bungalows, with high domed ceilings, shaded verandahs and sun-drenched patios. Built in 1995, and now belonging to Accor Group, the Mövenpick Resort El Quseir has cultivated generations of devoted German and Italian holidaymakers attracted by its luxurious simplicity and comfortable hospitality. A recent four-and-a-half year renovation has resulted in the construction of elegant vaulted receptions, a domed hammam, new restaurants and a chic, Corbusier-styled interior makeover.
The Nubian inspired rooms are a deft fusion of Swiss detailing and traditional aesthetics resulting in a "monastic" retreat playing soft neutrals and bright accents off of minimalist furnishings and sculptural textures. The result is a sensible, charming design existing in rustic harmony with the landscape, without sacrificing on the amenities expected of a five-star. Rain showers, soft bedding, a pillow menu, and a lavish turn-down service (Swiss chocolates and gourmet dates pillow side) all come standard in each of the resort's room categories. The sea facing suites are particularly captivating with their limestone plunge pools, inviting hammocks, and unspoiled sunrise vistas across the water. Guests have been known to reserve rooms for months on end, sometimes returning twice or thrice annually to indulge in El Quseir's rustic luxury.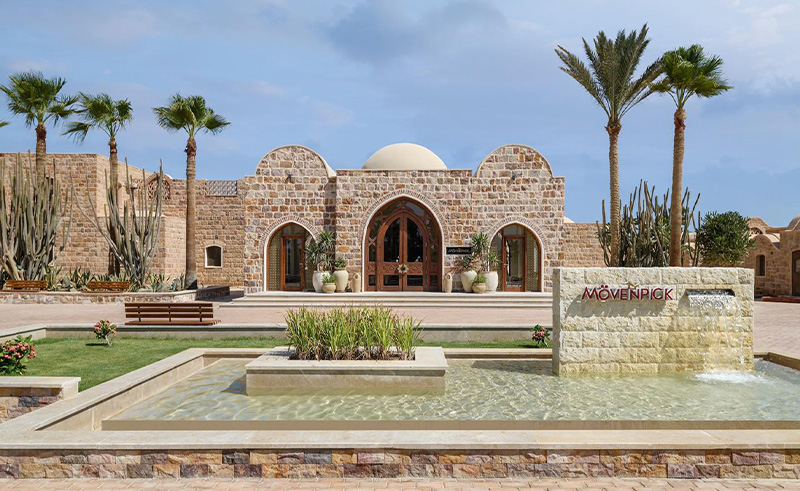 The Mövenpick El Quseir lies along a natural break in the reef, boasting its own in-house bay and stunning underwater coral gardens reaching down 60 metres. The resort has long been a closely guarded secret of the scuba community due to the exclusivity of its bay and the health of its reef. The bay itself is actually an ancient Ptolemaic port, which has been granted protected status as an Eco Bay and may only be accessed by hotel guests. Morning, afternoon and thrice weekly night dives are conducted by Extra Divers Worldwide, a German dive company known for its ecological commitment toward reef preservation and marine health. The bay is cared for by its own resident marine biologist and forms a central pillar to El Quseir's sustainability efforts.
As part of this sustainability initiative El Quseir has said goodbye to plastics entirely. This means no water bottles, plastic drinking straws, or single use plastics. "We had to come up with sustainable alternatives, that meant having to think creatively to find local solutions," says Maya Mitulski, front office manager and the steward of the resort's green initiatives. For the case of the resort's drinking water, sustainability meant the importation of a micro filtration system from German maker Britta to purify water and the establishment of the hotel's on-site glass bottling plant. "That was no easy feat, but totally worth it in the end as we have cut our plastic waste to nearly zero," Mitulski adds. Further initiatives have included the planting of an organic garden and state-of-the art composting system in producing nearly one metric tonne of organic produce monthly.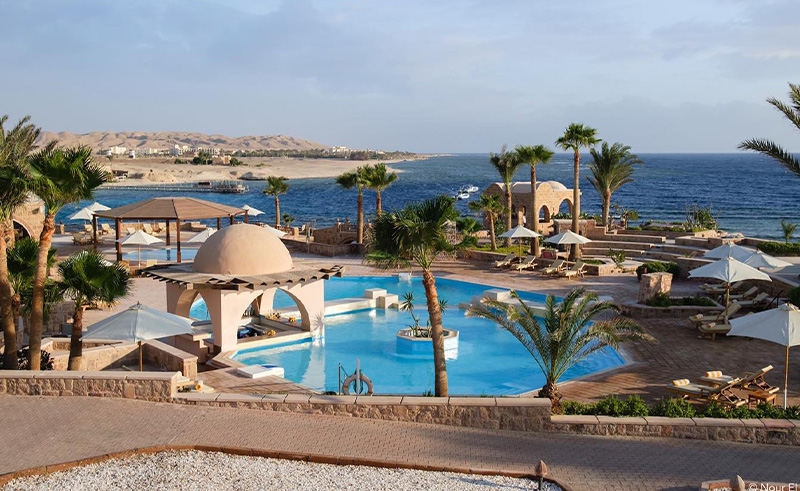 Geb's Garden, located in the very centre of the property, is under the direct supervision of the resort's chef Thorsten Sbrzesny and has grown to become a passion project for the veteran chef. An animated man with a tale for every occasion, Sbrzesny began his career as a galley chef aboard a German naval destroyer. This intrepid explorer spent 26 years in Abu Dhabi launching restaurants and hotel projects before arriving at sleepy El Quseir four years prior.
Spoiled for choice, there is no shortage of menu options across the resort's five restaurants all under the eagle eye of Head Chef Sbrzesny. 'The Diver's Club', a seaside bistro serves a selection of salads, sandwiches, and light mains, while 'Seagull', a fine dining restaurant, boasts gourmet entries like a beef carpaccio, roasted octopus and a 24-hour slow roasted lamb shank with rosemary gravy. 'Al Fresco', a poolside trattoria dishes up classic pastas, expert risotto, and wood fire pizzas; while 'The Fisherman's Hut', a rustic beach shack, prepares seafood like rock lobster, prawn, and octopus Egyptian-style in a five-course dinner complete with mezze and fresh baladi breads. The daily offerings at 'Orangerie', the house buffet, are outstanding with an excellent selection of hot and cold dishes, an expansive breakfast buffet and themed dinners– Asian Night being particularly popular with a delicious Nasi Goreng and Vietnamese Spring Rolls.
"Nobody knows El Quseir, and we like it that way," states Alec De Wieu, Mövenpick's General Manager. "Before coming here I spent seven years in Gouna and I can say I love the Quseir vibes. This is not Cairo at the Sea, but a feeling of being cut off from it all – authentic and natural. It is not for everyone, but some of our guests have been coming for over twenty years, their children have grown up here and are now coming with their kids." The El Quseir is all about the guest, about providing the facilities and atmosphere to relax and explore. There is a long standing tradition, going back to the hotel's opening, of planting an olive tree upon the guest's 10th visit. To date, they have planted over 423.