Uncover Dubai: The Ultimate Luxury Layover Experience
Here's how the world's most iconic layover spot merges luxury, culture, and spellbinding experiences.
Boarding an Emirates airline flight immediately propels you to disengage from life along with its mundane connotations, and leap - red and gold interiors first - into a land of luxury and sheer escapism. Mere seconds into your ascent you're greeted with an unyielding aura of reassurance; one cemented by warm smiles and lavender-scented face towels. Two glasses of bubbly Rose and a selection of pistachio-encrusted chocolates later, the shoes come off, and the descent into a city, unlike any other, awaits.
An esoteric fantasy, Dubai takes what at times seems unfathomable and makes it tangible. It's the city you relentlessly google, but the images trafficked never seem to encompass the magnitude of what it has to offer. The urge to cease the doom-scrolling never withers and the tech-driven skyscrapers and mirrored infrastructure only work to further captivate you. The reality is no different. Landing and treading its concrete streets breathes life into the images at hand. Interspersed with high ceilings, their exorbitant malls urge you to unapologetically dip your fingers in the nearest trust fund and succumb to the luxurious world of Prada, Louis Vuitton, and Dior. Riddled with culturally rich cuisine, no global delicacy and respective taste palette ever goes unaccounted for.
Whilst Dubai has exceeded all existing definitions of luxury, it is only a minuscule angle that fails to tell the story behind one of the richest cities in the world. To most, Dubai is uncharted territory but those who entrench themselves in the enigma's history will come to realise that the city has an entire backlog of historical context to unravel. Initially established as a fishing village in the early 18th century, Dubai grew to host 700 to 800 members of the Bani Yas tribe and was subject to the rule of Sheikh Tahnun bin Shakhbut of Abu Dhabi.
However, it was not until Sheikh Rashid bin Saeed Al Maktoum's rule that the Dubai World Trade Centre, Jebel Ali Port, Rashid Port, and other pivotal developments were made to modernise Dubai and turn it into the global tourist destination it is today. To think that Dubai, the city that continues to baffle scholars, architects, designers, and tourists with its diversity, accessibility, and magnificence was built in 50 years, is truly miraculous.
History is not all that grounds the palatial city. The root cause of the expansive focus on Dubai over the past decade, in particular, can be attributed to its booming entertainment industry, and most importantly, its exhibitions. Substantiating the city's phantasmagoric affiliations is an endless mechanism exclusively dedicated to pumping out experiential endeavours; ones curated with the intent of making every waking second memorable.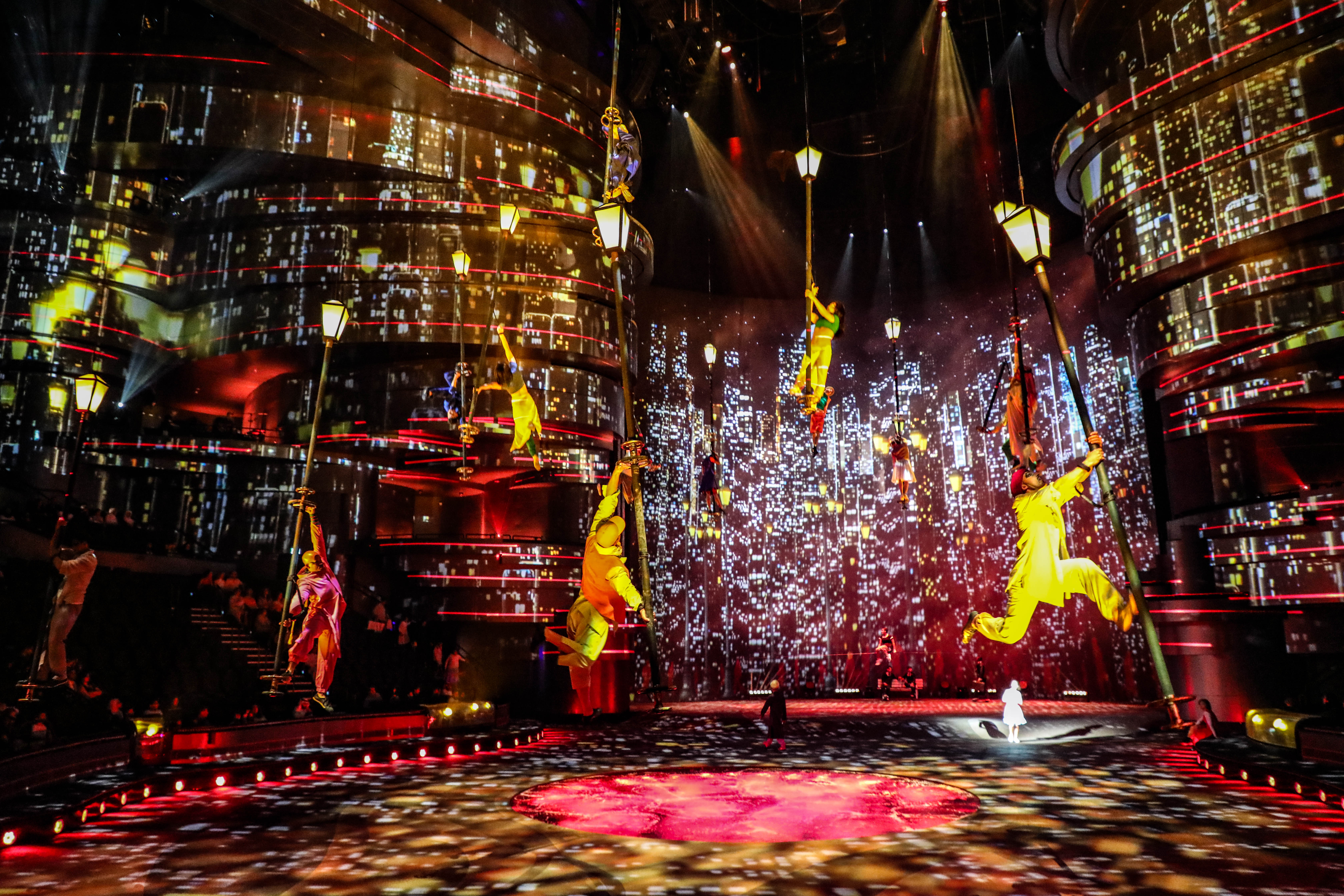 Reigning supreme is their dive into theatrics is Al Habtoor City's La Perle. Merging world-class talent with Dubai's extensive past, vibrant present, and aspirational future, La Perle not only serves as the city's number one show but also acts as a microcosmic representation of its established role as a hub for creative initiatives. Bringing together the world's leading technicians, theatrical designers, and 35 different performing artists from 15 different countries; La Perle perfectly encapsulates Dubai's animated spirit (as people descend from 18 metre heights of course). With 1,300 seats, a 5 metre deep pool, 360 degree surround sound and three-dimensional projection mapping, La Perle is a fortified feast for the senses.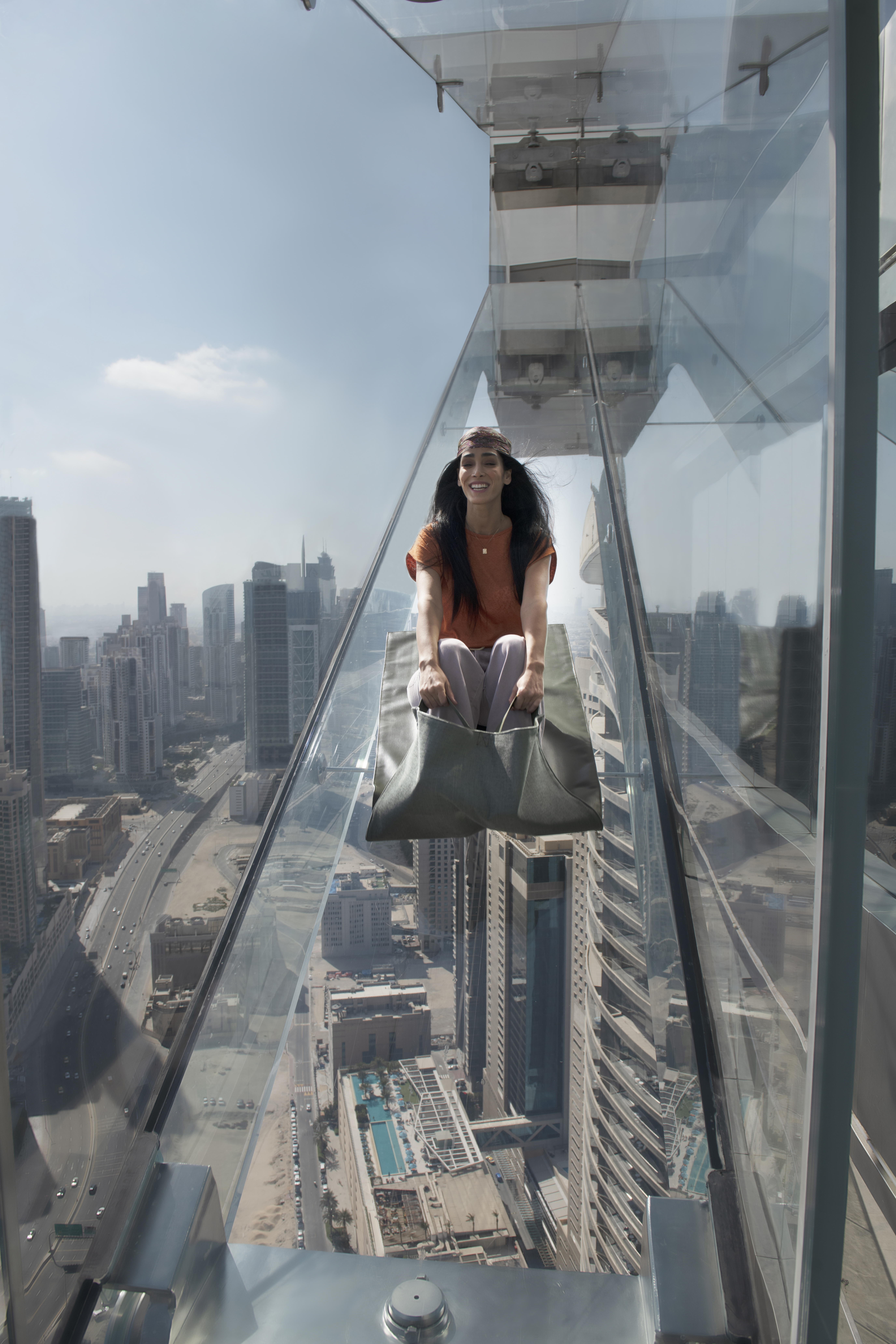 When the theatre stage becomes far too constricting, the desire to abandon indoor settings morphs into a necessity. Circumventing that is Sky Views Dubai. Built with the intent of - as close to literally as regulations would allow - catapulting you outside of the crevices of the massive cityscape into a front row seat of urban jungle, Sky Views seamlessly merges the comfort of present lived experiences with those of out-of-body ones. Sat 219.5 metres atop The Address Sky View hotel, and encased in floor to ceiling glass walls amidst their twin towers, the observatory acts as the perfect post-intensive-shopping spree denouement when collections of diamond-rimmed watches overwhelm your senses. Perhaps not for the faint hearted amongst us, Edge Walk - a ledge located on the 52nd floor extending from the observatory encircling the skyscraper - gives skydivers and Carolina pepper enthusiasts an 'adrenaline' run for their money. To further re-invorgate the soul, the landmark also houses a 46 metre glass slide; one that serves to channel bygone eras riddled with adolescent nostalgia and aims to exhibit a spellbinding view of Burj Khalifa.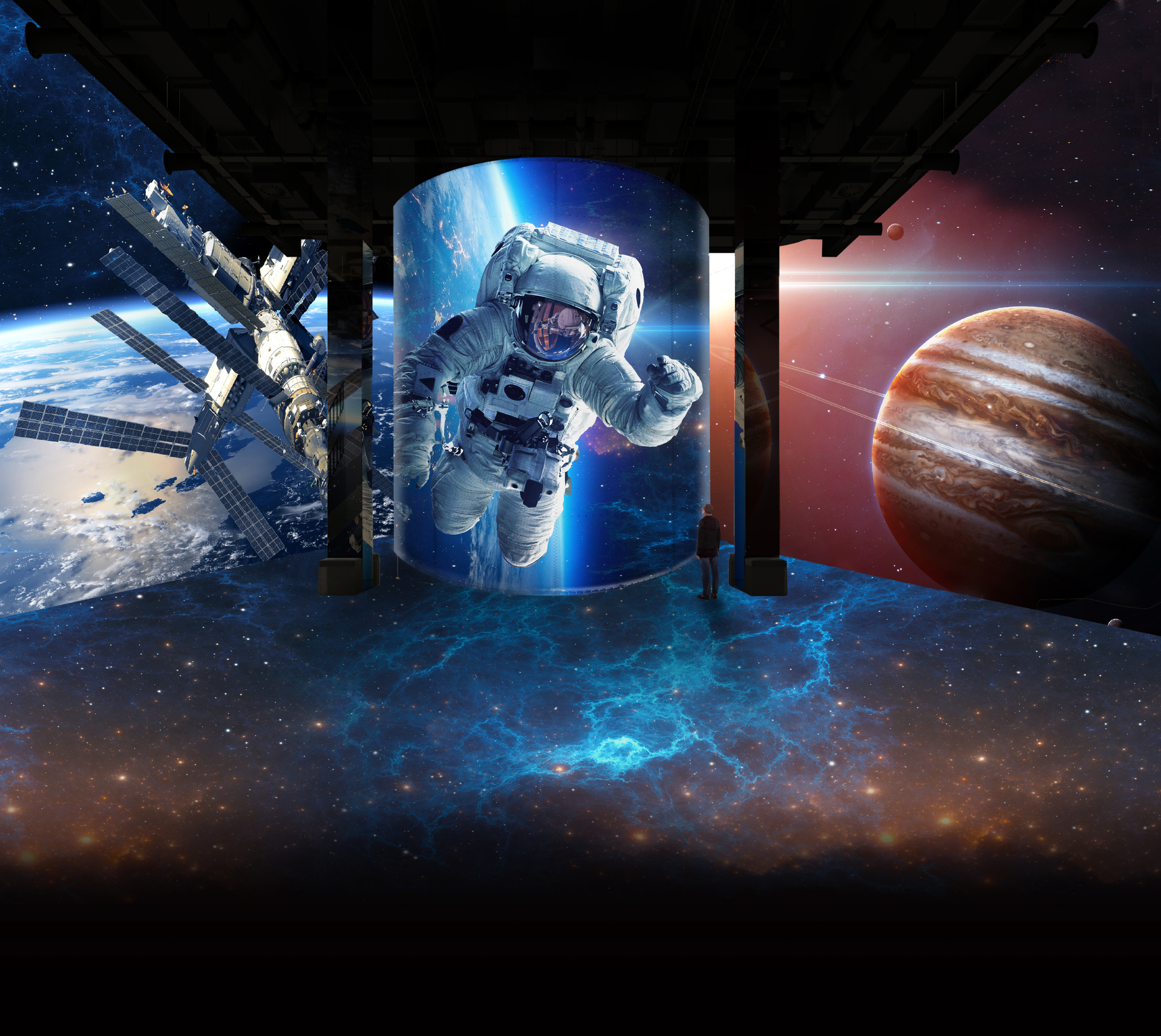 Coinciding with the increasing interest in the world of digital art, Dubai Malls' Infinity des Lumieres exhibition is not only the GCC's biggest immersive art experience since its inauguration in July of 2021, but it is one which acquaints those reluctant about the sudden creative disruption, with all that it could encompass. Think screens lining a room's parameters, solely dedicated to capturing art's nuances, and dynamism. Imagine treading floors brought to life through a series of 130 projections of Van Gogh's Starry Night and ceilings built to incase the artistic upheaval taking place. As of May 19th of this year, InifintyArt - famed immersive experienced providers powering Infinity des Lumieres - has been running 'Art of The Future, In The City of The Future', a futuristic display of the cosmos curated for the globetrotters dreaming of space travels.
When the futuristic setting brought on by Infinity des Lumieres ignites a fire in your heart and the burning embers cloud your thinking, Dubai's Museum of the Future (MOTF) becomes the only medicine capable of soothing the wounds. Founded by the Dubai Future Foundation in February of this year, the establishment examines the intricacies of social behaviour through science and technology. Flinging you decades into the future, the 'living museum' meshes traditional, immersive and themed attractions as a means of feeding a much larger quest to expand the global intellectual movement. In a similar vein, MOTF houses Dubai's 'Great Arab Minds' initiative that actively works towards spotlighting over 1,000 Arab talents making palpable changes in their respective fields. Acknowledged by National Geographic as part of the world's 14 most beautiful museums, MOTF boasts ironclad architectural designs by Shaun Killa - the mastermind behind Caesers and The Address beach resort. Engraved with Arabic calligraphy, the glass windows aim to visually render Dubai's rich culture, metaphorically reflecting lines of poetry courtesy of HH Sheikh Mohamed bin Rashed Al Maktoum as well as physically reflecting the bountiful cityscape.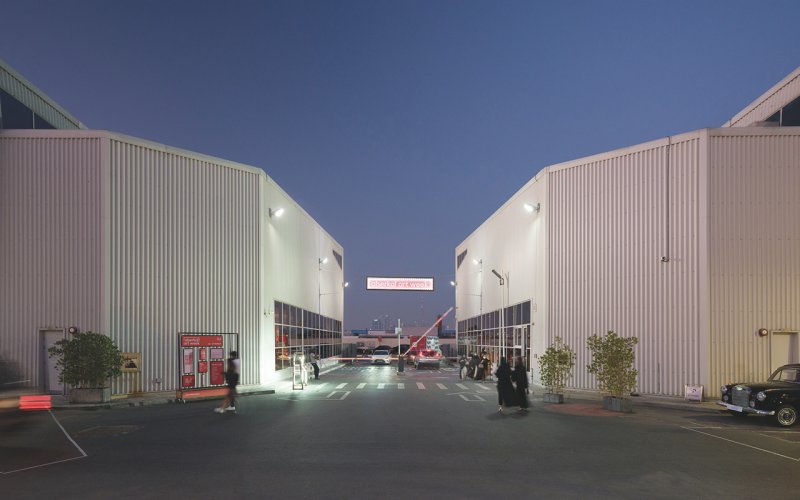 Adrenaline-inducing shenanigans aside, the incomparable experiences that Dubai so devotedly upholds are those related to cultural enterprises. Alserkal Avenue is no stranger to that sentiment. Established in 2008, the district was built to mimic the larger socio-cultural fascination cultivating in Dubai. Housing over 70 contemporary art galleries and accommodating over 700,000 visitors on a yearly basis, the 10,000 square feet cultural landmark lends itself favourable to the anthropologically-inclined and quick-witted 'Fanon' fans amongst us.
Since its inauguration, Alserkal has played host to over 5,000 events and 400 talks as part of their nationwide initiative to host a cultural festival comparable - at times surpassing - those held abroad. In support of budding artists, and as of 2019, the Alserkal Arts Foundation - a direct byproduct of the landmark - works to supplement the expansive (both physically and culturally) path the avenue has paved.
As a way to trigger your senses way beyond perturbed heartbeats and sweaty palms, Dubai takes daily monotonous tasks and morphs them into monumental moments. In essence, dining out at the end of any workweek can instigate a flurry of affable laughs, intimate conversations and tastefully crafted Meringue-fringed lemon tarts. However, in order for those routine activities to stretch beyond a handful of hours and imprint themselves on our psychological scrapbook of life-long memories, a sensually stimulating experience is necessitated.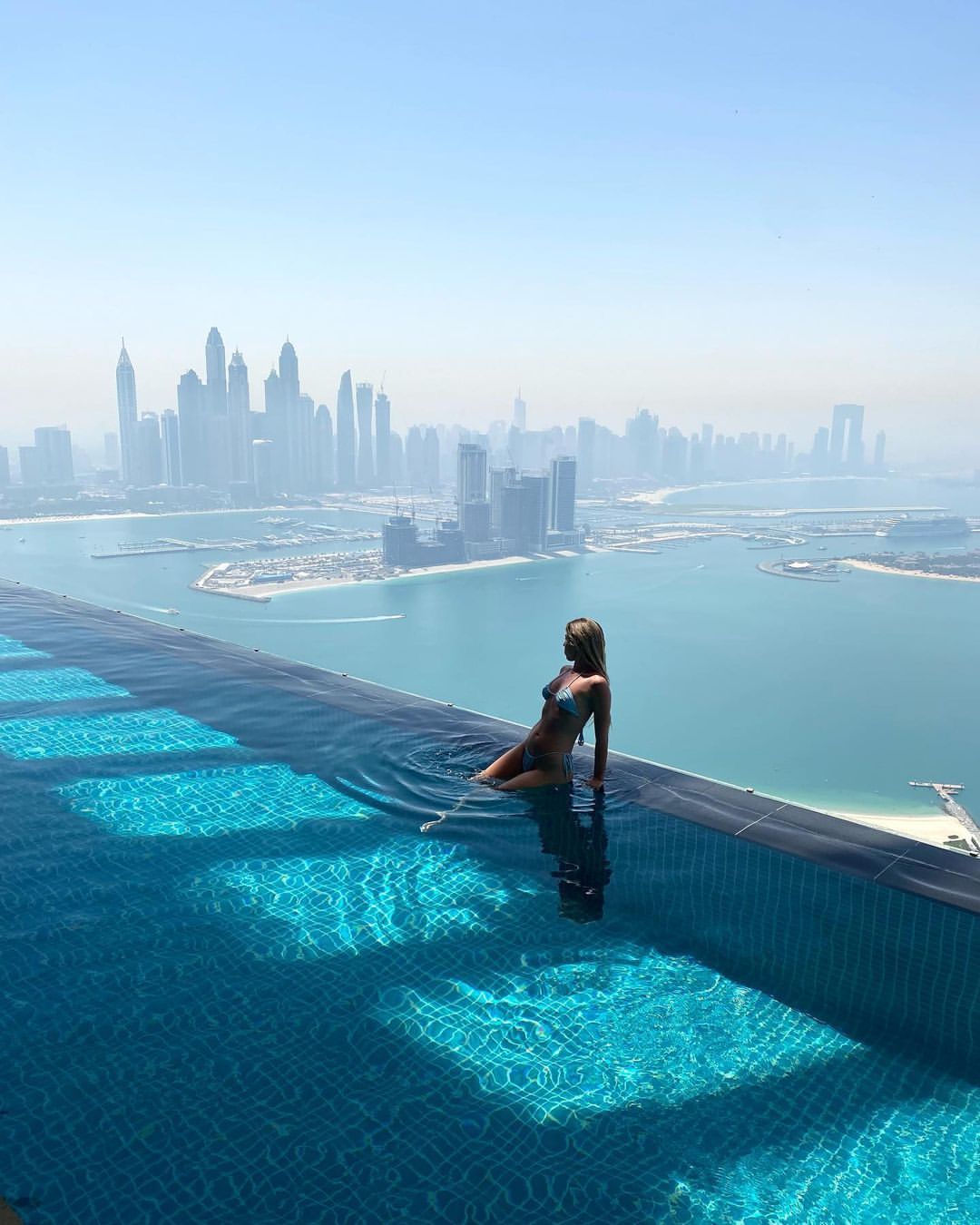 That's when Dubai's AURA Skypool enters the picture. Suspended 200 metres in the air, and grounded through a 360-degree infinity pool, the dining establishment aims to tear you away from the city's hectic core and station you amongst urban tipping points and crystal clear skylines. A coalescence of structured modern interiors and lush greenery, AURA offers a plethora of Pan-Asian cuisine meticulously crafted by the hands of Executive Chef Craig Best. Inviting you to intertwine a gastronomical experience with views of Palm Jumeirah, Burj Al Arab and Burj Khalifa, AURA willfully animates every sense; simultaneously satiating your hunger pangs and soul-tied affinity for panoramic scenes.
To uncover Dubai without tapping into its incomparable retail sector is to sit by Maldivian water and keep your feet utterly dry. Housing over 1,200 stores, not only does The Dubai Mall stake a claim to being the world's largest shopping, leisure and entertainment establishment, it also encompasses the biggest influx of global luxury fashion houses. As new collections drop seasonally, fashion houses such as Dior, Gucci, Miu Miu, Versace, and Channel divide the one-of-a-kind pieces worldwide. Continuously placed at the forefront of the allocation is Dubai. With intentionally curated garments, colour waves and limited edition pieces permeating their glass windows, most if not all drops land in Dubai's lap prior to ever gracing its global counterparts. Covering over one million square metres in land and 70 high fashion outlets including Bloomingdales and Galeries Lafayette, The Dubai Mall embodies the true definition of a fashion haven.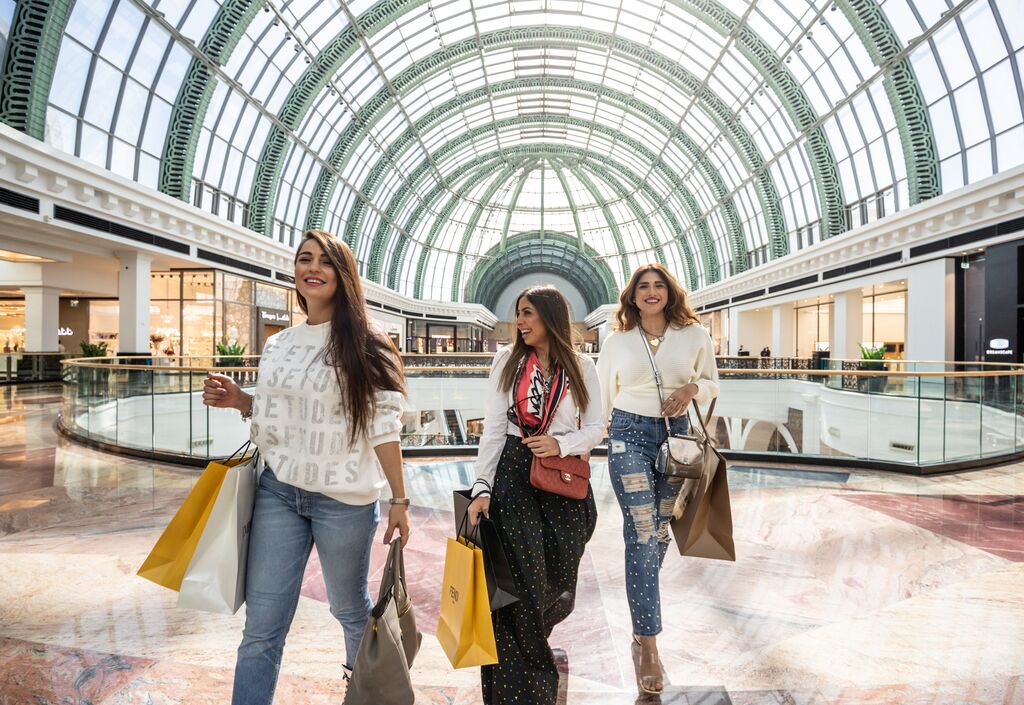 If perusing the affluent halls of The Dubai Mall is not exasperating - albeit exhilarating - enough then perhaps a shopping spree punctuated by the transparent walls of Ski Dubai is precisely what you need. An architectural masterpiece, the Mall of the Emirates boasts an elevated dome; one hovering above Parisian dining staple, L'Aduree and encircling the top floor's luxury department. Akin to the European glamour witnessed by Milanese landmarks, the mall pushes traditional shopping experiences to their fullest logical extent. Waltzing through their gold-hued walkways is analogous with a trot across the globe. You'll encounter Seoul's very own Gentle Monster, the US's coveted Apple store and Italy's Missoni all in the span of 15 minutes.
As the daydream comes to a sharp close, and you pack your newly fashioned wardrobe (teary eyed at the thought of parting ways with their source) you'll once again deadlift your overweight suitcase at baggage claim and soulfully reminisce over Dubai's limitless adventures. You'll watch a heartwrenching rom-com or two and convince yourself that the waterworks are a mere byproduct of the unrequited love encasing your modest screen. Upon landing and re-connecting with your home state once more, a photo album amalgamating the fond memories fervently greets you and WhatsApp messages reiterating your comeback (in two weeks time) remedy your broken heart.