Monochrome Monday: The Sunshine Yellow Edition
Walking on sunshine? Baby, we're strutting on sunshine.
Dear readers and faithful followers of Monochrome Monday,
How's that beachside escapade treating you? Is the weekly North Coast trip giving what it's supposed to give? Are you living out your Kate Upton swimsuit fantasy? And have you entered your 'bar-hopping in haute couture' era yet? Last week, we immersed you in a captivating array of tantalising blues. Now, we invite you to bask in the brilliance of Monochrome Monday: The Sunshine Yellow Edition.
In this edition, we have meticulously curated a mood board that mimics the sun's radiant hues. From Mirna Nakhla's golden ruched bikini set to Foux's luxurious sunflower handbag, our selection embodies the essence of meadow mellow sunshine. Perhaps, dear readers, this selection can be woven into a blue-tinted ensemble, perfectly complementing and contrasting a maxi dress of your choice. However, for the daring amongst you, these suggestions can beautifully unfold to create a statement summer look that can timelessly roll onto more hot seasons to come.
Amina Muaddi
Cameron Hoop Large Topaz Cristals With Silver Base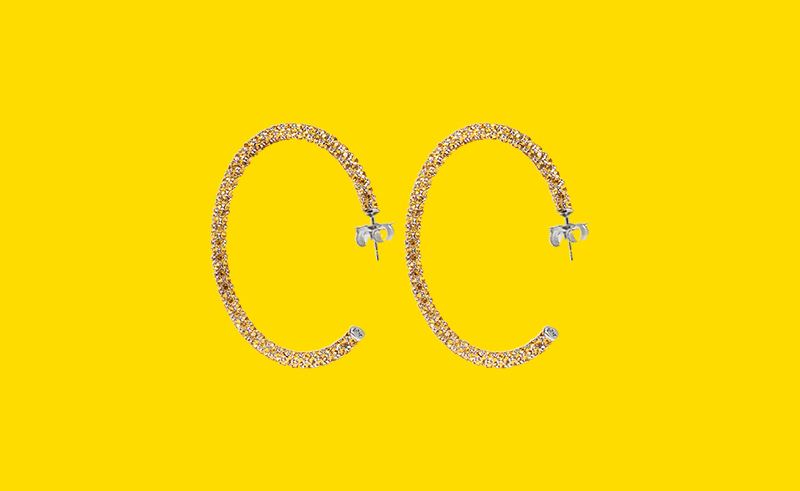 Gleaming with warm yellow topaz, the Cameron Hoop earrings by Amina Muaddi dazzle with Mediterranean glamour. The rounded shape mimics the sun itself, radiating summer-like cheer while the crystal accents twinkle like sunshine on the sea.
Mirna Nakhla
Amalfi Set Mango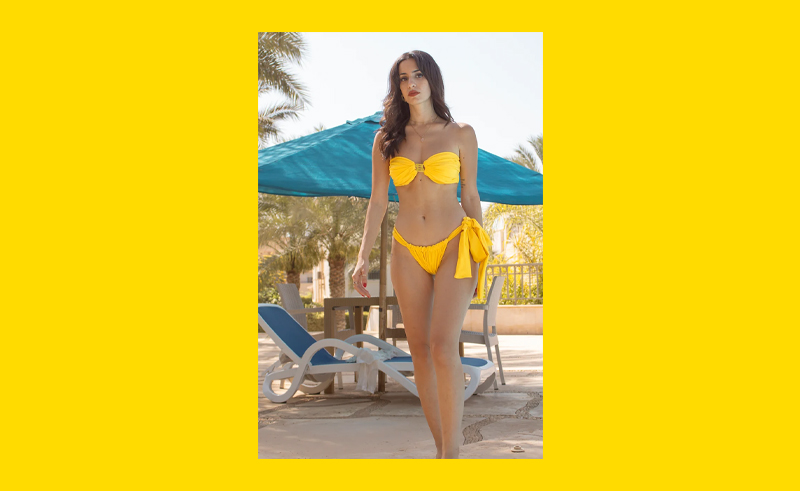 Infused with the carefree spirit of the Italian coast, the Amalfi set by Mirna Nakhla transports you to coastal escapades with its sun-drenched mango hue. The ruched bandeau top offers adjustable comfort while crafted details add a sense of luxury, evoking tranquil afternoons spent chilling by the beach.
Port Tanger
Mauretania Incense Red Acetate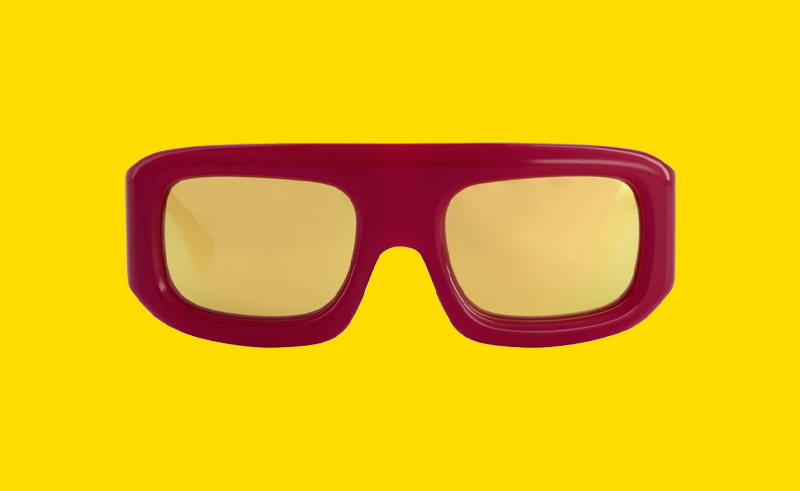 Merging classic frames with brilliant colour, the Mauretania Incense Red Acetate sunglasses by Port Tanger bring bold Moroccan flair to any ensemble. The rich candy apple hue lit from within by hints of sunny yellow calls to mind spices overflowing from dusty market stalls and the brilliant blooms of rose gardens.
Georges Hobeika
SS'23 RTW Flamingo Club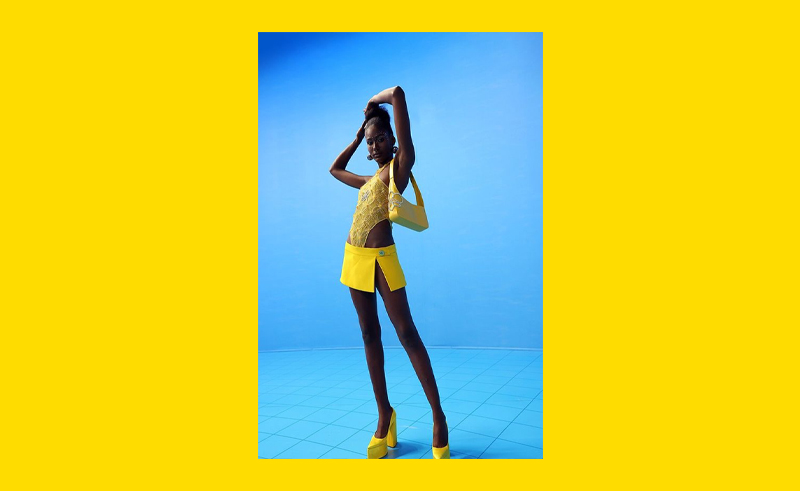 Free and whimsy, the Georges Hobeika SS'23 Flamingo Club collection takes on summer styles with effortless elegance and youthful delight. Wisp-thin fabrics in vibrant shades of yellow come to life at the skilled hands of Hobeika's master artisans, cut and sewn with perfect precision into silhouettes that float and flutter in the warm breeze.
Andrea Wazen
Franca Glitz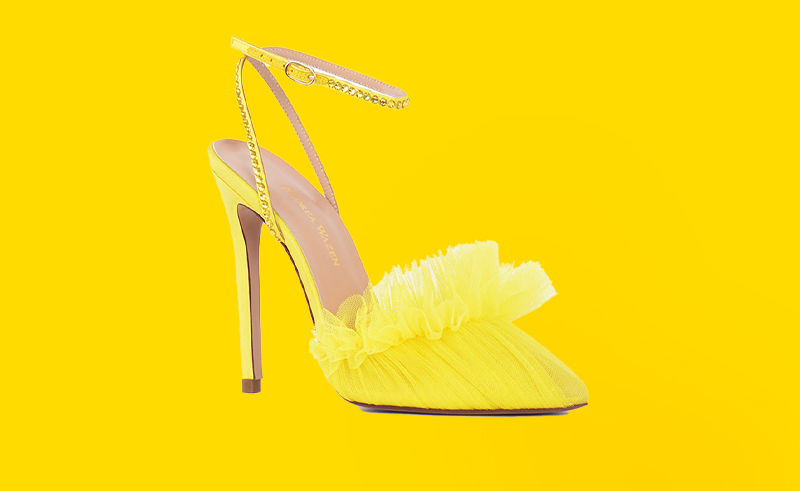 Radiant and dazzling, the Franca Glitz heels by Andrea Wazen exude luxury and glamour. Crafted from yellow satin and adorned with sparkling crystals, these stilettos embody old school Lebanese elegance with a modern edge.
Ofa
Yellow Heart Signet Ring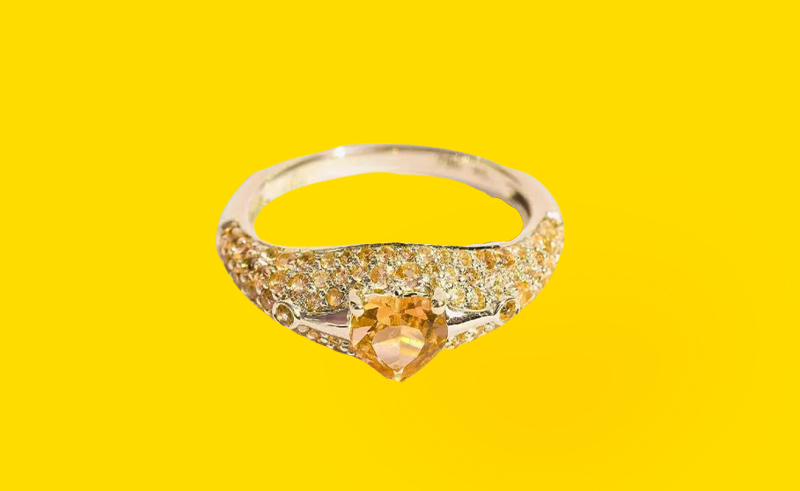 Surrounded by pavé-set yellow citrines that sparkle with each turn of the wrist, this ray of sunshine ring is sure to lift your spirits and make every day a little brighter.
Foux
Micro Foux - Sunflower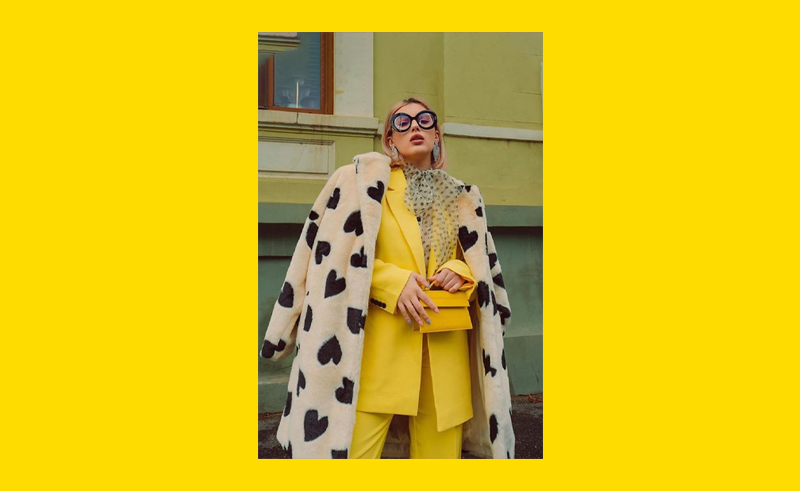 Crafted from luxurious vegan leather in a vibrant yellow hue that mimics sunlight on sunflower petals, this petite yet sophisticated bag features gold tone hardware accents that enhance its luminous shade.
Nicolas Jebran
SS'22 Look 22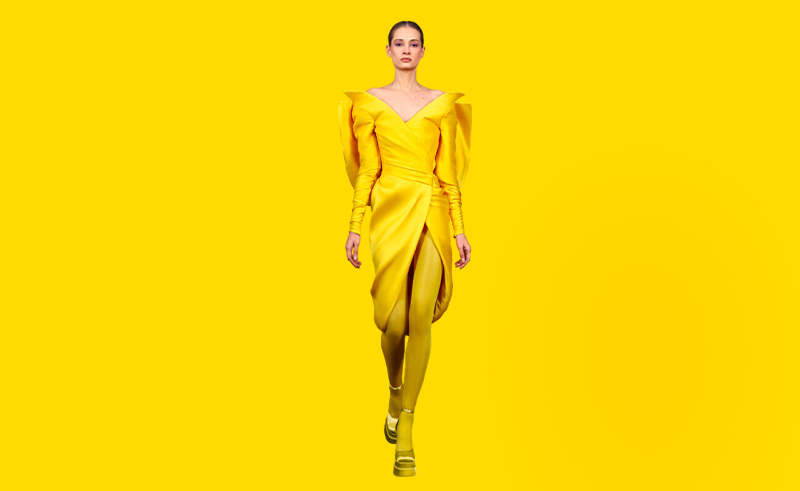 Projecting poised confidence and elegant allure, Nicholas Jebran infuses radiant yellow into a chic runway look with a unique silhouette that has heads turning and camera shutters clicking.