KSA-based Rapper Jeed and Producer saüd Flex on New Single 'Switch'
With Eastern melodic nuances and a Western flow, Jeed and saüd combine worlds and flavours on new single 'Switch'.
With their new single 'Switch', Jeed of HRMNY and saüd of Brij Entertainment might be the freshest rapper/producer duo to come out of the Middle East.
Though the two artists have been in the scene for some time, Jeed's catalogue thus far consists of five singles since 2018. With 'Switch', however, it seems as though the rapper is announcing his return and determination to make an indelible mark on the scene as we know it. By his side is acclaimed producer saüd, who has produced for the likes of Syrian rapper Omar Offendum, Quentin Miller, and King Los.
Together on 'Switch', the dynamic duo created a track that is very much contemporary while remaining timeless. It's a banger now, and certainly will continue to invoke the same energy in years to come. The track begins with a recording of Jeed performing, engaging the crowd in a call-and-answer ritual. "Can I get a swiiiiiiitch?" The artist calls out and, as requested, the audience return with an equally hype "Swiiiiiiiitch!". Brilliantly, this later becomes the hook of the song, with a ready-made chorus effect elevating the track's energy.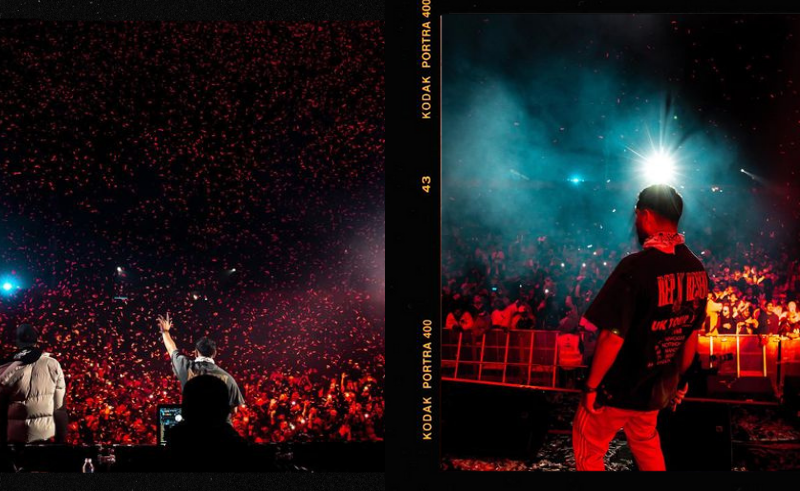 As the beat drops, Jeed comes in hot and heavy with the bars, immediately addressing the years that have passed and how he's grown. "Don't you really say that I've changed/Know I do you like I'm Jay/I ain't work to stay the same, homie no." Throughout the entire track, Jeed displays effortless skill in spitting braggadocious catchy bars that up the ante, while expressing a personal message that pays homage both to his culture and to his past. "You aint from where I'm from until you grab a L'usine and put a little lays in it/You ain't really seen what I seen 'till you get pulled over 'cause the whip ain't that clean."
Reflecting the lyrical enmeshment of east and west is saüd's beat – though it begins trappy, with well-placed breaks to highlight the impact of Jeed's bars, we're inevitably blessed with that signature saüd Middle-Eastern flavour with a flute. Part of what makes this track so addictive, however, is the way in which it's been structured and mixed. Coming in with the hook, the beat is pulled away ever so slightly and Jeed appears to mumble the hook quietly – before the kick comes back with Jeed's voice in full force complete with flute and the crowd chanting along.
All in all, Jeed and saüd have kicked off 2022 as impressively as they ended 2021, having performed at MENA's largest festival, MDLBEAST in December.
With a growing track record of combined success – can we expect an EP from the pair?
Watch the lyric video for 'Switch' below.