6 Moroccan Summer 2023 Festivals to Head to This Year
Get your passports ready as we head west to a summer of dance in Morocco.
Ok we'll be honest, this article started off as a roundup of summer festivals in the MENA region, but with the extensive amount of festivals taking place in Morocco this summer and the immense efforts exerted by our western counterparts, we decided to turn it into a Moroccan summer festivals showcase. So get your dance shoes and passports ready, and let's dive right into it.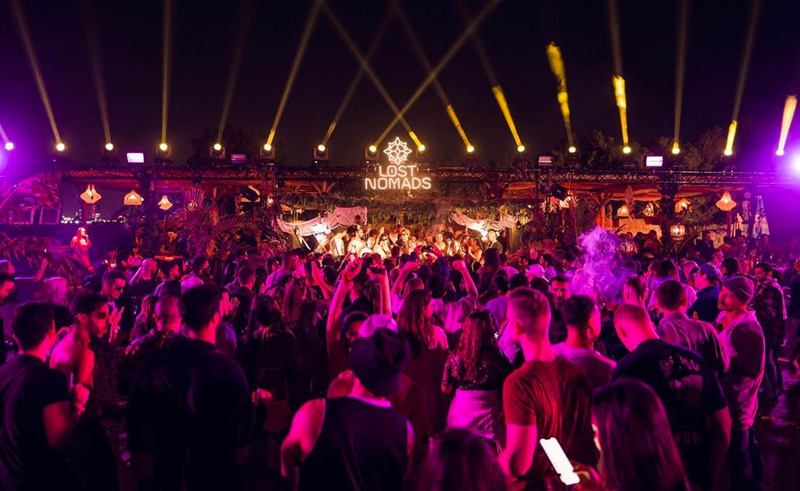 Lost Nomads Festival ( June 3rd )
Kicking-off our list with a vibrant start, 'Lost Nomads' is coming back to Morocco this year, and they're bringing a star-studded line-up guaranteed to send party-goers in a whirlwind of emotions. Headlining the festival is fan-favourite South Korean goddess Peggy Gou, Spanish electronic spinster Pablo Fierro and French ethereal duo Birds of Mind.
The rest of the lineup consists of local Moroccan pioneers Mr. ID, Kawtar Sadik and Nawfal.
The Festival is set to take place in the Agafay Desert in Marrakech, so make sure to get your Burning Man inspired outfits and makeup and get ready to dance the night away like a nomad.
For more info and ticket reservations, click HERE.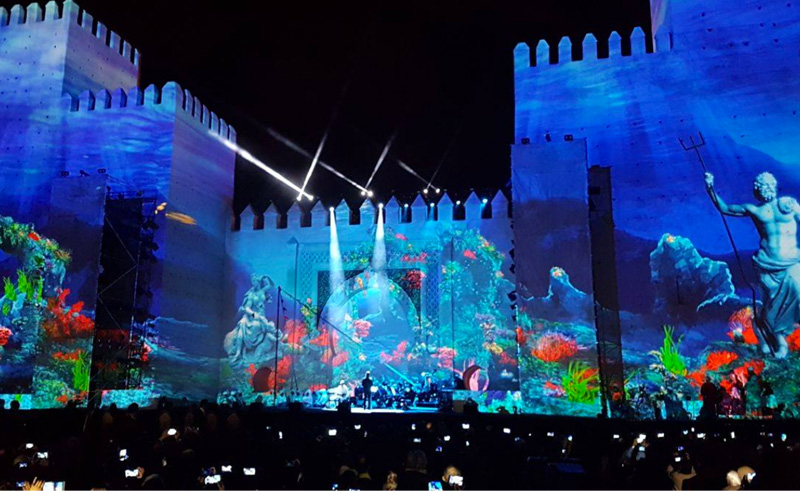 Fes' World Sacred Music Festival ( June 12-20 )
Known as 'Fes Festival' for short, this is a nine-day spiritual celebration dedicated to bringing humans together through music in Fes, Morocco. It is a combination of concerts, workshops and discussions on climate change, human and civil rights, social justice and other important issues. Each year the 'Fes Festival' brings together artists from Muslim, Jewish, Christian, Hindu and other spiritual communities to perform together in a spirit of mutual respect and collaboration. Event locations vary throughout the city and take place at several different venues. For more info on the sacred festival, click HERE.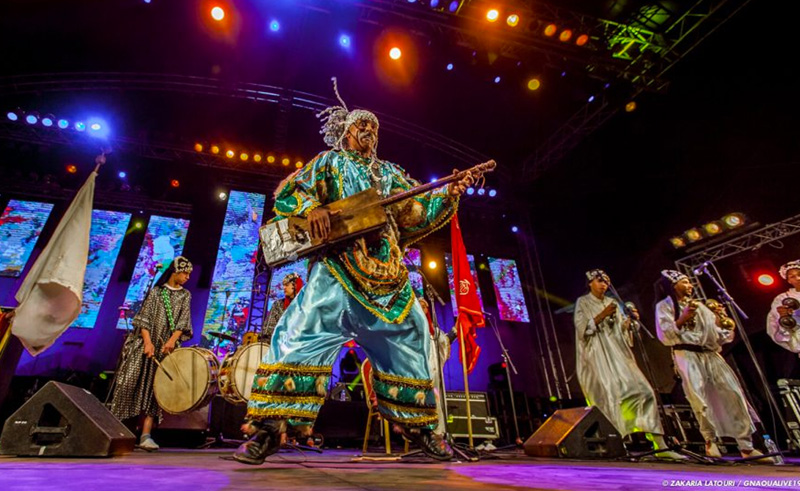 Gnaoua and World Music Festival (June 22-24 )
Considered to be one of the most anticipated yearly festivals in Morocco, Gnaoua and World Music Festival comprises performers from all over the world, but it is primarily a celebration of Gnaoua music, a distinct Moroccan genre inspired by Berber, African, and Arabic music, dance, and religious ceremonies. Morocco's Gnawa music is now on the UNESCO list of intangible Cultural Heritage of Humanity.
Every year, tens of thousands of tourists and Moroccans from all over the country flock to the Moroccan city of Essaouira to attend the three day festival, enjoying the varied blend of world and Gnaoua music featuring daily concerts by top Gnawa bands alongside guest stars from West Africa and beyond, playing a stimulating mix of jazz, folk, reggae and blues.
For more info and ticket reservations, click HERE.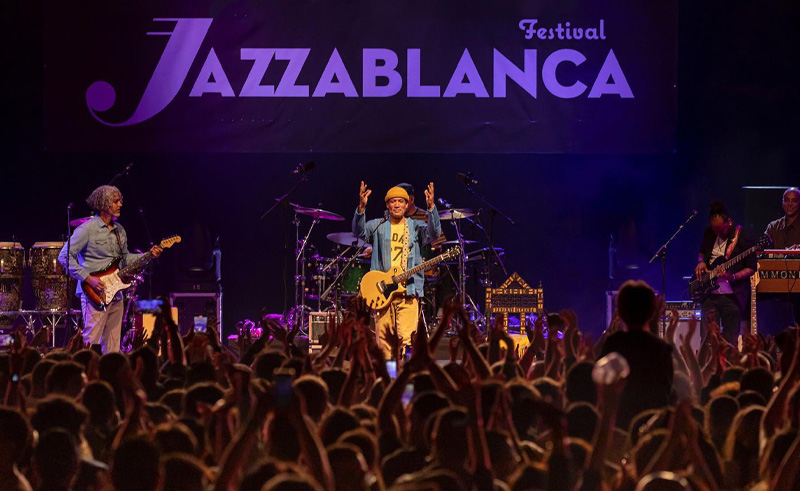 Jazzablanca Festival ( June 22-24 )
Every year, the Moroccan city of Casablanca hosts 'Jazzablanca Festival' which mixes both well-known and emerging artists from Morocco and around the world. This year it's back for its 16th edition offering audiophiles with live concerts, jazz initiation workshops, meetings with musicians and street musical parades.
But the festival is not just for jazz enthusiasts; their performances spread along a wide array of genres from Pop and Funk to Rock, Blues, Soul and Electronic music. Jazzablanca has it all, with a mission to make jazz music accessible to everyone, which is also why some concerts are free.
Some of the names on this year's line-up that stopped us in our tracks are American Rock legend Nile Rodgers & Chic band, French pop sensation Mika, American blues diva Beth Hart, English Jazzers GoGo Penguin and French psych-punk band La Femme.
For more info and ticket reservations, click HERE.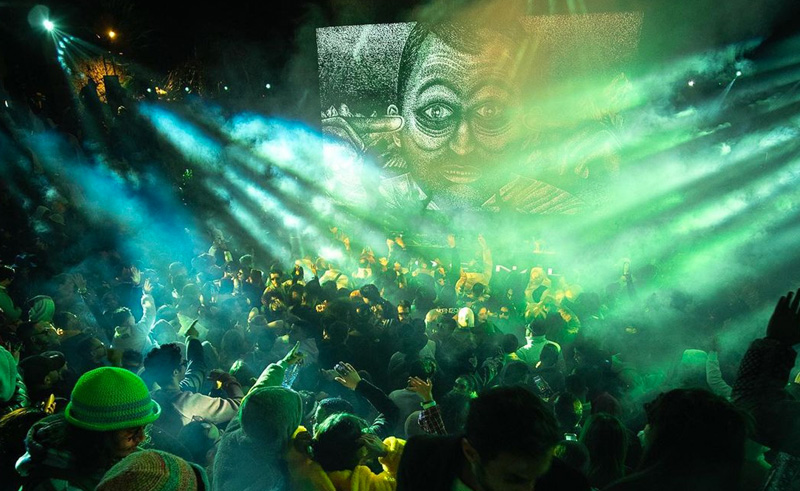 Origins Festival ( July 8th )
Throwing the ball back into techno territory, 'Origins Festival' is a seasonal event and this Summer's edition is shaping up to be one for the books.
Set to take place at Banyan Tree Tamouda Bay in Marrakech, the one day festival's line-up consists of some trailblazers such as Italian-German Ae:ther, Ukrainian duo Woo York, Mexican spinster Øostil, Moroccan Lilya Mandre and Egyptian London based house DJ Yacine Dessouki.
For more info and ticket reservations, click HERE.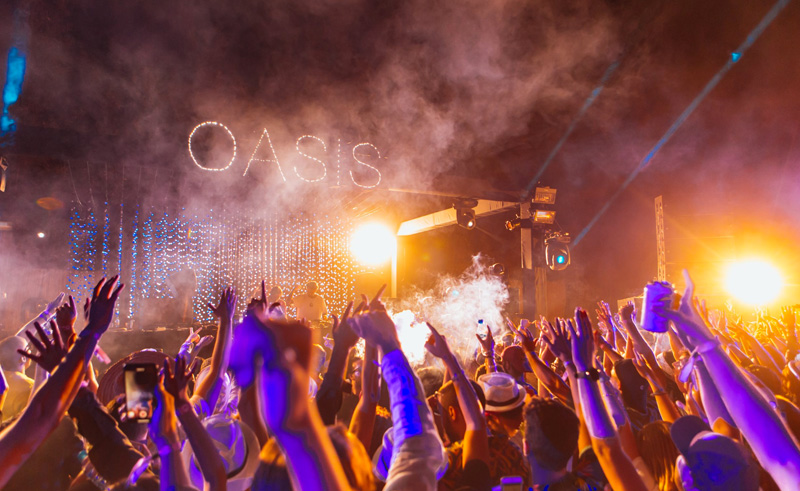 Bonus: Oasis Festival: Into The Wild ( October 27-29 )
Yea yea.. We know we said this was a summer round-up, but we couldn't make a list of Moroccan festivals without including 'Oasis Festival'.
Since 2015, the festival has been setting the bar high with big name headliners and high quality production, and with 'Into the Wild' the festival invites the audience to discover even more of Morocco's most exciting travel destinations.
This 3-day weekend of music, cuisine, and cutting edge culture sits at the doorway to the Sahara at Atlas Studios in Ouarzazate, the historic location where Gladiator, Game of Thrones and The Mummy were filmed.
With a massive phase one line-up of 30+ DJs including Honey Dijon, Kosh & Nooriyah, and still more to be announced, it's looking like this year's edition is not to be missed.
For more info and ticket reservations, click HERE.