This New Cairo Home by MAD Studio Exudes French Style in Monochrome
Tucked in the lush greenery of Mivida, New Cairo, 'La Feuille Blanche' was designed by MAD Studio to be dark, dramatic and utterly intriguing.
A sea of blackness dominates this New Cairo abode, but if enough light seeps into its open floor plan, you will start to see a luxurious, classic canvas unveil itself. Graphite and opulently ornamented wall panels introduce themselves in fabulous monochrome, and you see the style with which MAD Studio imbued 'La Feuille Blanche' with. Located in the lush neighbourhood of Mivida, 'La Feuille Blanche' is MAD Studio's attempt provide an extraordinary living experience with a dark and dramatic palette, with templar knights, hidden bars, and a one-of-a-kind billiards table that is outshined by an outlandish mural.
"Driven by an urge to be unique, we like to make risky design moves that go the extra mile," founder Mahmoud Abbas tells SceneHome. Their design sought to match the client's need for a home that is artistic and intriguing. "Here, we wanted each space to have its individuality, every corner has a special art piece that marks it from the other spaces."
Since 2008, the firm has worked on a slew of interiors that range from retail to residential, delivering desired moods and accommodating atmospheres with their interior and architectural designs, customised furniture and in-house art production. Their rather dicey design approach is certainly exemplified in this project. "We deliver the concepts we concoct, ensuring that any idea - regardless of how fantastic it is - comes to life," Abbas adds.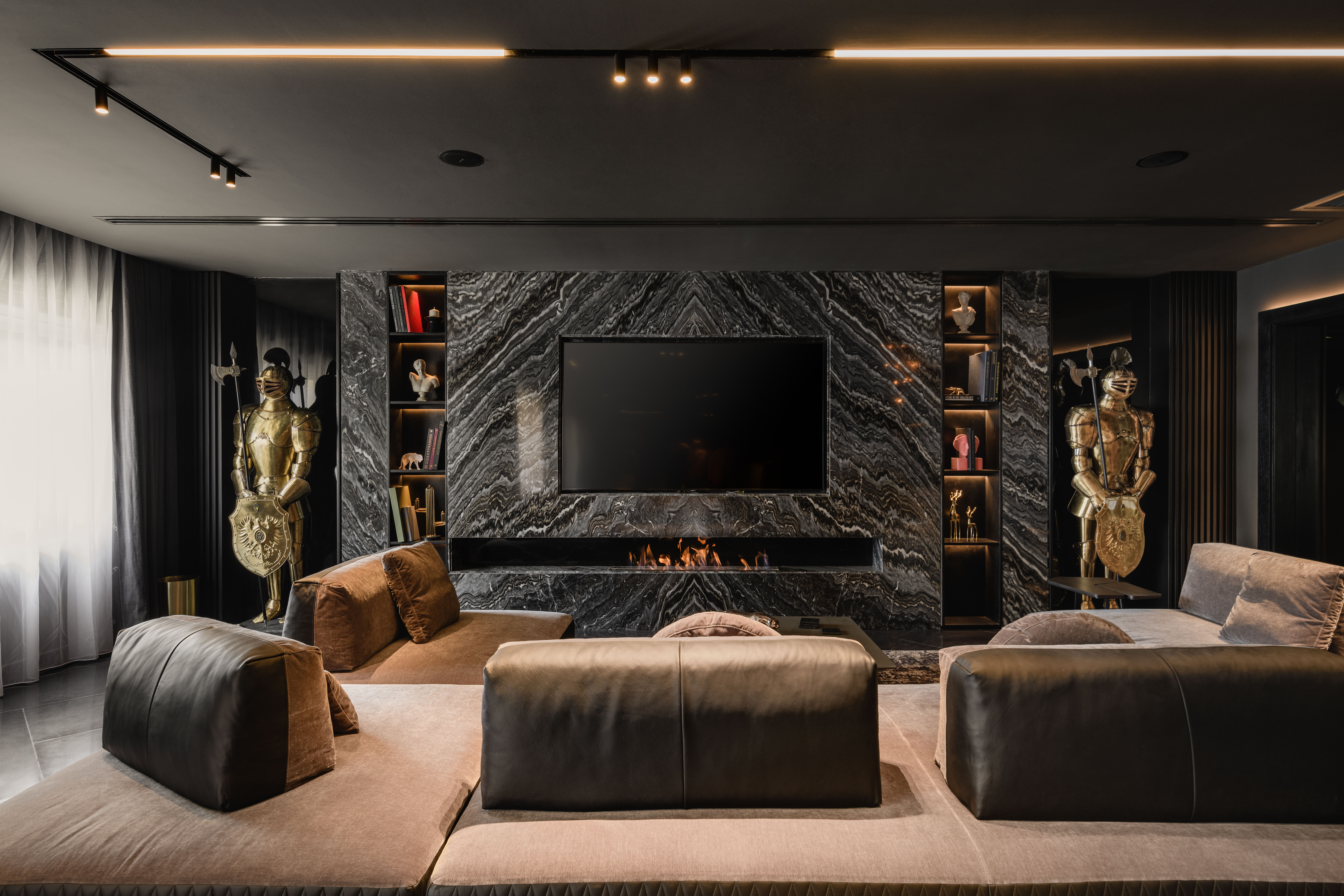 In the living room, a black forest marble slab has everything embedded within it, whether it is the screen, fireplace, or shelves that are enriched with books and sculptures. Juxtaposing this set-up are two full suits of armour that stamp the space with medieval aesthetics. While a couple templar knights and a depiction of Cupid, struck by his own arrow, are some of the statement artworks used by the studio to mark each space, all the mystery and intrigue was left for the paintings.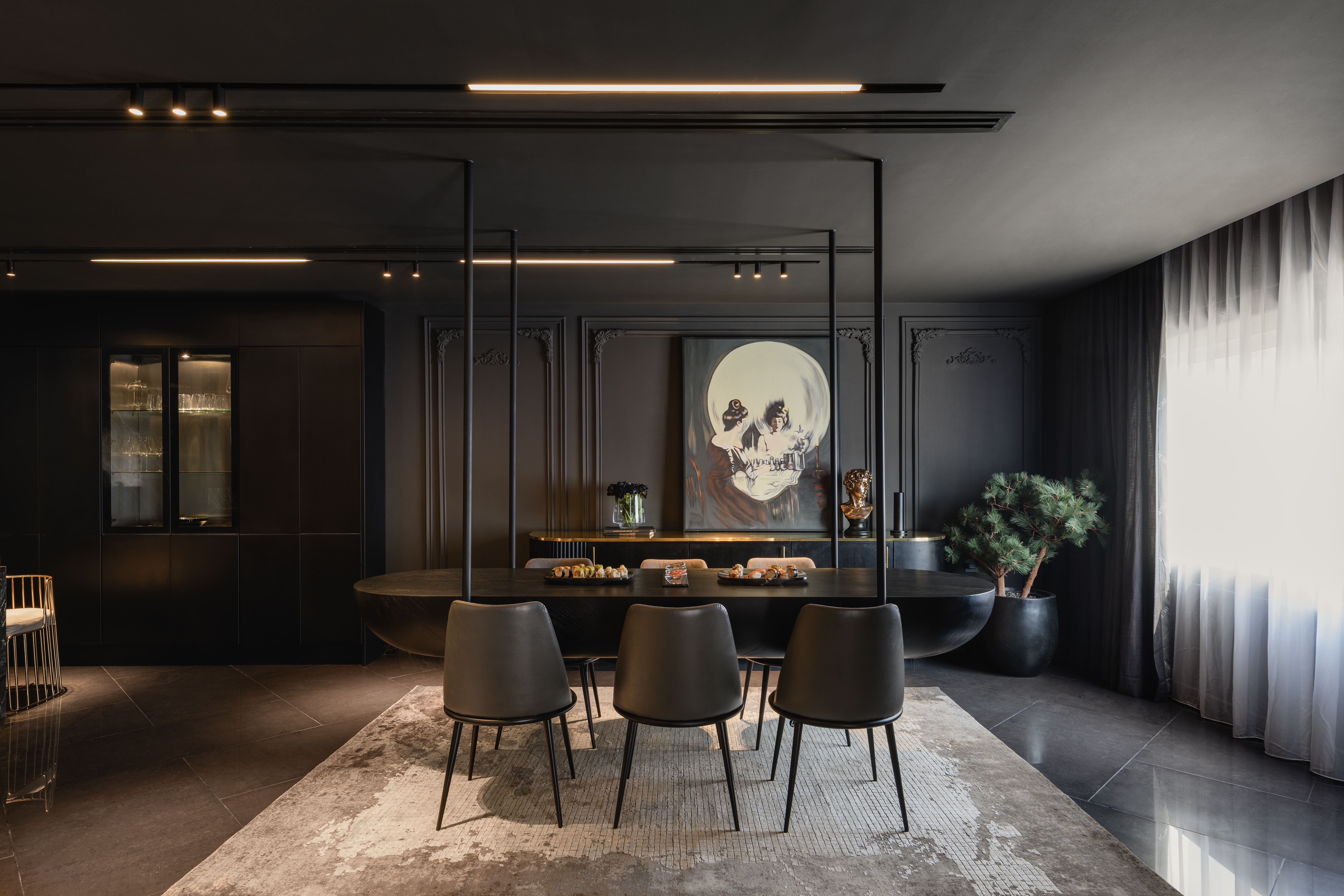 "It has an optical illusion to it, from a distance you might see something but as you get closer details begin to unfold," Amira Fawzy, the studio's manager and head of interior design, tells SceneHome. As you approach the dining room, what appears as a skull at first glance is actually a painting of two ladies enjoying beverages. A backdrop to the curved dining table that is suspended from the ceiling, above the rustic look of a weathered carpet.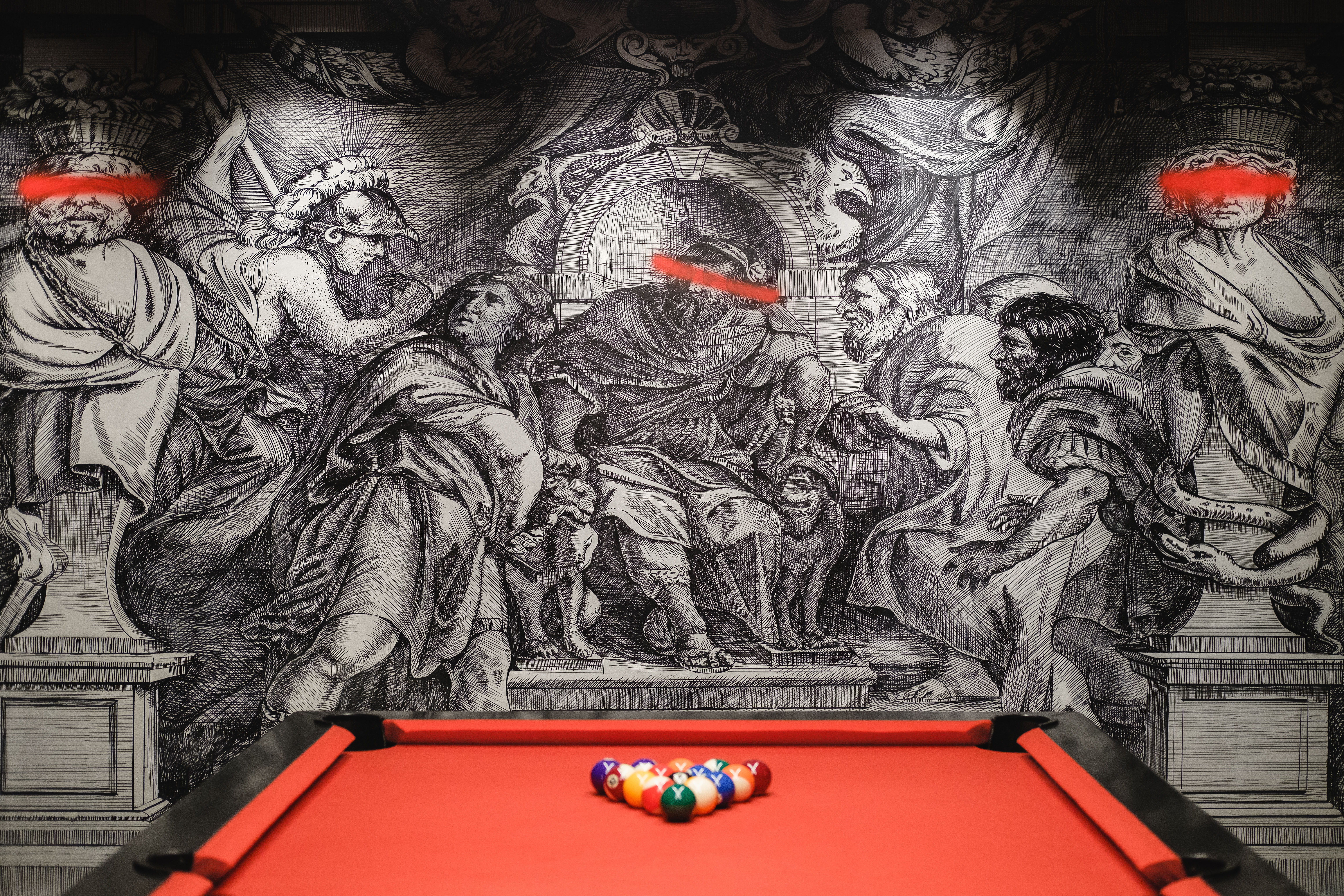 Designed to entertain, the billiards room has a private entrance with tinted glass for that extra bit of intimacy. "Despite the presence of a one-of-a-kind marble pool table and a hidden bar, the main attraction in this space is the mural we designed for the hosts and their guests to marvel at," Fawzy says. A contemporary wall mural paints a classical scene, interrupted by red brushes that create a mysterious dialogue with the pool table's rug. You can just imagine that this spectacular art was installed to distract guests while the host sneaks a couple striped balls into the corner pockets.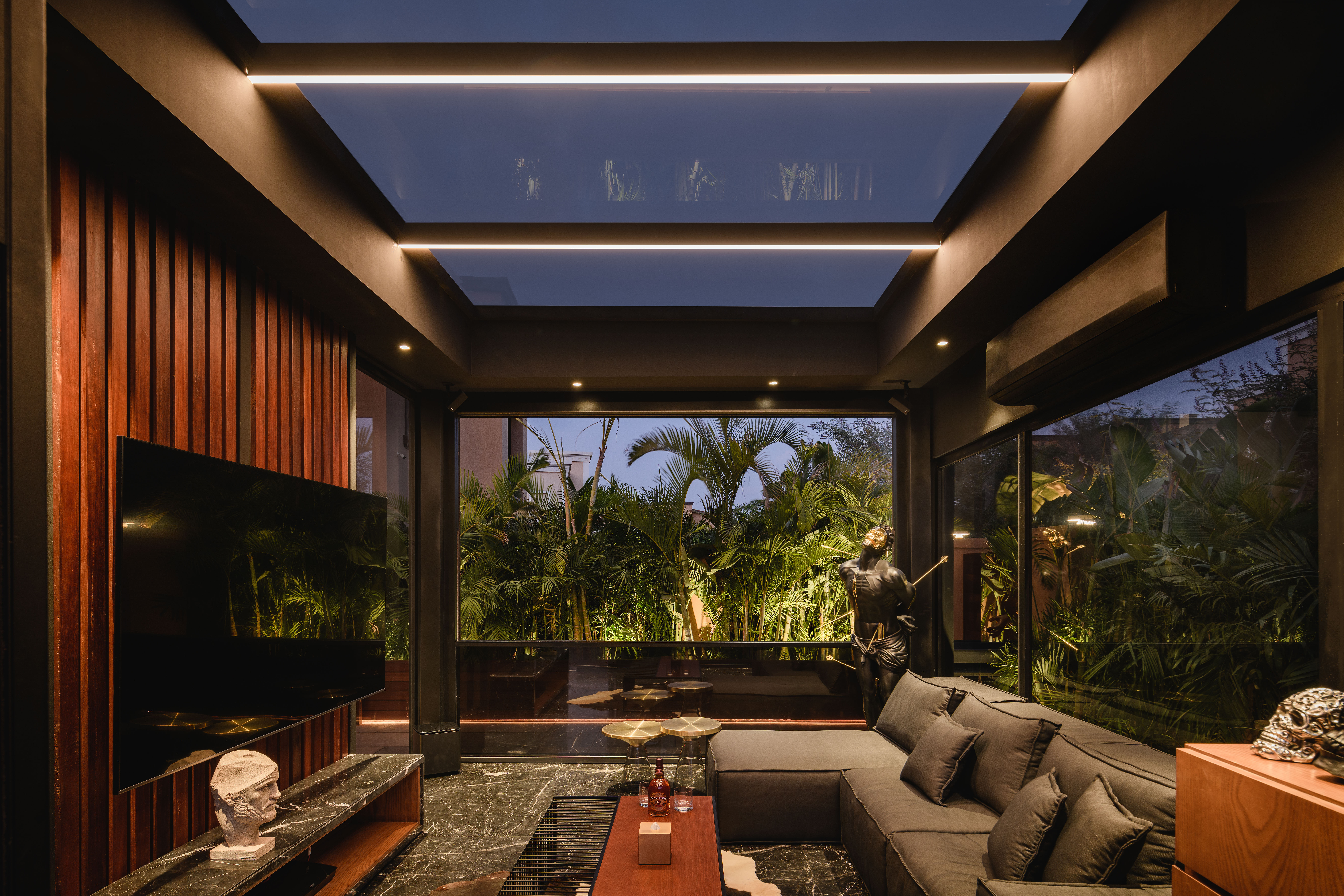 Once you're done with the que, you can grab your Manhattan and step outside to the lush greenery, where you will be met with a verdant veranda that has a full skylight and floor-to-ceiling windows. If full engagement is preferred, an open lounge covered by tensile shading and warmed up by a fireplace presents an exemplary mid-season seating arrangement.