Kahhal Looms Launches Ancient Egyptian Collection at GEM
Kahhal Looms is set to unveil a breathtaking collection of ancient Egypt inspired rugs at the Grand Egyptian Museum.
The Grand Egyptian Museum is a celebration of all things Egypt - past and present. In that spirit, amidst the ancient treasures and timeless statues, Kahhal Looms, one of Egypt's most recognised carpet brands by Mohamed and Hend El Kahhal - the fifth generation of Wekalet El Kahhal, one of the most enduring textile shops in Khan El Khalili - with a legacy stretching back to the last century, will launch an ancient Egypt-inspired carpet collection exclusively at the museum.
Kahhal Looms specialises in contemporary carpets that have been created through artisanal techniques passed down for thousands of years, with heritage-inspired designs that are quintessentially Egyptian. And it is at the hallowed halls of the Grand Egyptian Museum where Kahhal Looms has planned to launch their ancient Egyptian collection, 'Weaving Eternity', by the end of the month.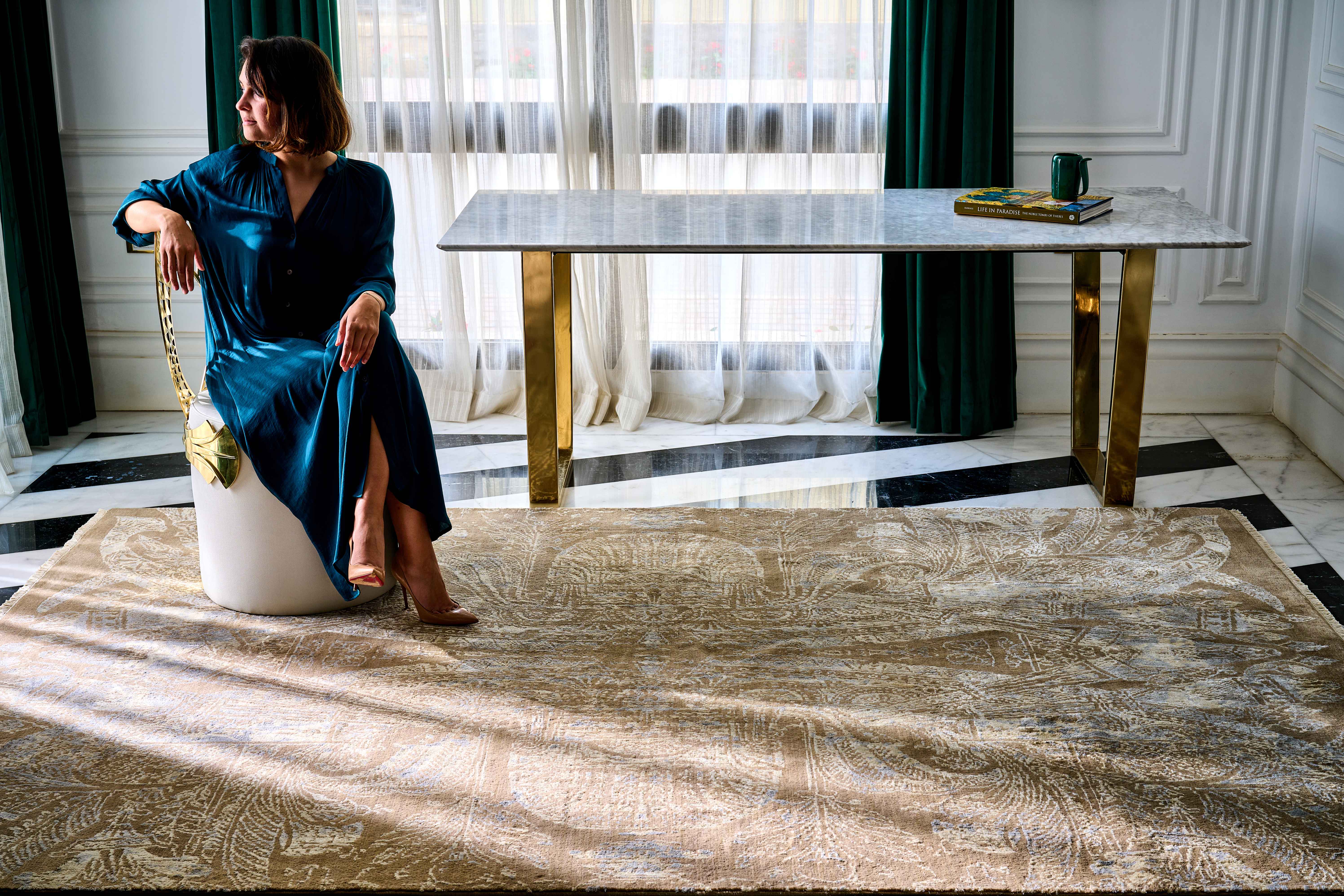 The 'Weaving Eternity' rug collection saw Kahhal Looms collaborate with three of Egypt's most adored interior and product designers: Hedayat Islam, Founder of JAM by Hedayat, Shosha Kamal, Founder of Shosha Kamal Design House, and Shewekar El Gharably, Founder of Shewekar Design Studio. Each presents a different approach with designs that have completely different looks and feels from one another despite drawing inspiration from the same source, namely, ancient Egypt's rich drawings, shapes and motifs.
"Our origins began in historical neighbourhoods," Mohamed El Kahhal tells SceneHome. "So to be present at the biggest museum in the world dedicated to the Egyptian civilisation is an amazing opportunity to showcase modern interpretations of our heritage to the world."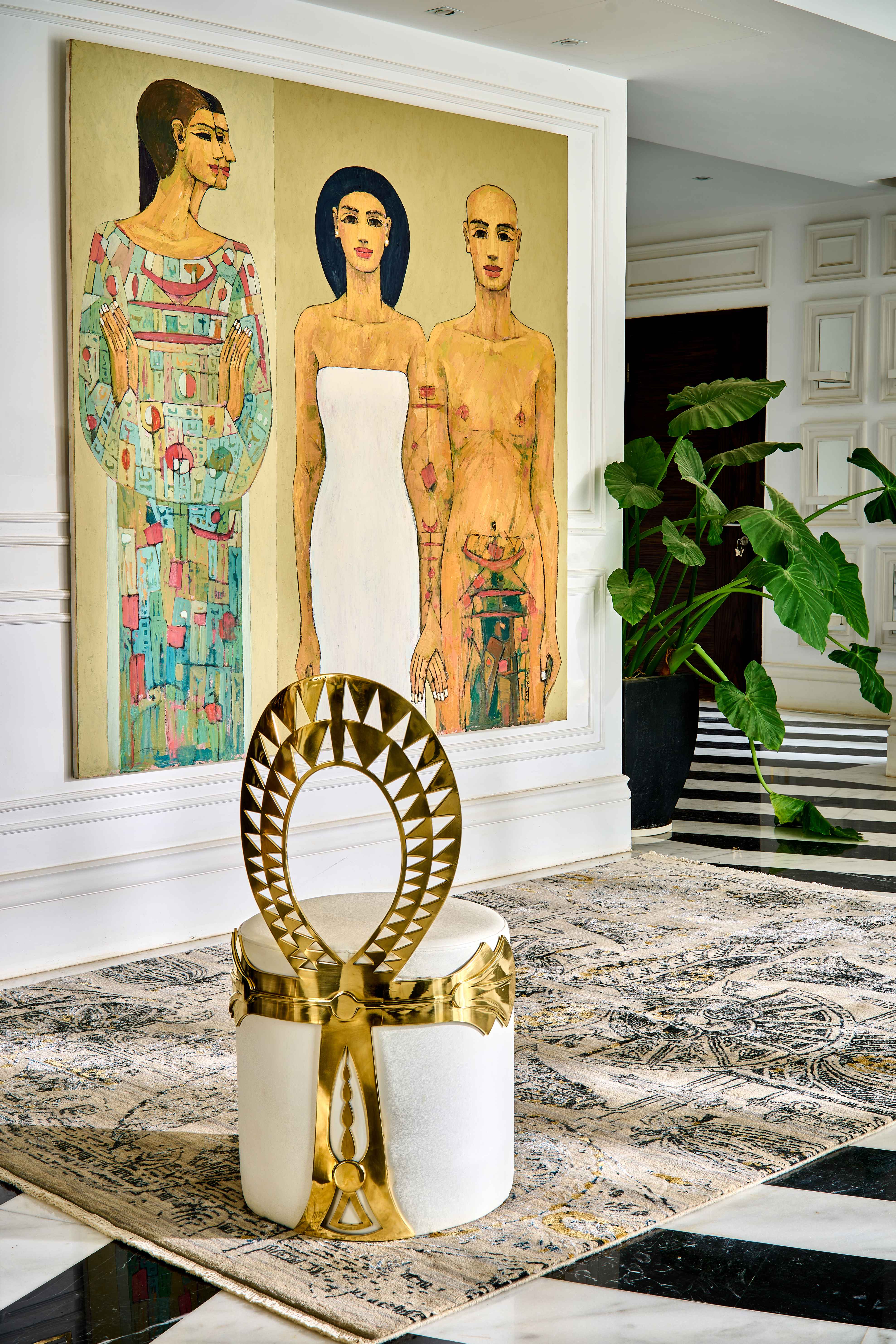 Heritage is deeply embedded in Kahhal Looms' culture, and they've drawn plenty of inspiration from ancient Egyptians who quite literally documented their existence through art. "We've noticed an increased interest in Egyptology and ancient Egyptian designs abroad and we wanted to present designs that are made by Egyptian designers and executed with Egyptian hands," Mohamed El Kahhal explains.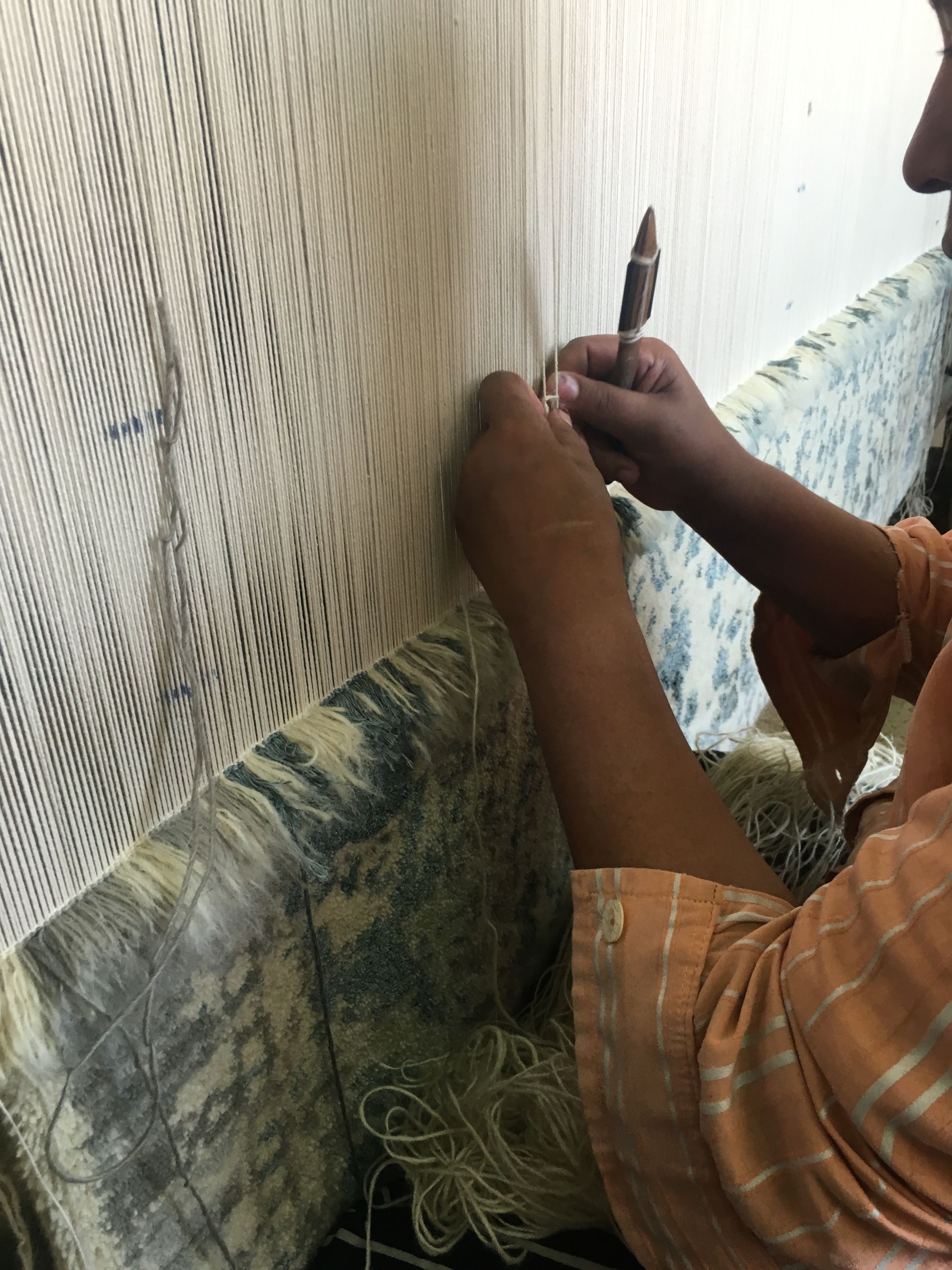 This dedication to tradition and culture stretches back generations, with roots in the very founding of Wekalat El Kahhal. Mohamed and Hend El Kahhal's great-grandfather - a young Syrian merchant who came to Egypt to find his fortune - was entranced by the colourful marketplace of Khan El Khalili. It was there that he laid the foundations for what would become Wekalat El Kahhal, which opened their first retail store in Khan El Khalili in 1937. In the 1950s, Mohamed and Hend El Kahhal's grandfather established the Kahhal Factory in Basatin, which continues to host artisans, master dyers and weavers to this day.
"This rich history comes with a huge responsibility to keep adding to it and evolving the craft," Mohamed El Kahhal says. "Most of the craftsmen working with us have been here for a while. Our craft is based on generations passing down knowledge and know-how. There's a lot of connection between us, the factory and the craft."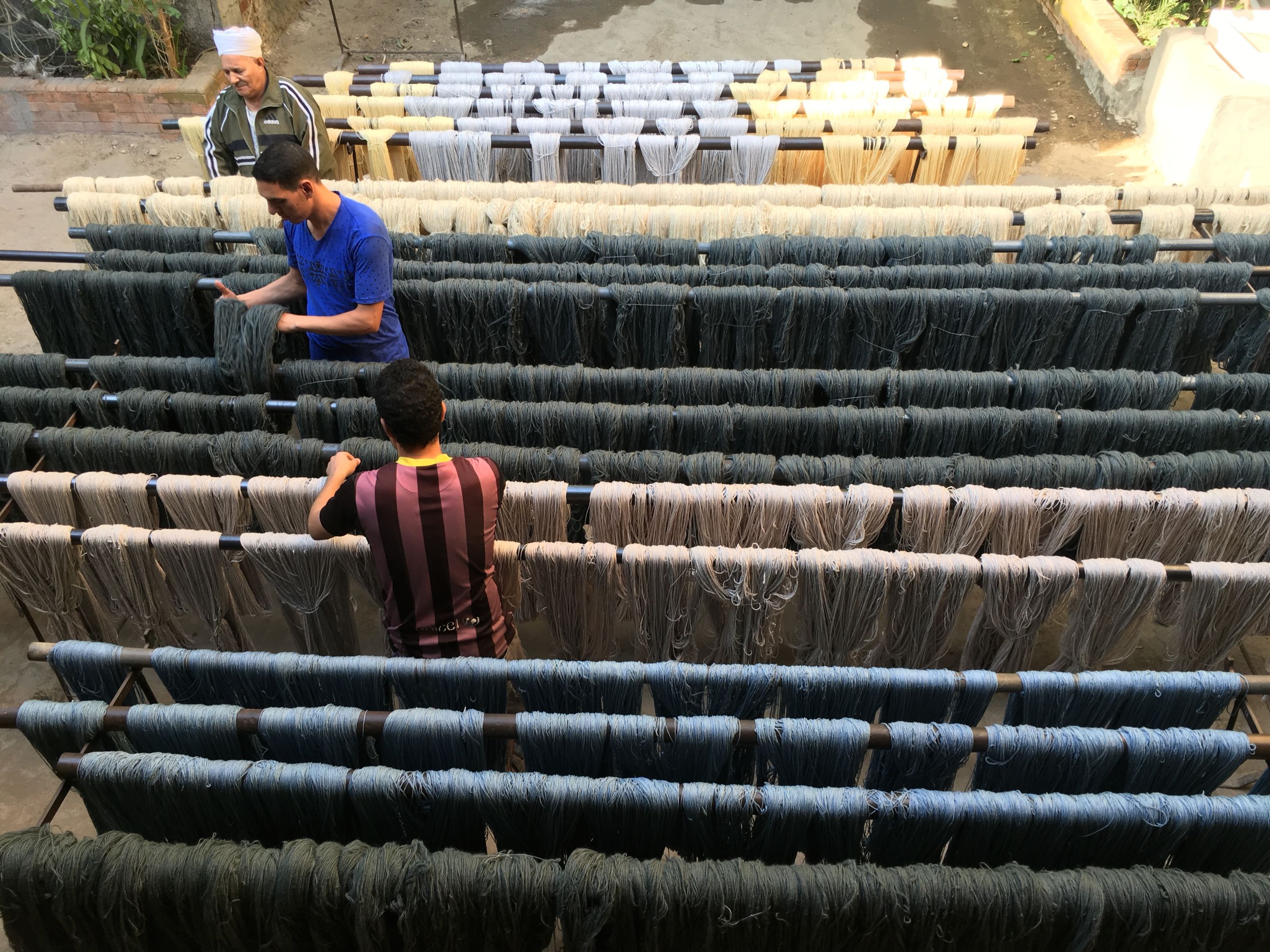 Emphasis on quality has been key in maintaining their success, but - according to Mohamed - it's also all about love and passion. Aside from preserving traditions, the Kahhals are keen on leaving their mark by presenting new designs for contemporary carpets that suit the way we live today. "When Mohamed and I started, we wanted to shift styles by modifying classic designs to fit them in modern interiors, changing the design but keeping its spirit," Hend El Kahhal explains.
Preserving their techniques is paramount, from preparing raw materials, to dying, knotting and texturing. Since the entire process is done by hand, each and every carpet is a true one-of-a-kind. "Carpets get their value from the effort and thought put into them, you can feel the spirit of the artisans behind them," Hend El Kahhal says. "Each stage takes a long time and our focus is to provide them with enough room to innovate and be creative. After all, they're artists."
Craftsmen working on carpets pour their heart and soul into them; applying a sample drawing on a loom can take days, weeks and even months depending on the size. "When we introduced modern designs they were slightly taken aback, but quickly realised that the techniques won't change and began adapting the designs," she adds.
Introducing contemporary designs doesn't mean abandoning the classics, if anything, Kahhal Looms abstracts them to fit modern contexts. It's not just a matter of taste, either - a fundamental shift in lifestyle and culture has ensured that there's little space for the classic carpet in our homes. "We're spending more time at home and hosting more than ever," Hend El Kahhal explains. "Before there would be specific areas in the house kept exclusively for guests. Today we want to make use of every space and present ourselves and the way we live, so carpets say a lot about us."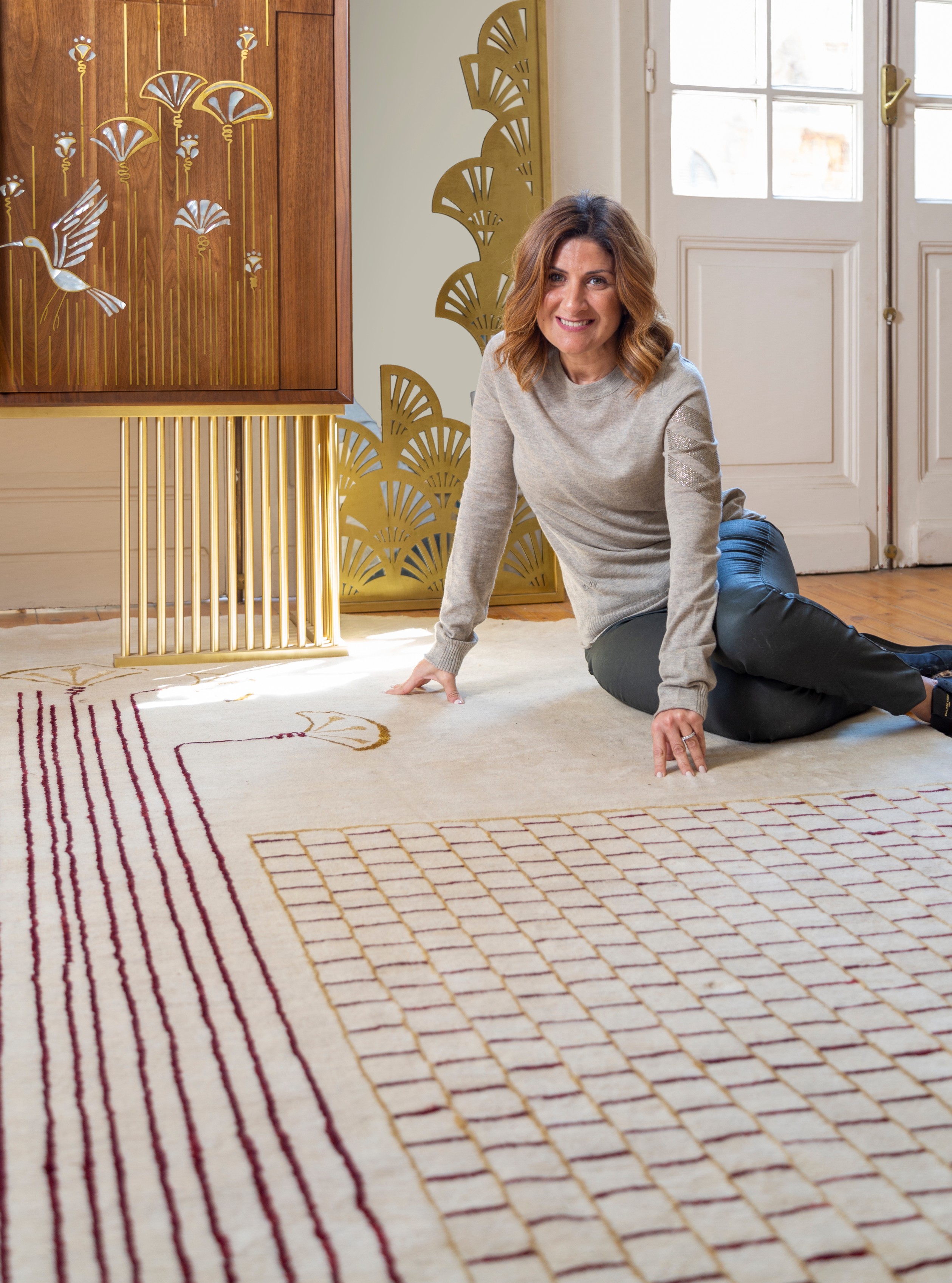 Through collaborations like 'Weaving Eternity', Kahhal Looms has constantly worked with product and interior designers to explore designs that fit a wide variety of modern homes, creating gorgeous works of art that fits a contemporary context while still respecting the traditions of the past. "Collaborations take our mind away from the hassle of manufacturing and provide us with a liberating moment with the sole focus of creating something meaningful and beautiful," Mohamed El Kahhal says.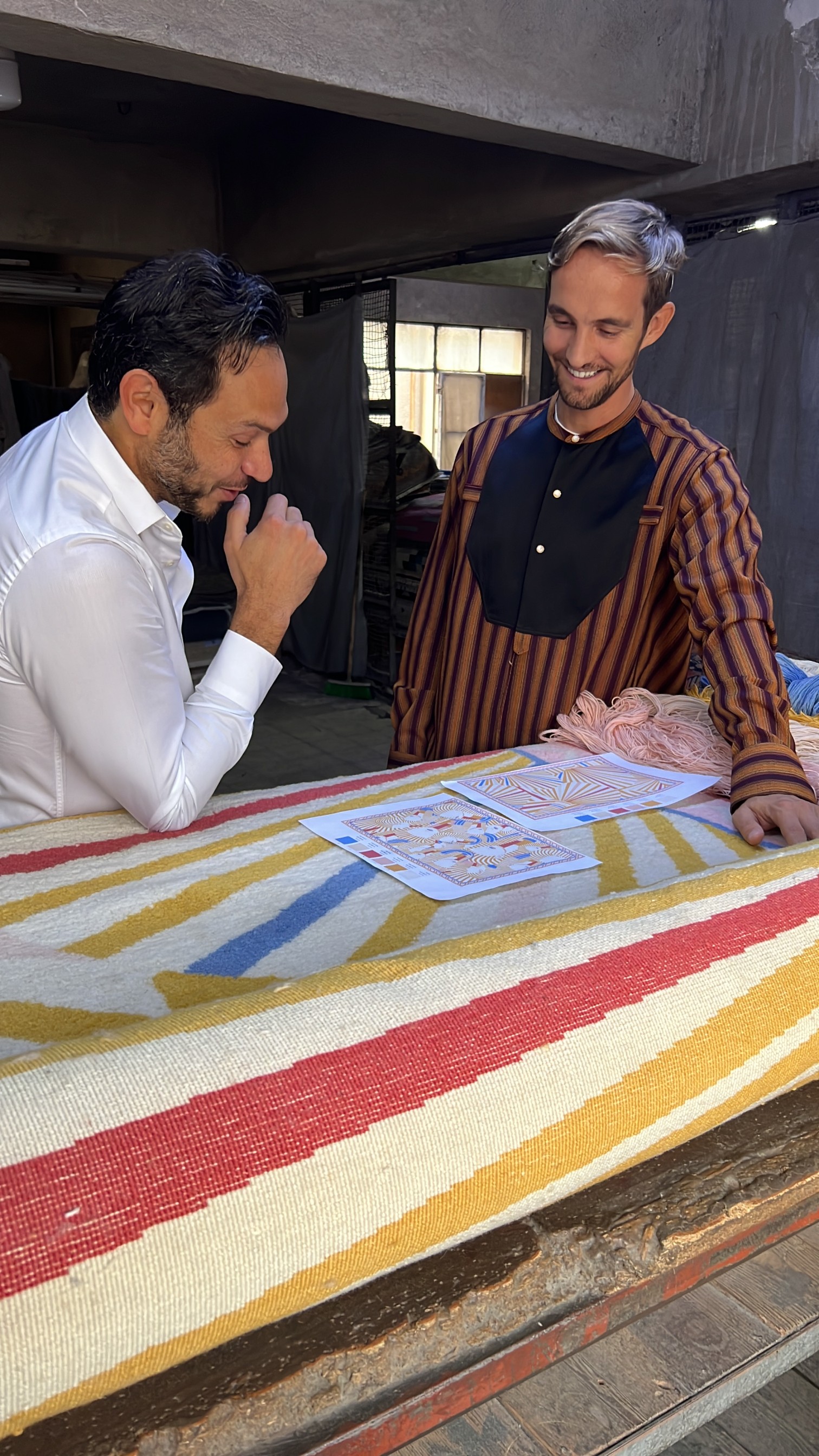 In their most recent collaboration, Kahhal Looms worked with French artist Louis Barthelemy, whose work constantly revisits ancient Egyptian heritage. Having recently worked on the 'Merveilles d'Egypte', a collection of fabrics and wallpaper in collaboration with the Louvre Museum and Maison Pierre Frey, Barthelemy approached his collaboration with the Kahhals with surreal visuals in mind.