Giving This New Cairo Home a Timeless Essence with Contemporary Drama
Telling spaces apart through clever patterns, this New Cairo home was designed with a timeless taste and an abundance of green.
When they're unveiled, new homes ought to be captivating and cater to their owner's dreams. But what sets them apart after the shimmer and shine settles down is a timeless quality that allows them to mature over time, constantly unfolding their beauty. Shewekar, a Cairo-based interior design studio which was recently awarded by the Design et al for creating the best living space in the Middle East and Africa region, seems to always check that box. And in this New Cairo home, they've done so with aplomb, designing spaces with distinct colour palettes varying from vibrant to all-out green, curating artworks ranging from Asian to Egyptian, and crafting lacquer furniture to deliver a tailored living experience.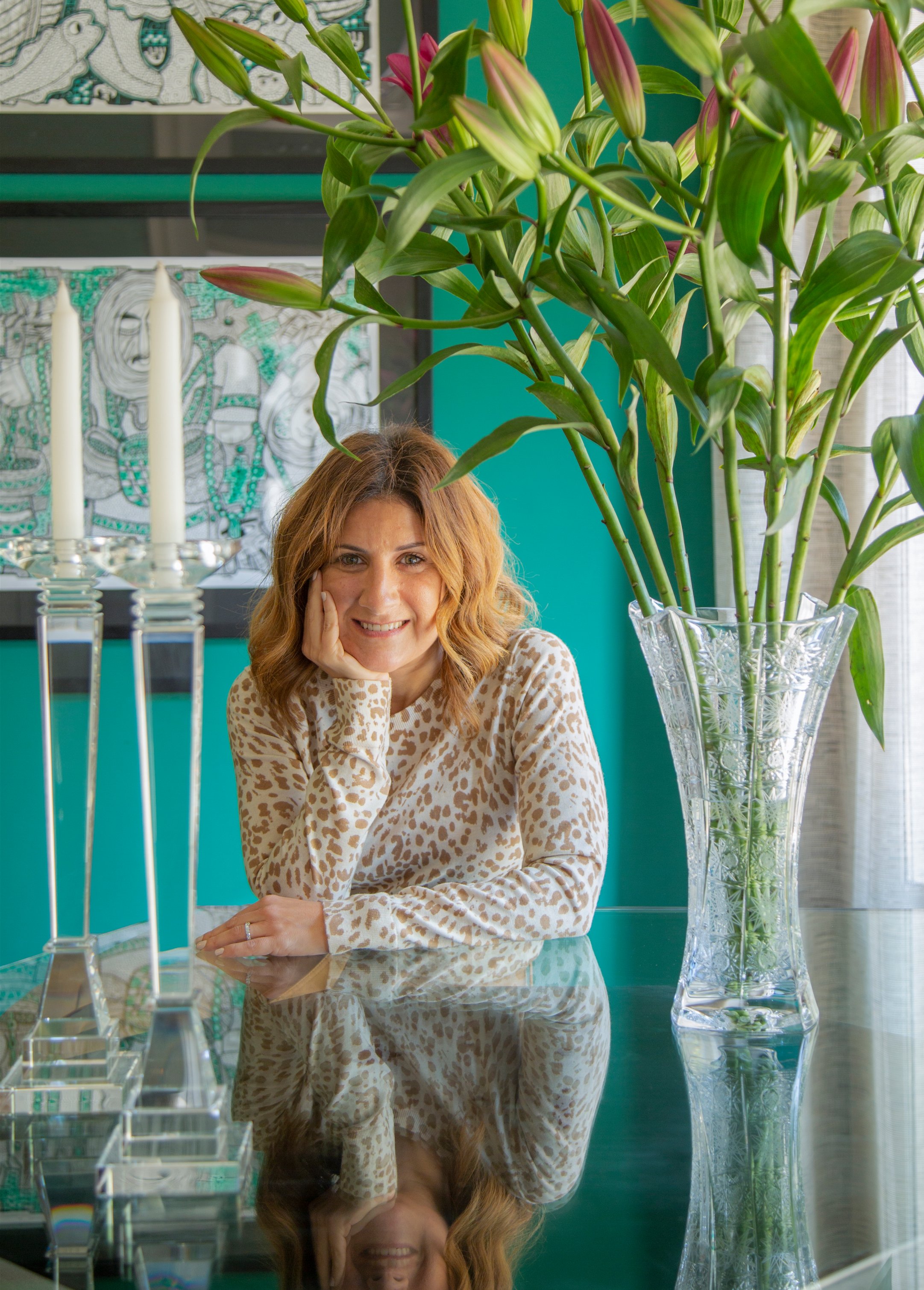 "This project is a true testament to the joy of collecting signature pieces over the years, as each piece tells a story and narrates a memory," Founder Shewekar El Gharably tells #SceneHome. "Curating these timeless pieces not only gave a sense of richness to this home, but combined with the right design elements, yielded a special living space which radiates with uniqueness."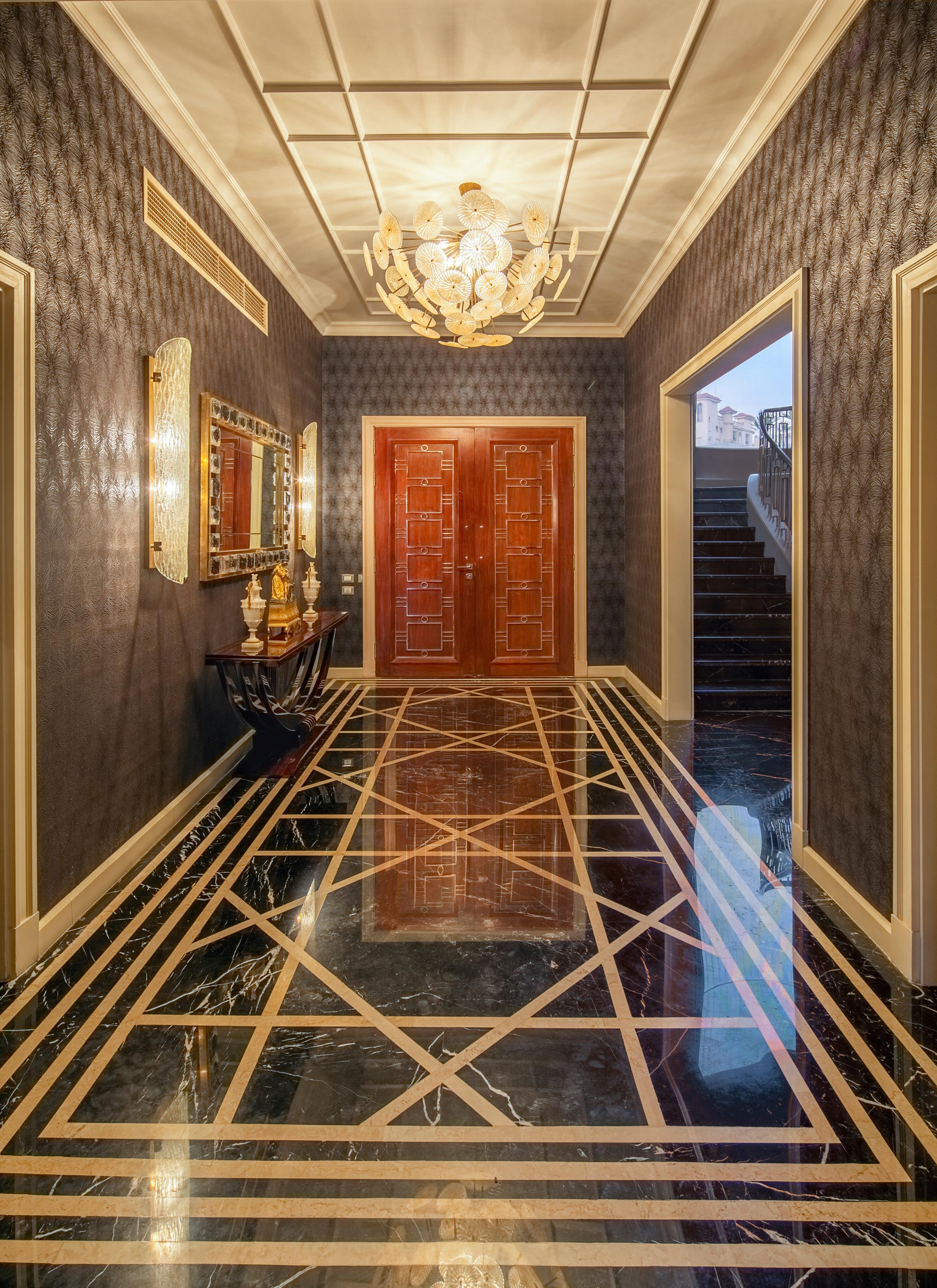 The design is clear from the entrance, floors are covered with intriguing patterns and an art deco chandelier hangs from a panelled ceiling and beams onto the velvety wallpaper. "We worked on creating a space that infuses a melody of patterns, colours and materials," El Gharably says. This included customising floor patterns, Art Deco furniture, Murano glass appliques and vintage antiques.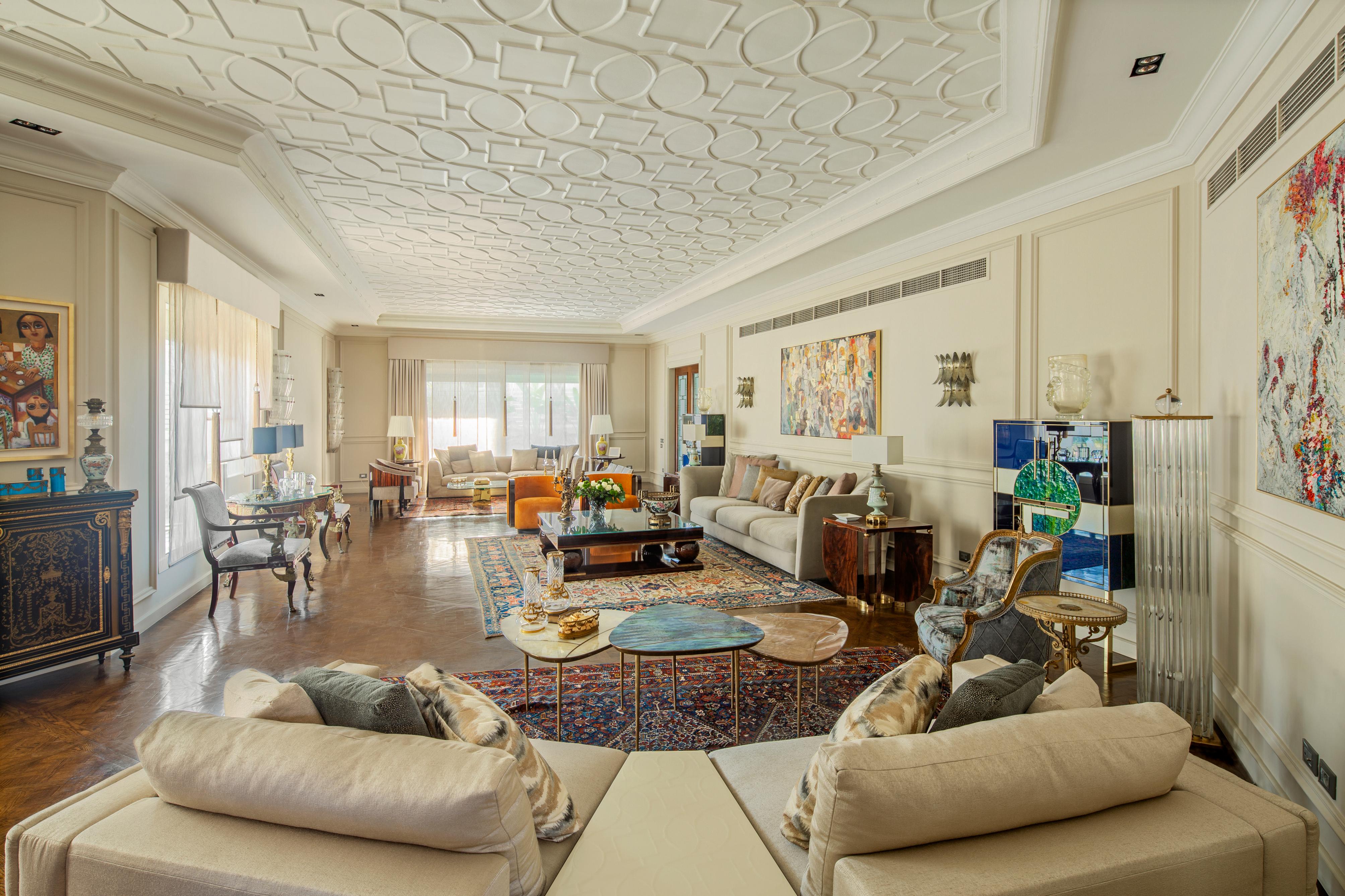 In the grand salon, the flooring and ceiling patterns were crafted by the designer to go along with its rather peculiar V-shape. "It houses three different seating arrangements that aren't separated," El Gharably explains. "Even when two statement chairs were added, they were chosen for their low backs to maintain connectivity."
As for the neighbouring space, one of many that champion a bright green hue, a clear distinction was made. "To separate between the cosy fireplace space and the grand salon, we changed the flooring into black and white marble, and to add some more drama, painted the walls green which is a colour I love," El Gharably says.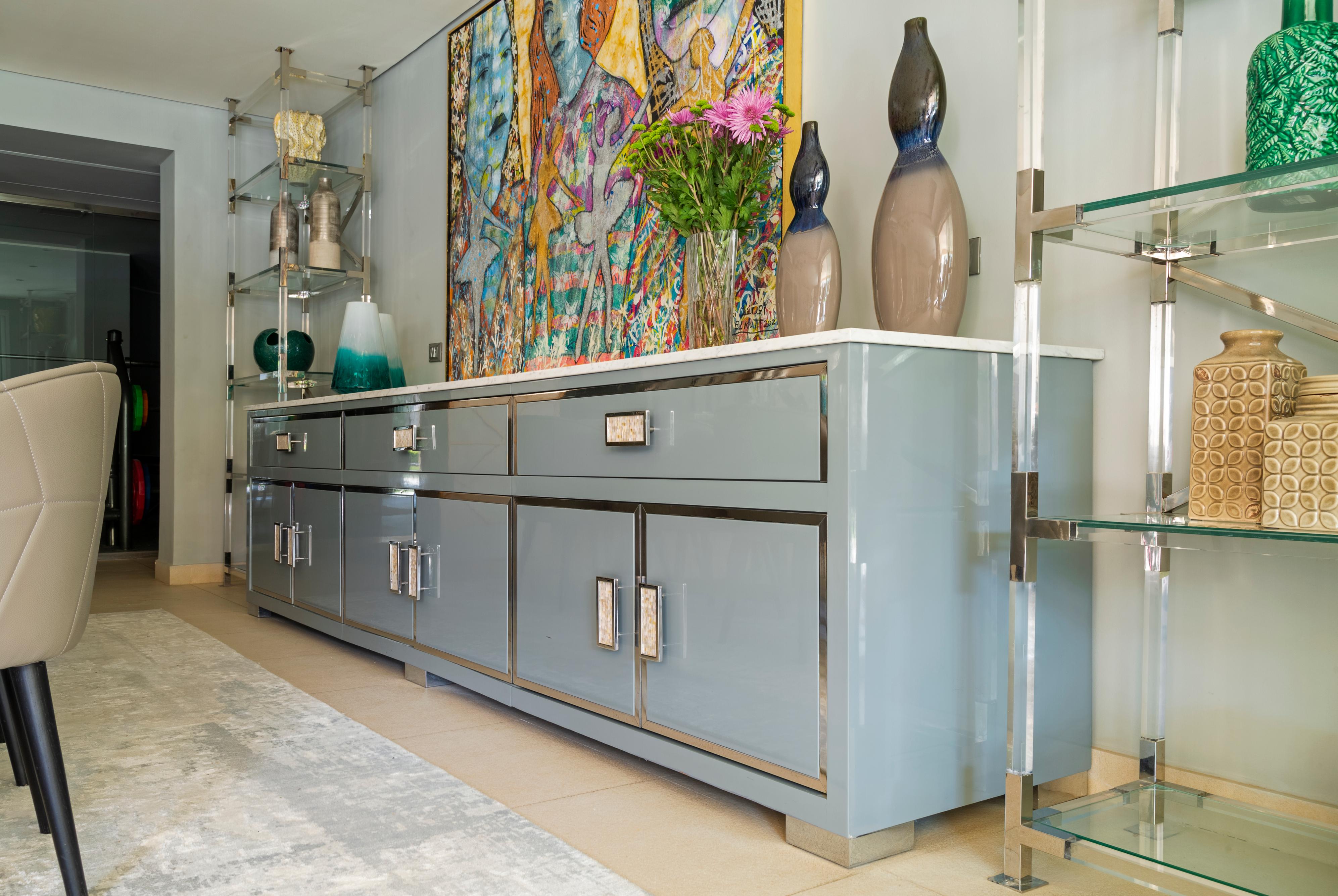 Into the dining room, you are met with statement piece after statement piece. From a golden chandelier and a repurposed Chinois paravan to immaculately crafted Art Deco chairs, the space is overflowing with tasteful choices, and a notion that remains consistent throughout the home and is epitomised in the sun room: drama.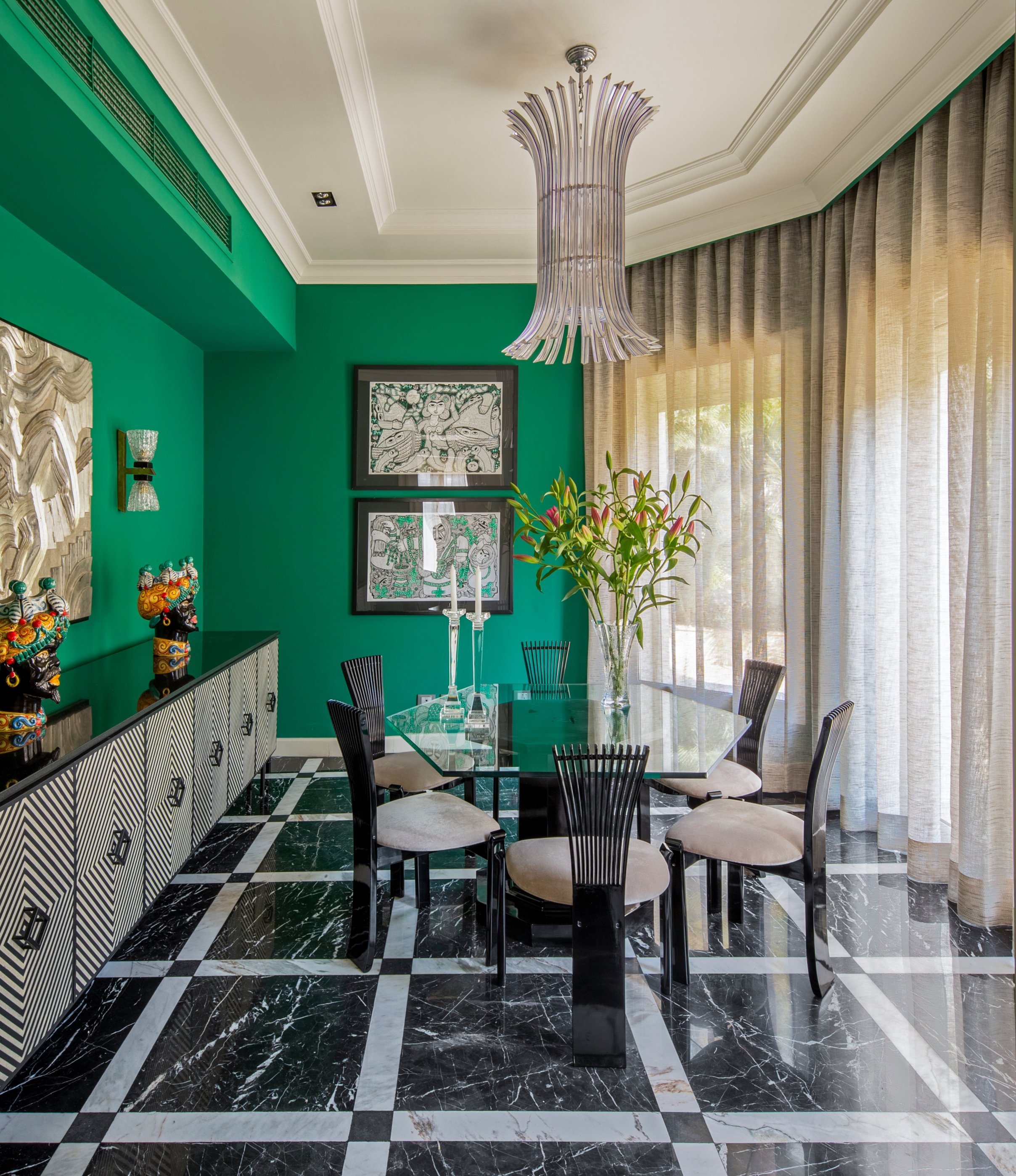 Visual drama is presented in a buffet designed with a dazzling pattern and a matching handle, inlaid with wood veneer for a contrasting colour and complemented with paintings and artworks. The green hued space shares an abundance of natural light with the staircase, which is flooded through a large window, brightening up the ascension to the master bedroom.
Wanting the homeowner to relax in a space imbued with luxury, the designer graced the master bedroom with soothing crème tones and luscious Mother of Pearl in the custom-made nightstands, as the studio's 'Beautiful Geometry' console provides room for vanities. The guest bathroom follows the rest of the house's aesthetics, with layered mirrors and geometric marble flooring.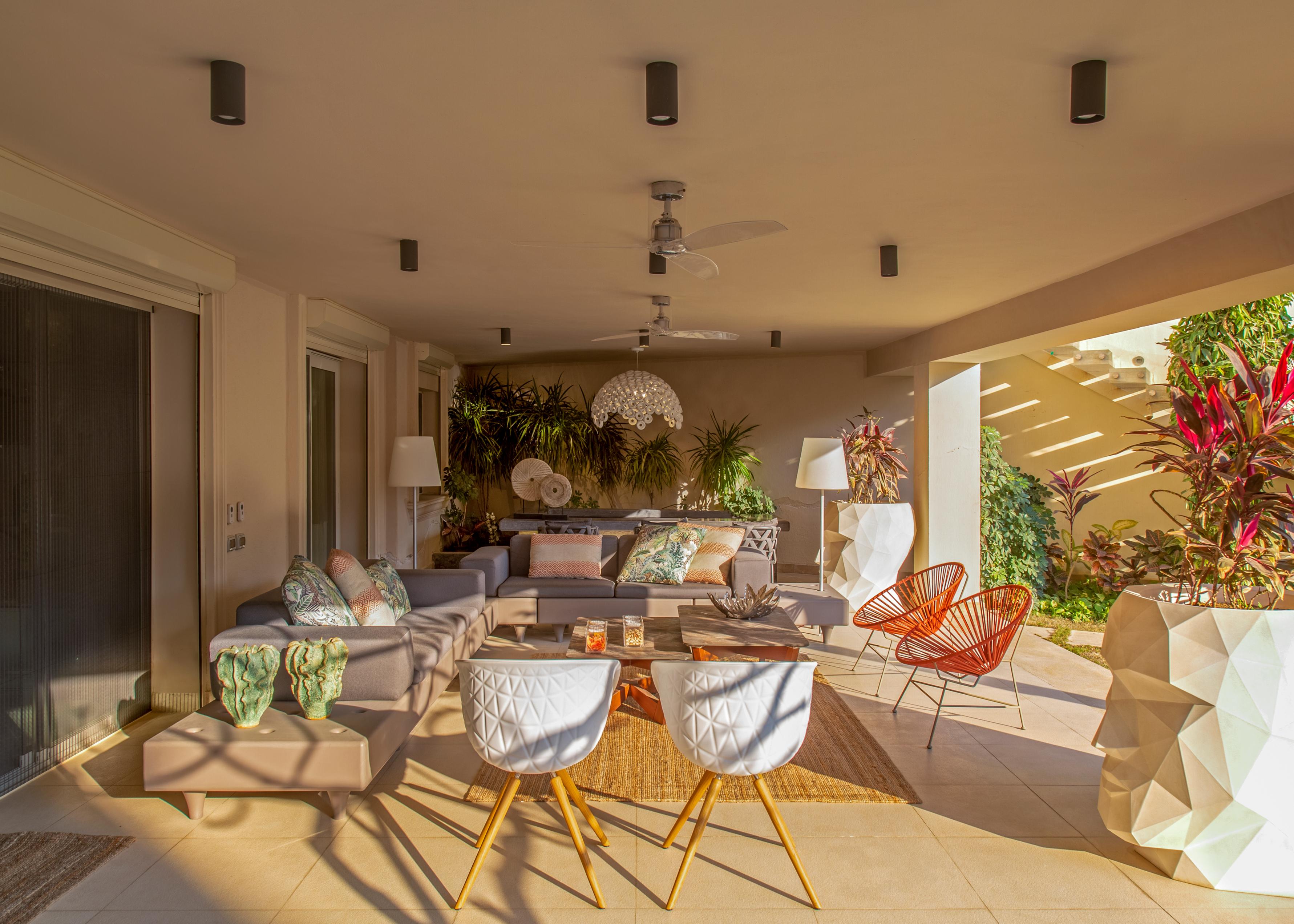 Meant to be the casual side of the house, the basement floor features a laid back dining room and living spaces that vibrate with multiple layers of cheerful colours. Enjoying the view of greenery from within the space through an open approach that allows it to breathe. Even when exiting to the warm outdoor living area, the design remains unshy of an artistic touch, from the chandeliers indoors to the face-shaped pot in the garden.
Photography Credit: Sameh Wassef