BLCK's 'Urban Getaway' Brings Summertime Spirit to the City
Located at Katameya Heights, New Cairo, this boho sanctuary was designed to cater to the need for solitude, acting as an alluring getaway right in the middle of urban life.
It's about time that we got back to BLCK, with their calm and collected take at the Urban Getaway. This city home is imbued with summertime spirit through its shell-white walls and sedating Acadian style, inviting natural lighting through aligned arches. Located at Katameya Heights, New Cairo, the Urban Getaway is a boho sanctuary that was designed to cater to the need for solitude, acting as an alluring getaway right in the middle of urban life.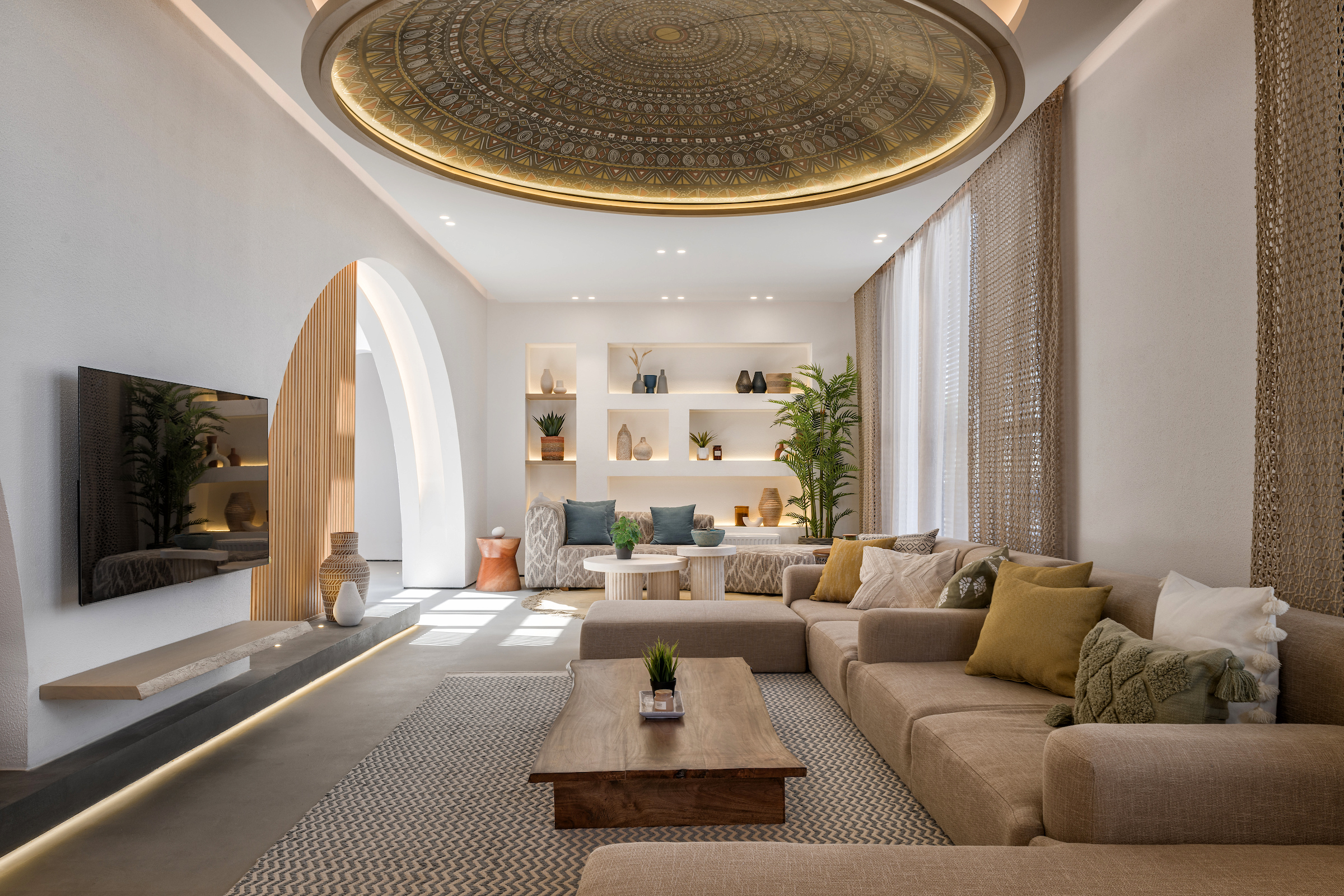 "The client asked for the energy and tranquillity that second homes offer," Miral Shaker, BLCK's studio manager, tells #SceneHome. "Allowing him to completely disconnect from the city." That is, without ever leaving it. The studio's team, led by its managing partners, took a different approach towards city homes by capturing the unwinding feeling of being on a vacation with neutral colours that are eloquently contrasted with flashy accents.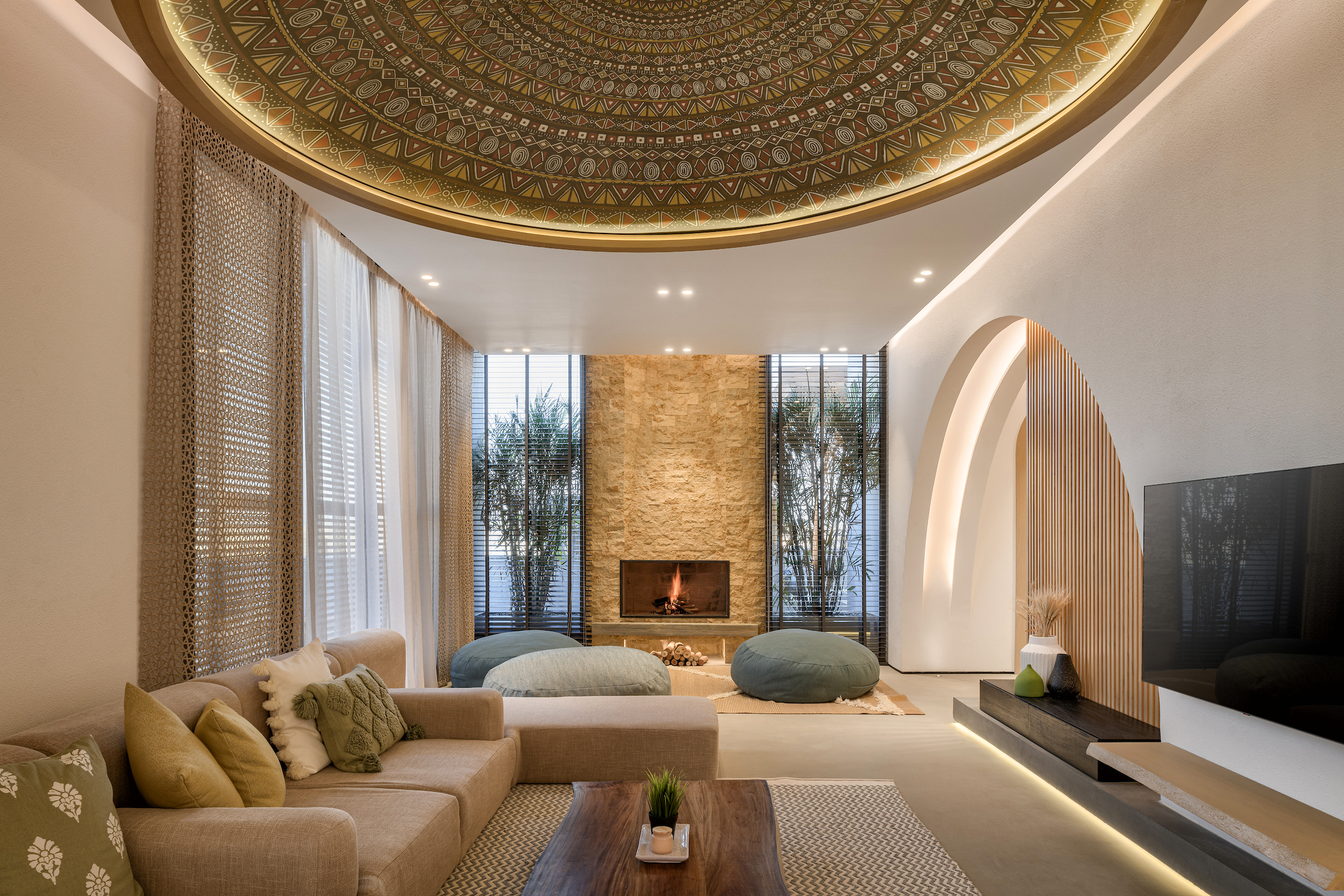 "Everything was complemented with a grand dome, designed to act as a central point in the house," Shaker continues. "It's covered with hand-painted patterns that carefully break the minimalistic feel, with a free flow of details." This ornate dome tops a spacious living room that has two symmetrically mirrored arched openings, with straight wooden beams countering their aesthetic curvature. "Arches for every entrance create an effortless alignment that maintains picturesque qualities from different angles," Shaker adds.
The studio planned for an Acadian style that playfully and light-handedly used natural sunlight to illuminate the majority of the spaces. "A skylight was added in the ceiling of the master bedroom, designed for stargazing," Shaker says, describing the private opening that can conveniently be retracted or extended.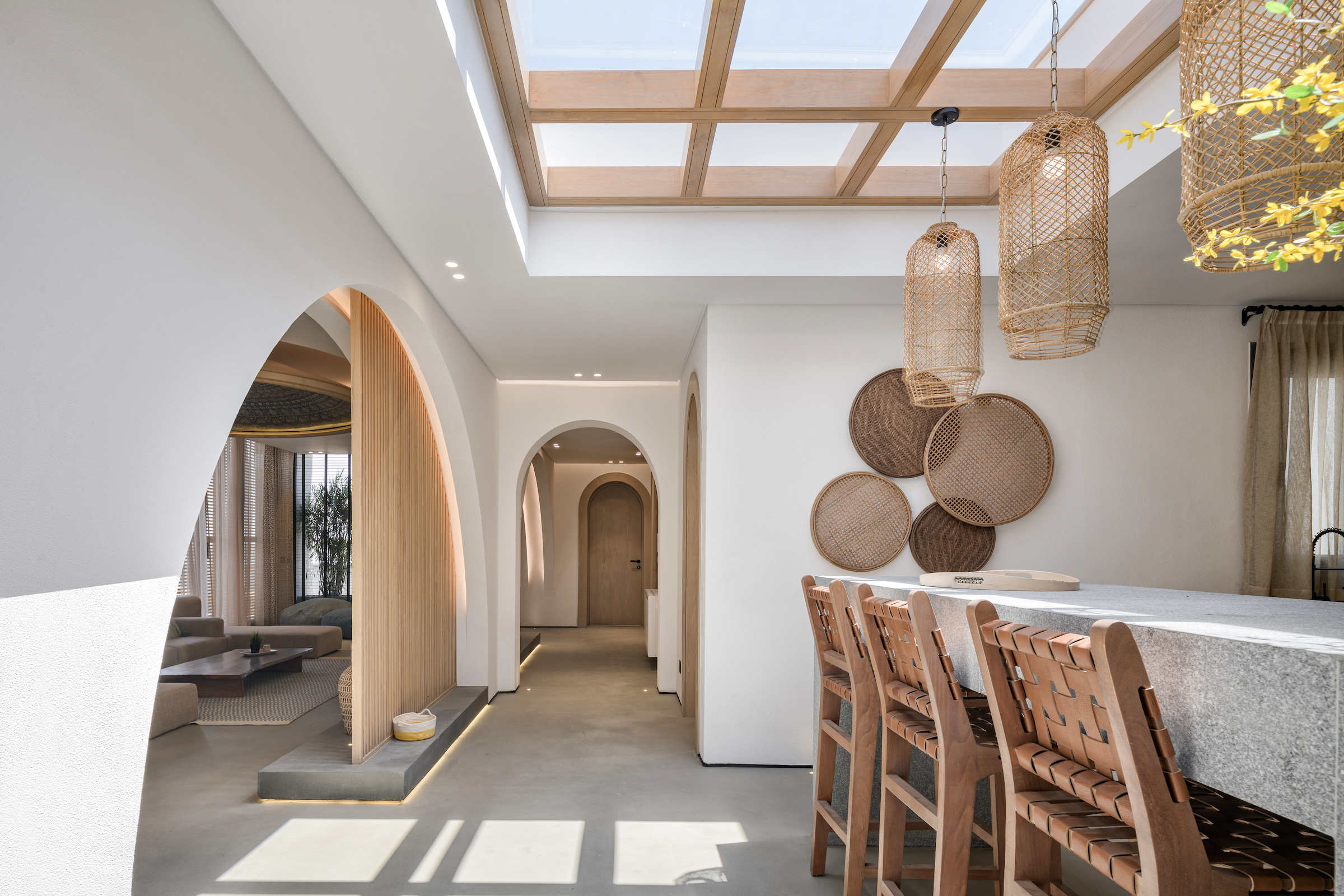 Bright sunlight wasn't something the studio kept exclusively for the master bedroom. In this BLCK design, natural lighting serves a function beyond aesthetics or mood setting, as illustrated in the courtyard as a square wooden lattice skylight illuminates the horned moon-white granite countertop and the vegetation planted on it. Facilitating, possibly, a philosophy of self-sustenance by allowing you to grow your own fruits and vegetables.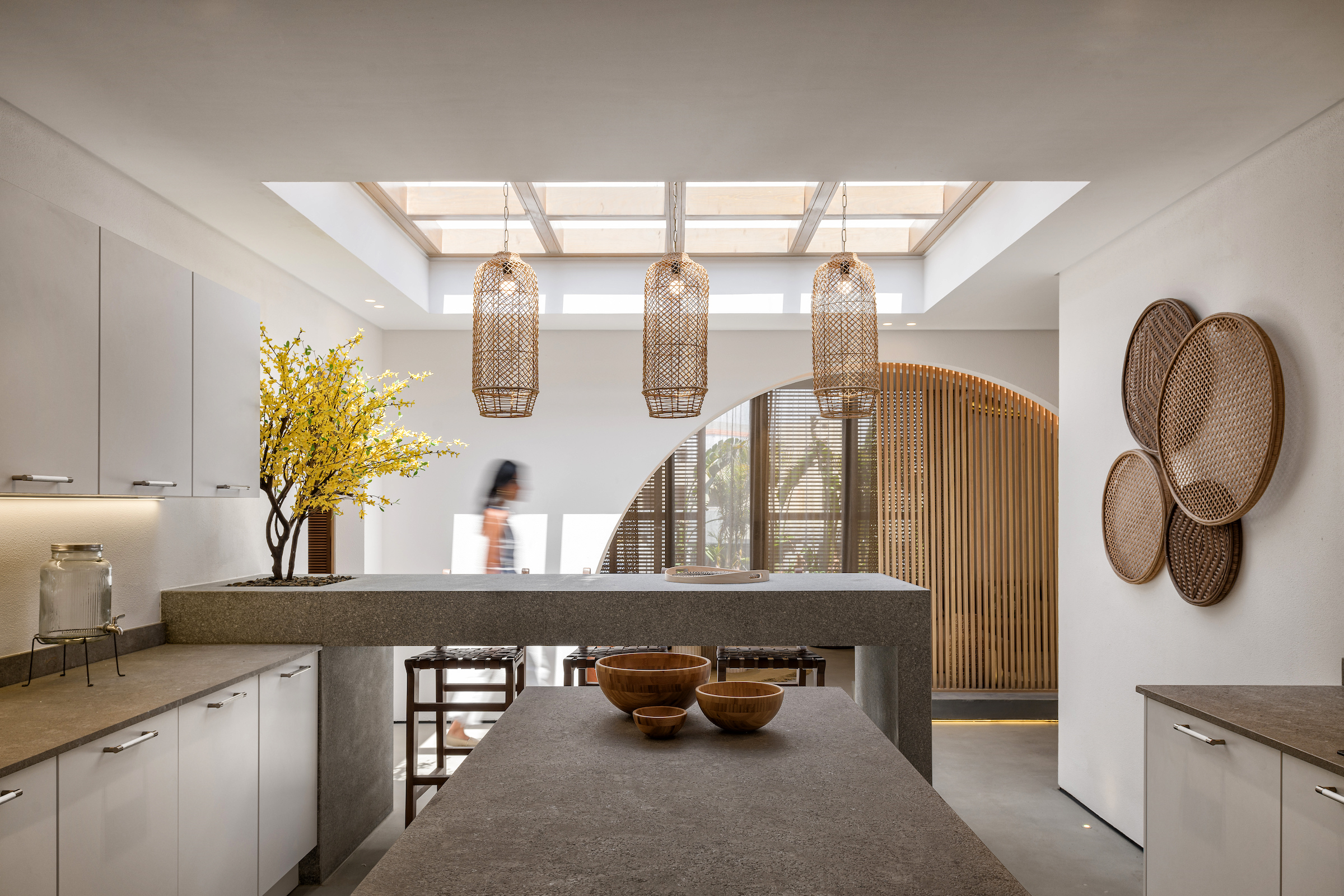 All of this light intensified the neutral approach indoors, whether it's the shell-white walls throughout the rooms, or the carefully curated natural materials that intertwine in an undisturbed flow with a darker tone that connects everything together. One may be easily fooled into thinking that there is a pristine view of the Mediterranean or Red Sea beyond the windows until they actually look outside.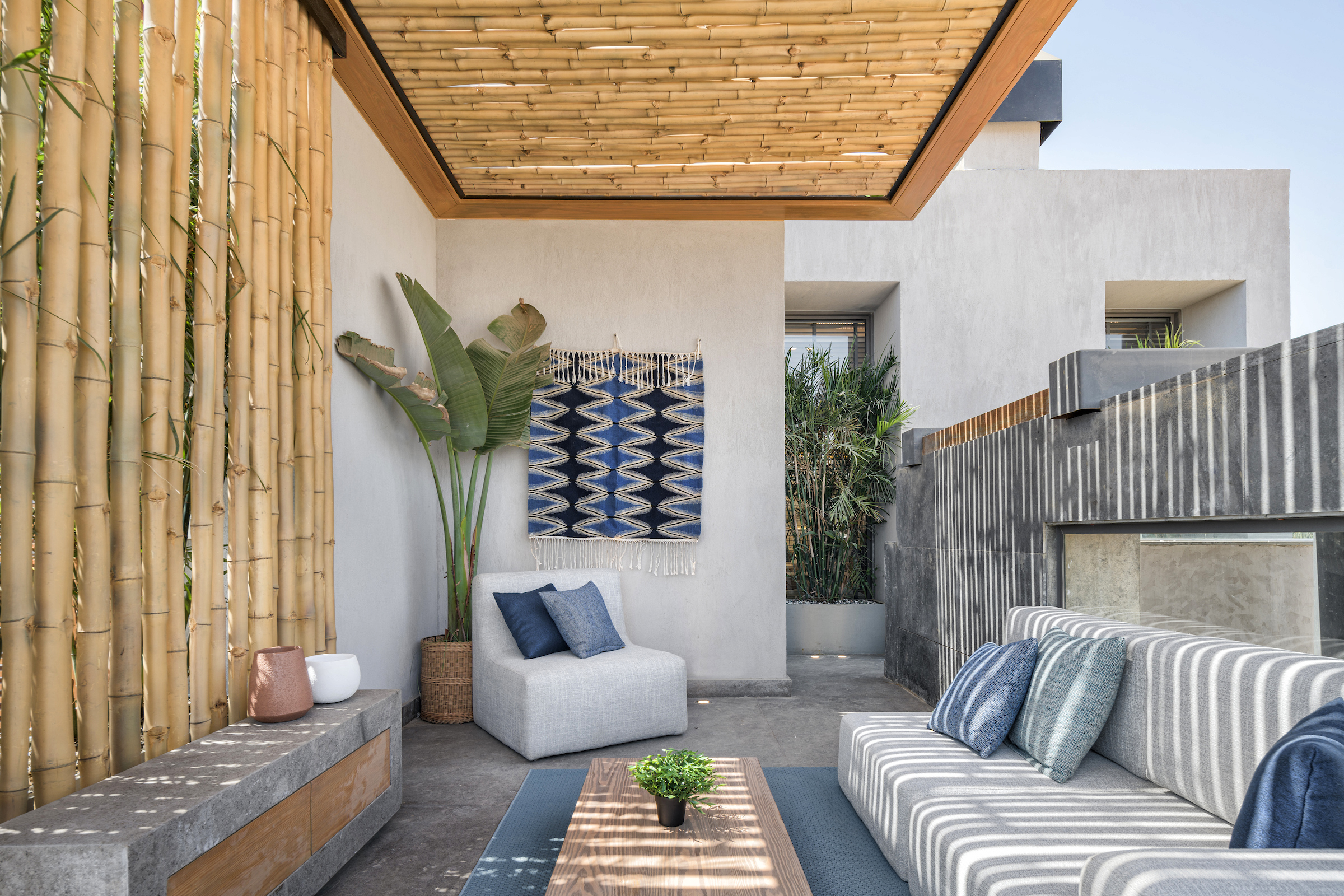 "The outdoors – which can be clearly seen from the interior – fall in line with the general idea of being spacious," Shaker explains. "They match the minimalistic atmosphere using wooden statements and earthy materials that maintain the neutral colours." This immaculate set up is contrasted with flashy accents of yellow and green which add a vibrant twist to the overall feel.
Due to BLCK's commitment to this minimal approach, this design became a celebration of independence, taking a calmer and more collected route to everyday life through a sophisticated design that shows humility with floor-level seating areas.