Numa: The Jordanian Startup Powering the Freelance Economy in MENA
The Jordanian startup has been tailoring financial solutions for MENA-based freelancers through an all-inclusive platform.
Jordan-based startup Numa is on a mission to transform the freelance economy in the Middle East. With freelancers often struggling to receive payments due to limited financial solutions tailored to them, usually consisting of either remittance services or personal bank accounts, Numa aims to fill in this gap by providing an all-inclusive platform to support freelancers in the region.
Launched in August 2023 by Loay Malahmeh and Issam Najm, the young startup partners with banks to provide digital banking services such as virtual IBANs and virtual prep-paid cards, enabling freelancers to make transactions and get paid online, while minimising losses incurred from transfer fees and currency exchange rates.
Spending more than a decade working with freelancers and solo entrepreneurs in Jordan through Fablab Irbid, a digital fabrication laboratory, and Luminus Education Group, a company that invests in education among other sectors, Malahmeh first thought of developing a freelance platform after realising the growing demand for freelance talent in the region. According to data by Numa, freelancing is a $4 billion market in the Middle East, with digital freelancers earning an average salary of $10,000 a year.
"Freelancers are the future of our region, but that future today is blocked," Loay Malahmeh, Founder and CEO of Numa, tells StartupScene. "There are only two available inconvenient options when it comes to banking. One, it's either a consumer bank account, where you get a card and an account, which is not enough, because you're more of a micro business and need access to finance tools, growth opportunities, and funding. Second is a business account, where you have access to all these tools, but it can be too complicated in certain countries. So, we're the layer below the business package and consumer banking. In reality, we are the future of SME banking."
Besides its fintech arm, Numa also has a growth platform, providing business tools, consultations, and discounts to help freelancers launch and grow their careers online.
Since September, the young startup has grown 6% week-on-week in Jordan, and is now looking to enter Saudi Arabia by the end of 2023.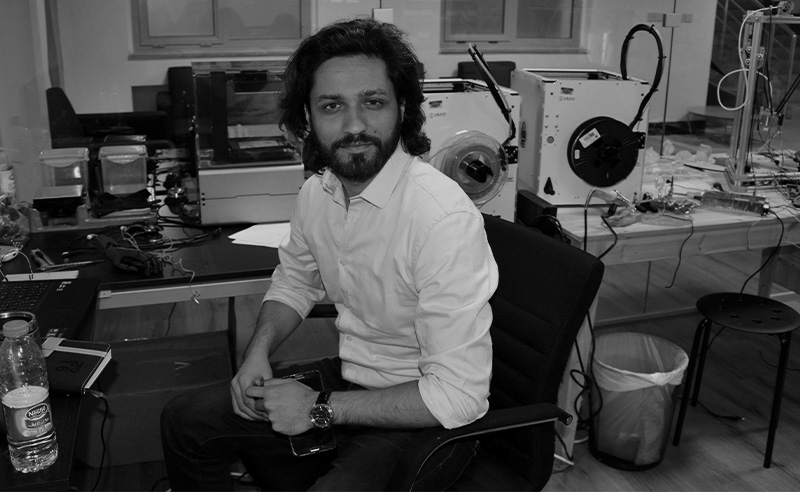 BOOMING FREELANCE MARKET
The freelance economy is growing rapidly in the Middle East. Driven by a young, digitally savvy population, and changing attitudes towards work, many are keen to take up freelancing to supplement their income and explore career opportunities.
According to a recent report by the International Labor Organization (ILO), the gig economy in MENA is expected to grow by 14% annually, reaching $30 billion by 2025.
But while freelancing may be booming in the region, financial services are still catering to a traditional economy, often denying independent professionals the necessary tools and services to grow their careers.
"People are diversifying their income from multiple resources," says Malahmeh. "Yet, the financial system is designed for the nine-to-five economy. Regardless of how innovative a platform is, or how experienced a person is, when they apply for credit cards or any type of financial service, they are asked to provide an employment letter, salary slip, and other documents. And if they have an inconsistent income, they're automatically classified as high risk."
Looking to bridge this gap, Numa is partnering with banks to provide digital banking services to not only receive payments and make transactions, but to track invoices, file tax returns, and overall operate as a financial management tool.
OVERCOMING FRAGMENTATION
To scale beyond Jordan, however, Numa will have to partner with banks across the region, which can be difficult given the fragmentation of the financial sector in the Middle East.
Unlike Europe, where most countries have similar financial regulations and banking policies, each country in the region adheres to its own rules and regulations. "Fragmentation is a big challenge for us in the region," Malahmeh says. "Not only from a banking perspective, but also in terms of regulations, including the status of freelancers, from one country to another. So, supporting freelancers in Jordan might look different from supporting them in Saudi Arabia or Egypt."
To counter this, Numa is entering Saudi Arabia through its non-fintech arm, the growth platform. "We're planning to pilot in Saudi, where we can onboard people on the non-fintech part, and in parallel build that infrastructure and see how it goes," he says. "So, when we launch, we'll at least have a customer base, and this is a great validation also for us when we talk to banks."
The startup is currently raising for a seed round to expand to Saudi Arabia. To date, the country has more than two million people who have a freelance licence, according to Malahmeh.
LOOKING BEYOND FREELANCING
While Numa is growing steadily in Jordan and plans to enter Saudi Arabia by the end of 2023, the startup is also looking to target the creator economy in 2024.
Estimated at $104 billion globally, according to the Creative Economy Report, the creative economy is booming across the world. In the Middle East, 90% of youth are using social media, according to a recent paper by the University of Oregon, indicating a strong market for digital content creators.
"This economy works on YouTube and TikTok, and they share the same pains," Malahmeh says. "They're growing massively, but they're not being serviced."
For now though, Numa is working on introducing lending options to continue providing users with opportunities to grow their digital careers. "We're dedicated to being the go-to platform when it comes to freelancing," Malahmeh says. "Being able to do so across the Arab world may be a challenge, but it's also a dream."