Amrita Sethi: Art Dubai, Sending SoundBYTEs & Reversing the Metaverse
In this special guest contribution, Dubai-based artist, Amrita Sethi, reflects on her participation in Art Dubai, nestled in a city that she believes can be the crypto and NFT capital of the world.
After a successful career spanning over 15 years in some of the world's largest multinational financial companies, Amrita Sethi left the corporate world for a deeper calling, leading to the creation of a new multimedia art form called SoundBYTEs.
From the SoundBYTE, Sethi then breaks down the artwork into smaller SoundBITs collections. SoundBYTEs merge sound, technology and storytelling with NFT's giving Amrita a perfect platform to showcase her dynamic art form.The unique idea led to her recognition and coverage with Forbes, CNN, BBC World, CNBC, Bloomberg, CoinMarketCap to winning awards, being selected for Expo 2020, and creating live activations and installations using augmented reality across the world.
Most recently, she was one of the main exhibitors at Art Dubai, an event that has, over its 16 year run, proven to be an adaptive and fluid reflection of how art has evolved, the latest evolution coming in the form of NFTs and the metaverse.
In this exclusive guest contribution for StartupScene, Sethi reflects on her participation in the fair, the evolution of her own work and the NFT and crypto spaces in Dubai.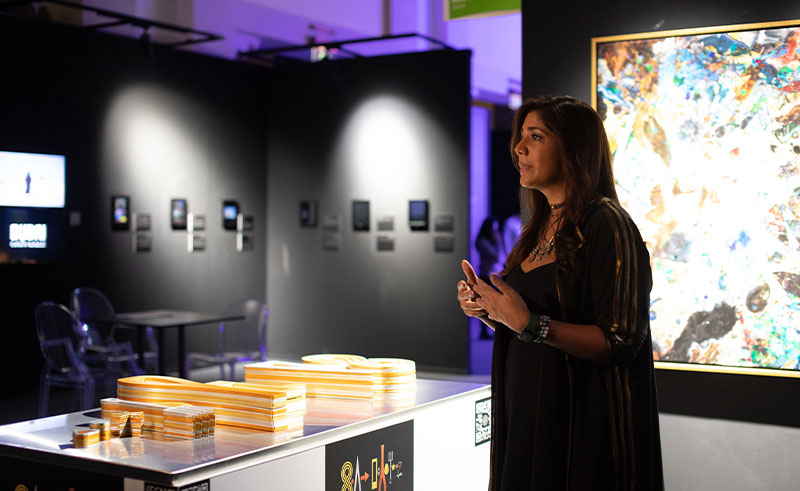 Let me start with something very important. The fact that traditional art fairs like Art Dubai are welcoming this new art revolution of digital art and NFTs, carving out a space for this exciting genre of art, is incredible. I personally loved the energy and buzz of Digital Art Dubai. I was atmospheric - dark interiors with bright screens made the colours of the artworks pop, creating a new, hip and cool vibe. Something was happening here and people were coming to check it out. But like with most things in life, there was a good, a bad and an ugly to it all…
The Good
Too many great artists. Not just good artists - great artists. Boundaries were being pushed, paradigms were being shifted, new narratives being explored and minds being opened.
I have to mention Refik Anadol's mesmerising pieces in particular. I personally loved the all-white piece, which I think I could stare at all day. There was amazing work from artists based in the UAE and represented by The Morrow Collective and Emergeast. The range was wide - dark, moody with multiple layers of thought and creativity to unpack, as well as fun and colourful works peppered with multi-dimensional technology such as augmented and virtual reality. There was a mixture, as well, of physical and digital artworks that were connected and created a hybrid reality.
The Bad
It was tucked away in its own area away from the main show, unfortunately. Over time, I envisage it will be more integrated into the main show.
The Ugly
I'm biased here. For me, an ugly question in 2022 is "what is an NFT?" There were quite a few of those questions, of course ! I do get it, though. It's still early days and we are all on a journey to grow and educate people about this space.
The second ugly question comes from the more NFT-savvy collectors - what is the 'utility' of this artwork? NFTs have definitely evolved and utility is a very important component to a collection, but I believe that we should still recognise the artist's creativity and the beauty of the artwork as a utility of the art and creativity in itself.
Dubai's Role in the Revolution
Dubai is the crypto and NFT capital of the world. The UAE welcomes and celebrates innovation and creativity from all nationalities, races and gender and I am extremely proud to live in this amazing futuristic country, anchored in its own Bedouin roots and history.
They encourage people like myself, who used to be a banker, to follow their dreams into finding their own voice and, in doing so, I became the first NFT artist in the UAE and have been granted the prestigious Golden Visa for my contribution to the digital art scene
Dubai encourages me to push the boundaries on ambitious projects that merge the physical and digital worlds. I recently painted one of the world's largest NFT augmented reality murals at the DIFC Innovation Hub in Dubai. The title of the piece is 'Future NFT Dubai' and I merged the culture of the UAE with the new world and language of NFTs.
My Journey in the Space
In always trying to push boundaries, I decided to create one of the world's first physically fractionalised augmented reality NFT sculptures. I wanted to showcase as many creative aspects of what an NFT can do to merge the physical, digital and metaverse worlds.
I'm extremely humbled and excited that it has attracted collectors from around the globe with the most notable being Pablo R. Fraile, who will collect not one, but 12 pieces from my collection. Fraile is at the forefront of a new class of 'digital art patrons'. As an investor in cryptocurrencies and a major collector of NFTs, his collection of cryptoart now contains more than than 3000 NFTs, more than 40 works by Beeple (who sold $69 million worth of his work in 2021), more than 100 Pak (of which about half are 1/1s), and more than 100 Refik Anadol and now 12 NFTs from my latest collection.
Securing the pieces from my collection 'MetaREVERSED', Fraile recognises my artistic process and complex layering of the physical, digital and augmented reality with a new metaverse alphabet called The AlphaBYTEs.
"This is one of my favourite projects so far," he said about the purchase. "So comprehensive, so thoughtful and so well-executed. This project didn't come from a night of creativity, but rather from a long time spent in the thought process, combined with tremendous creativity I absolutely love it."
Merging sound, art and storytelling, I established myself in the NFT space in 2020 with my own form of art called SoundBYTEs. I then decided that anything is possible in the NFT space, so I created my own coded Web 3.0 language that corresponds to the letters of the alphabet. This is then combined with my SoundBYTEs to create The AlphaBYTEs, a play on words also used in the NFT space.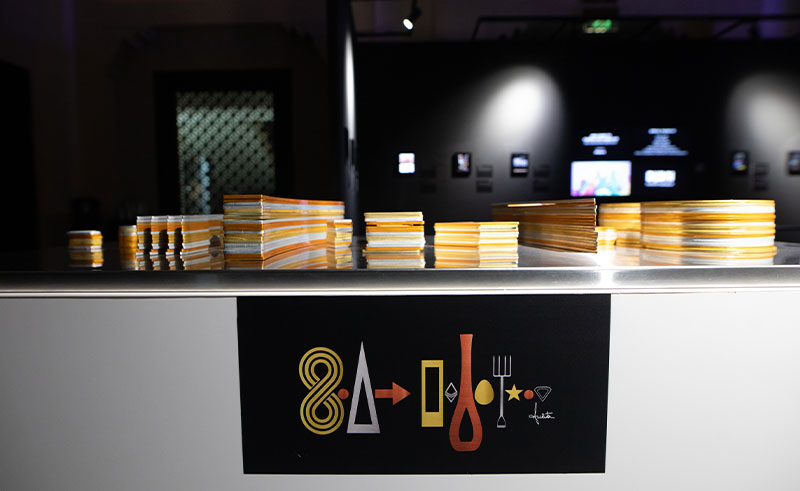 At Art Dubai, I released my first word of the AlphaBYTEs - called 'MetaREVERSED'. I reversed the metaverse and brought the digital to the physical with a 3D physical metal sculpture treated with copper, silver and gold finishings and fractionalised into 145 unique physical pieces. When you collect one of the uniquely generative NFT, then each one comes with its own physical part of the sculpture. This is then layered with augmented reality that decodes the word from my language back into english.
With this art piece, I have layered slices of aluminium on top of each other to form the peaks and troughs of the sound wave of the word and each letter has different properties of rarity. You can also view the sculpture in the metaverse in Decentraland, as well as wear an augmented reality hoodie.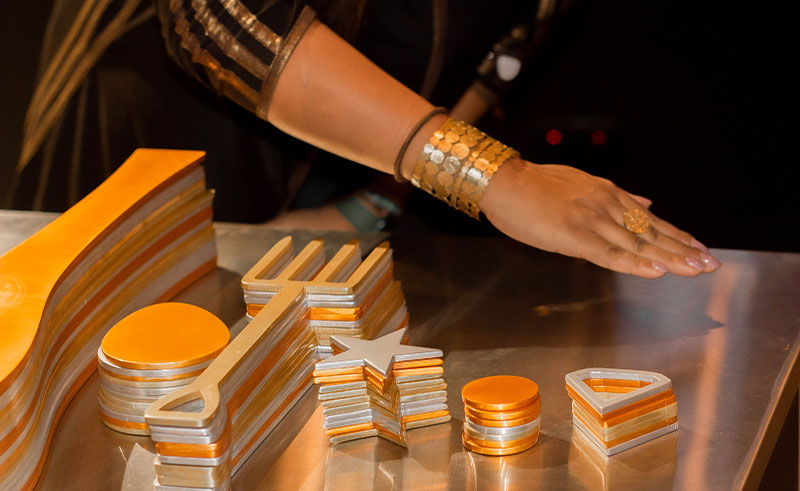 To add final utility, the owners of the NFTs will be given membership to my upcoming NFT art house in the physical world and the metaverse. Membership includes early mint access to future work.
I believe that technology is now another tool brush for the modern artist and accessing hybrid reality is where the future of creativity lies. In being able to create alternate dimensions through technology, art is no longer just a flat 2D experience, but a multi-sensory, multi-dimensional and all-encompassing creative experience.
The public sale of my first collection in 'The AlphaBYTES' series will drop on March 29th, two days after the private sale with the reveal of which part of the sculpture you received alongside your NFT on March 31st. The whitelist for this collection is already closed; however, I have more drops and extensions to my work planned for my collectors.
I try to make my art an experience, as I want people to come along the journey and to show them that it's a revolution. Now is the time to get out of the audience and into the arena. Welcome to a new world, where the only limit is your imagination.
You can find out more about the collection at www.thealphabytes.com or learn more about Amrita at www.artbyamrita.com.