Naji Al-Ali: The Artist Painting the Future of a Free Palestine
Though he was named after the late Palestinian political cartoonist, Naji Al-Ali is an artistic tour de force in his own right.
Irrespective of their geographical boundaries, Palestinian artists persistently strive to articulate their individual predicament and rich cultural heritage in relation to the collective dream of reclaiming their homeland. For them, art has always stood as a poignant resistance against the Israeli occupation - a means to surmount the separation wall and checkpoints, and a sanctum to safeguard their history and national identity.
Within the myriad of Palestinian artists in the diaspora encapsulating the stark truth of the occupation, Amman-based Palestinian artist Naji Al-Ali has been immortalising the beauty of his homeland and painting the future of a liberated Palestine.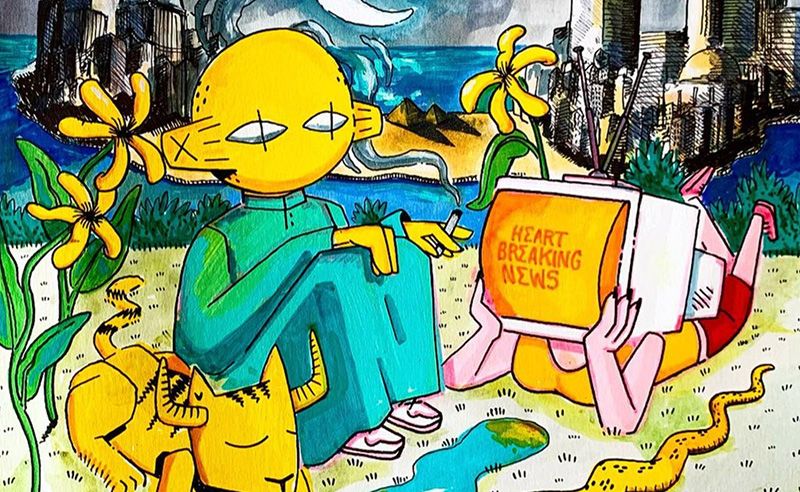 Born to an art-loving family and named after Palestinian political cartoonist Naji Al-Ali - who was assassinated in London in 1987 for his famous illustrations showing a child named Handala witnessing atrocities committed against Palestinians - the young artist exhibited a precocious talent from a tender age. "My parents held a huge admiration for Naji Al-Ali," Naji Al-Ali tells CairoScene. "They made sure to educate me about him by showing me his illustrations and books since I was a kid." When he was one year old, he was able to draw Handala for himself.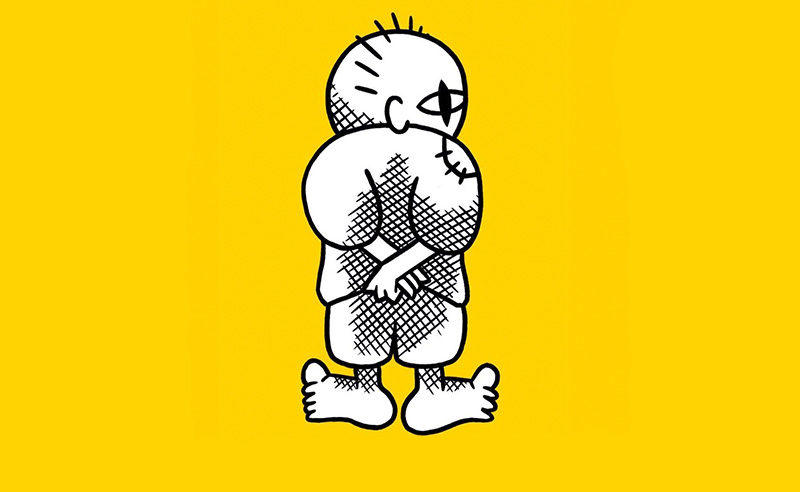 Propelled by an innate responsibility as a Palestinian artist to be the vanguard of his identity in the face of systematic policies of repression and ethnic cleansing, Al-Ali seamlessly weaves cultural emblems and vestiges of his ancestors' hometowns, Jenin and Yafa. He uses vivid audacious hues in his artwork, drawing threads from past and present to illustrate multiple layers of Palestinian history. "I believe that as a Palestinian artist and creator, the mere existence of my art is a form of resistance," Al-Ali says.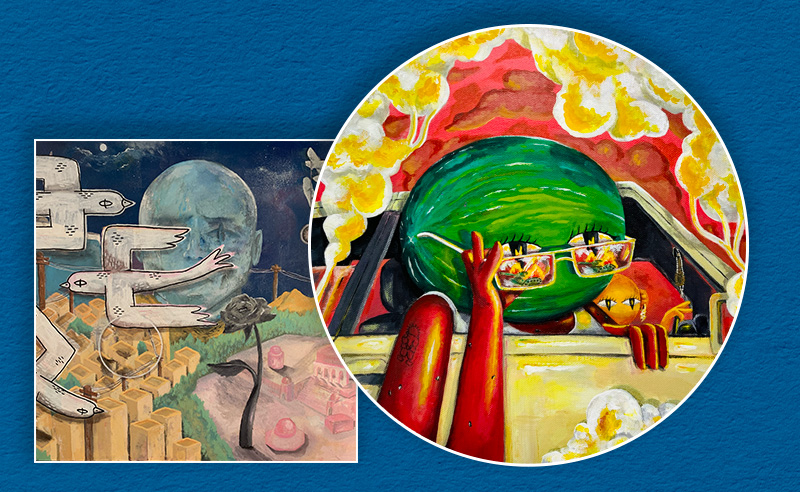 While raised between Qatar and Jordan, Palestine remained the main muse for his creative endeavours and the murals he painted in Amman. "As a Palestinian artist in the diaspora, it is important for me to stay rooted in my homeland when crafting any art piece to build the reality we desire," Al-Ali says. However, the influence of Amman's people and robust architecture inevitably seeped into his work. "I see Amman very similar to Palestine, and I feel the closest to home when I live here."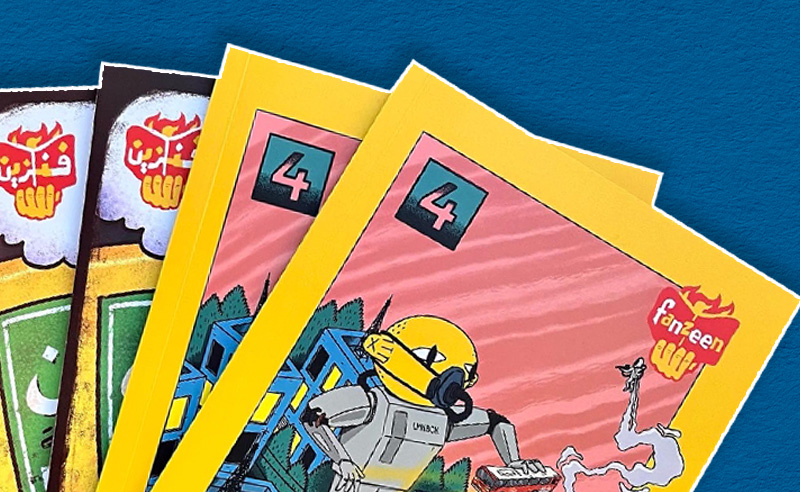 Upholding the legacy of his namesake, Al-Ali crafted his original world, Lemonback, in 2017. Lemonback is a vibrant abstract reflection of his own experience as a Palestinian artist in the diaspora, reimagining Palestine as a free land. Featuring cartoon characters with lemon heads, supporting distinctive reptilian eye symbols, Lemonback's name is a reference to Al-Ali's mother's hometown, Jaffa, a Palestinian city known for its citrus. With its recurring presence in the majority of Al-Ali's artwork, Lemonback has become emblematic of his art globally. "I've embraced it as my personal interpretation of Handala," Al-Ali says. "Most of my pieces exclude the occupation because I paint a reality of my beautiful Palestine as I and all Palestinians wish it to be, free."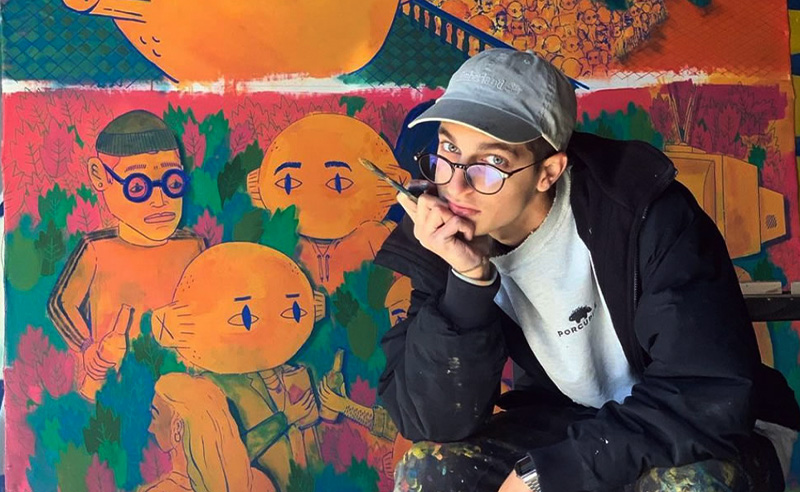 With a penchant for exploring different art mediums, the 24-year-old self-taught painter transcends conventional boundaries, refusing to confine his creativity to a singular artistic expression. Al-Ali has dipped his paint-stained toes into sculpting, filmmaking, animation, and painting murals. During his college tenure in Charlotte, North Carolina in 2019, Al-Ali did his inaugural mural residency, marking a pivotal moment in his artistic trajectory.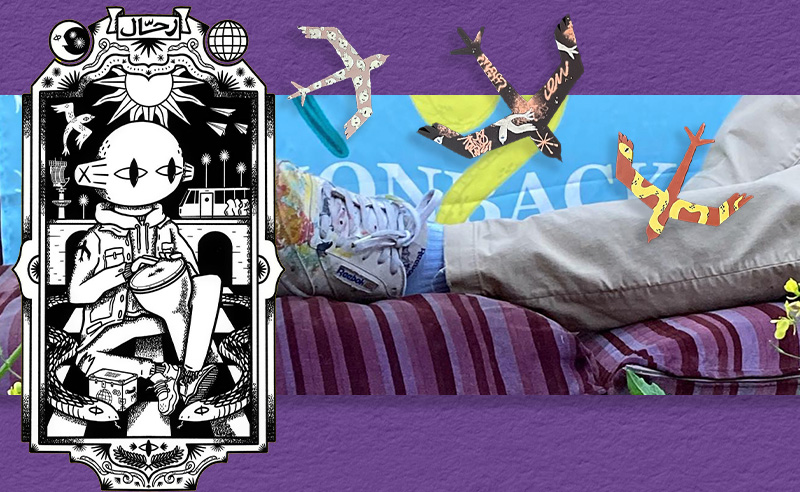 One of Charlotte's murals featured two segments divided by a window. Each segment shows one of his Lemonback characters in an artistic representation of refugees. The two refugees are depicted in traditional Palestinian attire, gazing at each other. One wears a traditional Palestinian thobe with a headscarf, delicately holding a white flower in one hand. The other, meanwhile, wears a brown button-up with Keffiyeh draped over his shoulder and a white flower in his pocket like a beacon of hope.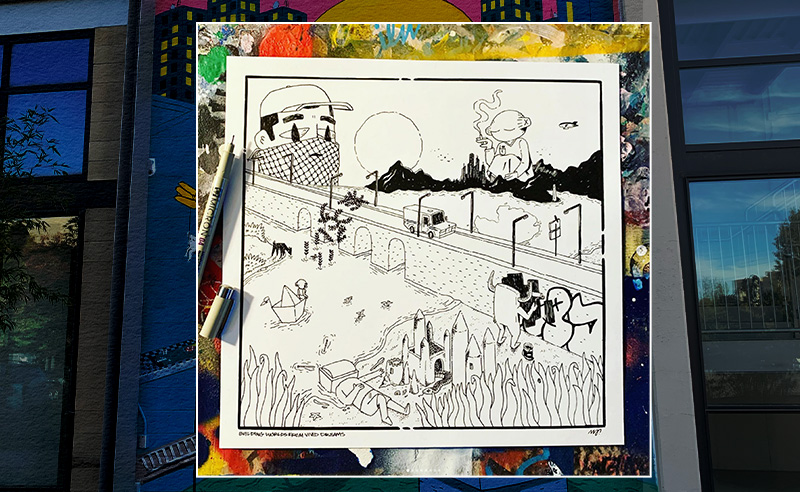 In his paintings, Al-Ali subtly addresses socio-political issues, encouraging viewers to dissect the nuanced significance of each piece. By integrating a fusion of Arabic and English infographics in his artwork, Al-Ali initiates a cross-cultural dialogue with his Western audience, challenging their perceptions of Palestine and urging them to question their preconceived notions of its people.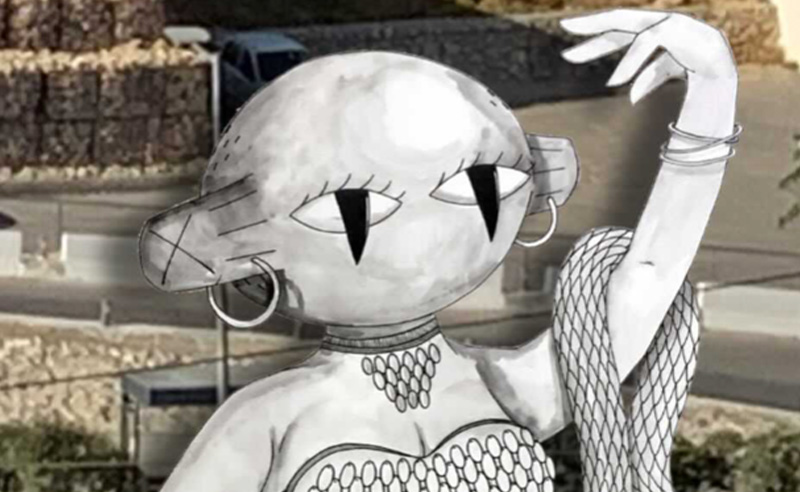 Throughout his extensive oeuvre, Al-Ali chronicles the beauty of his homeland in an attempt to protect it from erasure, while simultaneously highlighting the resilience of its people amid adversity. "My art focuses on capturing the light in the dystopian reality, akin to making lemonade out of life's lemons," Al-Ali says. "In this context, the light symbolises the resilient spirit of Palestinians."